10 years to becoming an overnight success
I boldly declare myself be an "overnight success"
I do, however, make that declaration with the disclaimer that it takes ten years to become an overnight success; and the word 'success' holds a deeply personal meaning and experience.
Success – noun > the accomplishment of an aim or purpose
Overnight success > a quick accomplishment of said aim or purpose
I think that the idea of 'quick', like time, is relative. And I believe that 'success' is a concept built on many small steps and accomplishments, each one taking me, you, anyone, one step closer to something.
And overriding all of this is a personal aim to live my life walking the red road … a philosophy of walking the right path in life living in truth, humbleness, respect, friendship and spiritually. I don't walk a perfect path, I don't think anyone does, but each step is a step of growth, learning and wisdom.
Where did 10 years begin?
September 2009 … I moved from Brisbane (population of about 2 million) to the green rolling hills and quaint, community-minded and creative township of Maleny, a small regional town with a population somewhere around 3000.
Then, I was 38. I needed to change how and where I lived. I packed boxes, grabbed my two meows and moved to the Sunshine Coast hinterland with the express intention of finding and creating a quieter, slower and more creative pace of life.
I wanted to live somewhere where I knew my neighbours. Where I didn't feel that I needed to barricade myself behind layers of security at night. I was searching for space and fresh air. For an environment surrounded by, and living in, nature. Yearning to replace the sounds of traffic and sirens with silence and birds; looking to change my outlook from concrete, traffic, rooftops and high-rise buildings to open spaces, trees and animals.
I still remember the weeks and months leading up to making the final decision to move to Maleny. I had been pondering the idea of a move for a few years. I had narrowed the geography to 5 places on the east coast of Australia. But it took a massive panic attack and (what felt like) a near-death experience followed by a week at a health retreat to give me the final push to put into action the thoughts swirling inside my head.
2 weeks later … I was in Maleny!
From the very first day I drove into town, I felt like I was 'home'. I could feel the tension of the city release as I drove along the ridge. Fresh air filled my lungs. I experienced an overwhelming sense of freedom as I looked around me to see space and green; ocean to the east, plains and mountain ranges to the west. And lots and lots of sky.
Other than the physical relocation, I didn't have a specific plan about how my new life was going to unfold. I simply had the desire. I was, am, a driven person. So I set about the task of hard work, conscientious effort, aimless wandering and many, many, many life lessons along the way.
This is a photo I took not far from where I live. It became the reference for a reduction linocut print, Glass House. The Glass House Mountains are iconic land formations at the base of the Sunshine Coast hinterland. And this is (metaphorically) my back yard. It isn't a weekend getaway or escape. It is where I live. And I think it is magical.

Creative lost and found
My career to this point had been in a creative industry – graphic design, advertising and marketing. Commercial, but creative. I was running my own web development and marketing business. But it wasn't the sort of creative that was going to feed my soul. I felt like I had lost part of me, and I hoped that the move would help me find it again.
Not long after moving, someone recommended I read the book The Artists Way by Julia Cameron. A 12 week 'recovery' program to unblocking creativity. I can't say that I enjoyed the program. I suspect that that is part of the point of it – to push and challenge the participant. It took me at least 12 months to finish the steps. A lot longer than planned, but I got there!
While reading the book I saw an advertisement in the local paper for local art classes. And there began several years of weekly art classes with Sonja Georgeson. Sonja had created a safe space to reconnect to a more soulful creative expression. And she helped reignite a long-held passion for printmaking. Her gentle encouragement and guidance saw me diving headfirst back into linocut printing.
Sonja – I am forever grateful for your support and encouragement. THANK YOU x
2012 saw a new chapter open in my printmaking journey with the birth of the Maleny Printmakers. I was privileged to be invited to be one of the founding members, and introduced to local artists whose work I had admired; artists whose work I had printed off the interweb and pasted into my art journals. Fiona Dempster, Susan Bowers, Julie Hanrahan and Noela Mills. I was in fine company, and motivated, encouraged and inspired to grow my skills and my own arts practice.
But I still had to eat!
During this time I continued to operate my web development and marketing business. I felt very much like one person living 2 lives … one working her backside off to earn a living and financially sustain herself; and another desperately trying to unearth and connect to the creative soul I knew was within me.
My business crossed its 10 year mark a few years back. It took until then for me to reach the goals I thought I would hit in year 2 or 3 of the business. Another example of '10 years to an overnight success'. A few times during that business' journey I reached points where I could employ staff and grow the business, but I knew that that wasn't what I really wanted to do. I could see that the pace of change in technology was faster than I thought my brain could keep up with.
3 years ago I had started to sell some of my printmaking artwork. The sheer joy and excitement of finding out that someone likes your work enough to spend their own hard-earned cash on it is exhilarating! I was accepted into a local art gallery to display and sell my work, Peace of Green Gallery. Not long after that I was approached by Montville Art Gallery to show work from their space. They were keen to promote the art of printmaking in the area. I felt honoured. I knew that trying to make a living selling reduction linocut prints was not going to be a viable option, but I was excited to be selling work, and even more excited that people liked my work enough to buy it! I was motivated and inspired to create more work and share what I love to create.
Big life moments
I guess life is all about moments. Many of them, all moving, edging and influencing the next to create a series of experiences, a history and a future. I have had many Big Life Moments over the past 10 years, but 3 that profoundly influenced my 'overnight success' are my husband, the fulfillment of a life-long passion to teach and a studio space that I will be forever grateful for…
My husband
I met my husband 5 years ago. In ways that I had only dreamed of, and in other ways I could never have imagined, my world was turned upside-down and sideways, and a new chapter was started in my life. My husband is a medically retired war veteran living with PTSD. 'We' live with his PTSD. I can't say that life alongside PTSD isn't without its challenges, but ironically, I have learned more about myself that I could have learned without it.
As our marriage evolved, I was struggling to balance running my own business and support mine and my husband's needs. I was also acutely aware of the importance of respite from the challenges of dealing with his medical needs. I made the decision to close the business and focus on family and my art. In some ways that was one of the hardest decisions I have had to make … I had spent my adult life supporting myself and building a career, and letting that go was harder than I thought. But now I had different priorities … and opportunities.
Teaching
I have memories of teaching make-believe classes in my bedroom when I was about 9 years old. As a child I wanted to be a veterinarian, a journalist and a teacher. The teacher role was the strongest, but life took me along a different path. Fast-forward to the grownup I am now, and the desire to teach is still with me.
I launched my printmaking workshops in January 2018. 2019 saw me run more workshops. And I recently launched my workshop program for the first half of 2020. I put a lot of heartfelt effort into the planning and running of my workshops. I love to share what I know. And I am grateful beyond words for the support from students who attend my workshops. Some students have attended up to 5 workshops. Thank you!
My studio
In every dwelling I lived since my early 20s, I have identified a space where I thought I could create art – specifically printmaking art. I dabbled and dipped the tip of my toe in to some of those spaces. But it wasn't until a few years after moving to Maleny that I created a purposeful creative space – my own studio. In my previous home I had a space about the size of a single-car garage. Big enough for me, my computer and slowly expanding stash of art supplies and materials; but a space I was starting to outgrow. And I ran my workshops from a friend's fabulous studio space in Maleny.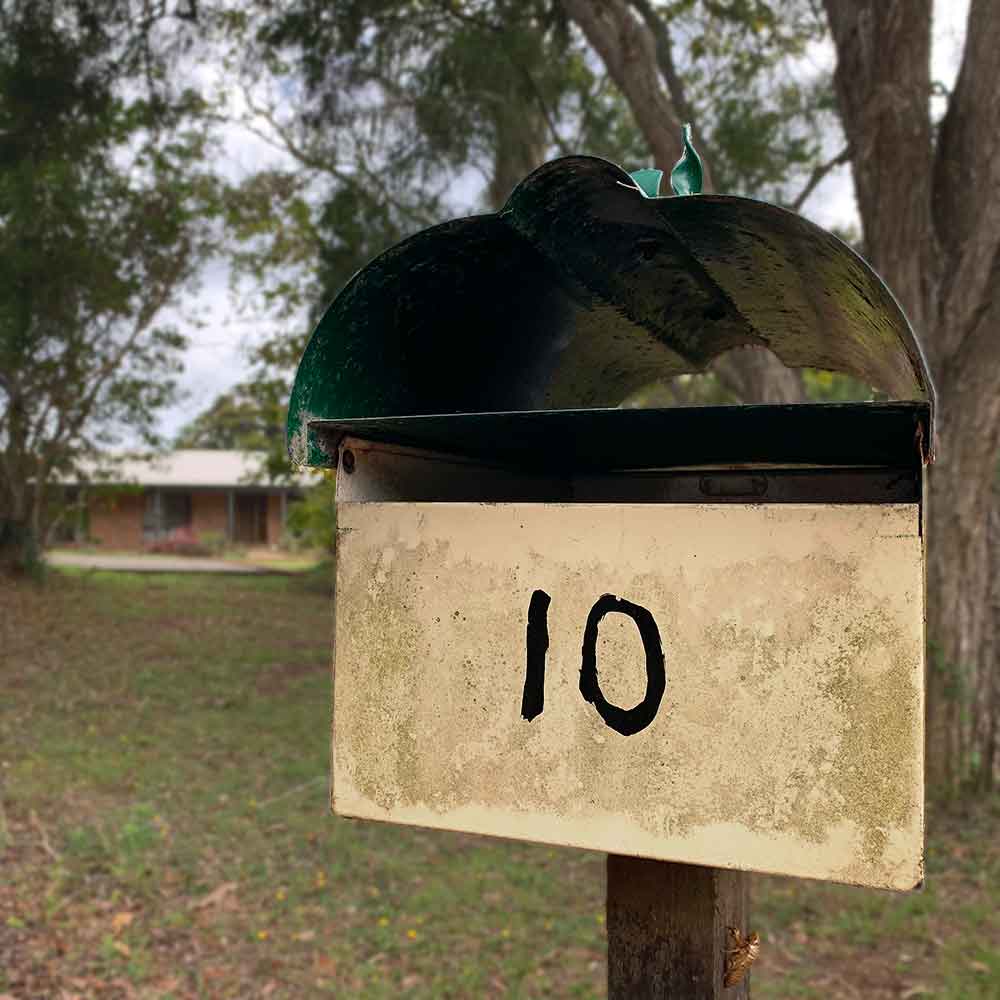 I dreamed of a space where I could create and run my workshops together … and in my 10th year of living in Maleny, that is exactly what I found. A four-car garage space that has converted perfectly into a studio/workshop space. Oh … and that garage space was attached to a house, so I have somewhere to sleep, eat and wash 🙂
It didn't dawn on me until writing this blog post that our house number is rather significant – #10 to celebrate 10 years. And I love our daggy looking letterbox – full of character and history and stories.
Never in my wildest dreams did I imagine a space as wonderful and purposeful as what I have now.  It is not lost on me how fortunate I am to have this space. I love to share it with like-minded creative souls. And it is a space I hope to share for years and years to come.
To realise the dream of teaching was one big achievement; but to realise that dream in my own studio space in one of the most beautiful places to live, is an accomplishment I am very proud of, and honoured about.

My 10th year
September 2019 I celebrated 10 years living in Maleny. And this year saw me participate in six art exhibitions, including my first solo exhibition, Grounded. It also saw me consolidate my printmaking workshops, build my dream printmaking studio; and stop to take stock of just what I have achieved over the past 10 years.
ANVAM (Australian National Veterans Art Museum) invited me to participate in their annual March To Art exhibition in March 2019 in Melbourne. It was an absolute honor to have been invited. My 'You are here' and 'Grazing' reduction linocut prints were sent to the show, and I am proud to advise that both prints have been acquired into the ANVAM collection.
I was invited to participate in an international printmaking exhibition at the Caloundra Regional Art Gallery, The Kyoto Hanga International Print Exhibition. I feel honoured to have been invited to participate in an exhibition with such an international profile, and an impressive line-up of some of the best contemporary printmakers from Japan and Australia.
And I exhibited a letterpress printed artist book, PTSD … a love story, at Umbrella Studio Contemporary Arts in Townsville, at their Today is Not Tomorrow: PTSD Understories exhibition.
I also participated in my first 'artist in residence' at the Mary Cairncross Scenic Reserve BioBlitz early this year. The participating artists are holding an exhibition of artworks inspired by our experience with the BioBlitz at the Mary Cairncross Discovery Centre right now, on until 12 January. I have new work (in progress) on display – eco-printed silk that will have rainforest leaves lino printed in gold.
So what does success mean to me
For me, 'success' does not mean money nor fame. Rather it draws on a sense of personal and financial security and quiet self-confidence. On a deeply personal level, 'trust' and 'respect' are words I also attach to the 'success'. 'Success' for me is also in achieving a degree of comfort in my position and surroundings. But 'comfort' should not to be confused with complacency.
I have worked hard through-out my career. I have made many mistakes. Some I wish I could fix. I've done things that I wish I could rewind. But I have also achieved a lot. Loved a lot. Done a lot of not-very-much, and more lots-of-somethings. Through, and in spite of, all of the ups and downs, I have managed to move forward.
When I look back to the 'me' I was in September 2009, and the person who I see myself to be now, 10 years on, I feel proud. I am far from perfect, but I have reached goals and moments that were long-held dreams and desires.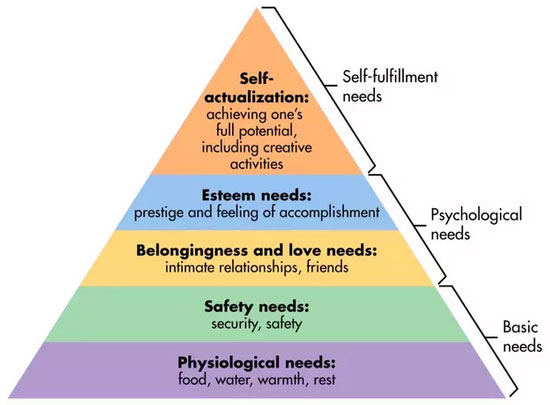 I am earning a modest income doing what I love. I live in a beautiful home in a beautiful, safe and prosperous part of the world. I am surrounded by the love and support of family and friends. I am living a creative life, and I feel proud of myself for that.
I did a search for "Maslow's heirarchy of needs" while writing this post – I hadn't really looked that the heirarchy before – actually stopping to read it filled me with a sense of accomplishment and achievement.
But please know that in my feelings of "overnight success", it is not lost on me how fortunate I am to have had the opportunities, help, support, love and challenges along the way to get me to where I am now. Hard work, sacrifice and missed opportunities have all played into this story, as has the love and support of family and friends.
This is by no means the end of the road – I will continue to walk my red road, aiming to live with truth, humbleness, respect, friendship and spiritually; I will continue to grow and learn; and I hope to enjoy many more overnight successes along the way.
Personal creative success
If you're still with me and reading, thank you! It has been a long post.
To finish up, I'm sharing below some of my favourite artworks created over the past 2 years … works that speak to me, on a deeply personal level, of personal success. The images and their individual stories hold deep personal significance to me, and I enjoy the opportunity to create then share them with you.
Thank you for your support.
Thank you for your encouragement.
And thank you for reading this far in my rather long blog post !! 🙂
"PTSD … a love story" hand-bound, hand-printed letterpress and linocut embossed artist book. Nearly 5 years in the ruminating … about 3 years in the planning … and 6 months in the making … I will share details and photos of the pages of the book in a blog post very soon. This is a deeply personal piece shared with nervous vulnerability as I release it into the big wild world.

"Glass House" reduction linocut print. How can you not feel the beauty and majesty of a landscape such as this. A land rich in Dreamtime stories and geological history.

"Grazing" reduction linocut print. Late-afternoon light. A cow and her calf. A mountain vista that recedes into forever. An easy and beautiful 20 minutes drive from my home, and here I am. Peace and tranquility.

"Come on … come with me" and "Wait for me" reduction linocut prints. I love birds. Australia is the lucky country when it comes to our bird life. Abundant, colourful, full of character and personality. I printed my first cockatoo linocut Ruffled Feathers about 3 years ago, and these 2 linocut prints are different birds from the same crackle of cockatoos. I sat and watched them for an hour or so one afternoon. Entertaining and hilarious to watch!

"Beerwah Rising" reduction linocut print. We were about 40 minutes into our road trip headed from Maleny to Newcastle. It was about 5:30am. It was a bright and warm. A low summer fog was lifting from the surrounding farmland and Mt Beerwah was rising with the sun, proud in the distance. We were heading south for the funeral of a dear family member who lived a long and proud life. This print was a finalist in the Local Artist-Local Content 2018 Art Prize.

Why did I write this?
I wanted to share my 'success' story. It wasn't instant. It isn't glamorous. It isn't even over. There is muck and yuck behind the scenes. There is hard work and grit. Determination. Lost wanderings. Mindless ambling. But there is joy and elation and triumph.
We are a resilient species … let us never forget that.
So whatever your aim or purpose, no matter how near or far it is from your reach, may you find the grit and fortitude to reach it, to celebrate it, and acknowledge your own success stories.
Question – what does success mean to you?