Printmaking Workshop Location – Maleny RSL Hall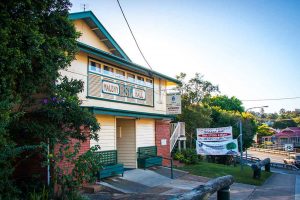 A little over an hour's drive north of Brisbane, Maleny is located in the Blackall Ranges of the Sunshine Coast Hinterland. It is a small town steeped in tree felling and dairy farming history, and home to many artists, art galleries and art workshops..
My printmaking workshops are held in a private room underneath the Maleny RSL Hall.
Maleny RSL Hall Address
The Maleny RSL Hall is at 1 Bunya Street, Maleny, opposite the Maleny Hotel.
The Hall is on the left as you drive into town from Landsborough. The room for my workshops is underneath the Hall (please refer to the picture below).
Once you have parked, make you way out the front of the main hall to the grassed area and head to the green door under the long front verandah.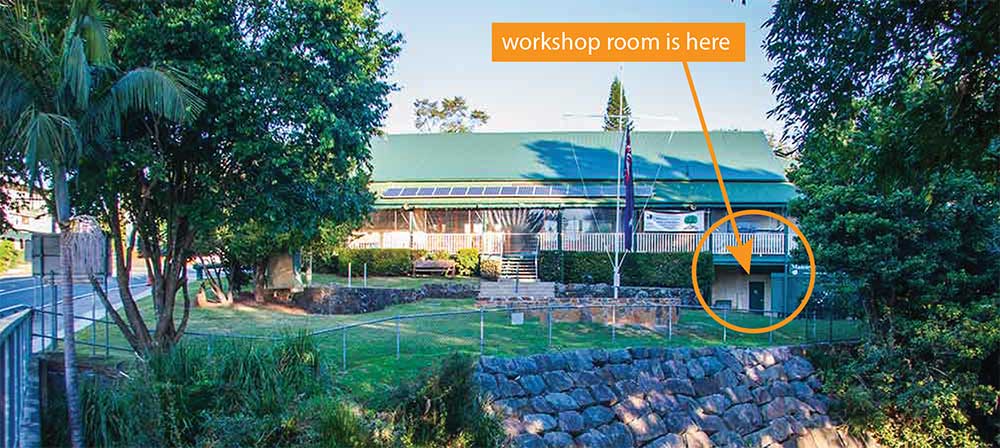 Workshop Parking
On Saturdays and weekdays there should be parking out the front of the RSL Hall on Lawyer Street.
On Sundays there is a weekly Market in the RSL Hall – the Sunday Collectables Market, so you may need to drive up Lawyer Street a little for a park. The markets starts at 8am, so if you're attending a Sunday workshop, consider getting there a little early to have a look around. Local produce, crafts, jams and other interesting bits'n'pieces on display and for sale.
How to get Maleny
You can use this Google link to help get the best directions and time allowance from Google maps – https://goo.gl/maps/e1UG16xBAnL2
Driving up from Brisbane
The Maleny township is approx 92km north of the Brisbane CBD – allow up to 1hour 30mins to drive from Brisbane. On a good traffic day the drive from the top of the Gateway Bridge is approx 1 hour 10 mins.
When driving up from Brisbane, head north up the Bruce Hwy then take the left turn to Steve Irwin Way, following the signs to Beerwah and Landsborough. You'll drive past Australia Zoo. Once you get to Landsborough, follow the signs to Maleny from there, about 15mins from Landsborough.
Coming from Maroochydore or Caloundra
If you're heading up to Maleny from the Sunshine Coast coastal suburbs, make your way to the top end of Steve Irwin Way and drive south to Landsborough. Drive into Landsborough and follow the signs to Maleny from there.
Heading to Maleny from Toowoomba, Kilcoy or other western towns
Depending where you're coming in from, you can rive into Brisbane and north up the Bruce Hwy from there. The drive up the Brisbane Valley Highway through Esk and Toogoolawah is a lovely drive too. Us this Google maps link to help work out the best route for you to travel to get here – https://goo.gl/maps/e1UG16xBAnL2
If you have any trouble locating the venue, please call me on 0413 384 426.
Are you thinking about joining a printmaking art workshop?
I love to share my skills and the craft of printmaking. Have a look through my workshop program below. You can book online, or contact me directly to make a booking or enquiry.