Grounded – a solo exhibition
I am so excited to announce my upcoming, first ever, solo exhibition … Grounded.
WHEN: Tuesday 24 September – Saturday 2 November
WHERE: Maroochydore Artspace @ the Maroochydore Library, 44 Sixth Ave, Maroochydore (scroll down the page to see the Google map link for directions)
OPEN: Monday-Saturday. Check the Library's website for opening hours.
WORKSHOP: I am running two short workshops for Carers only on Friday 18 October. Click here for more information.
'Grounded' Opening Event
Everyone is welcome to my exhibition opening 1pm, Friday 27 September. It will be an informal affair, with the Friends of Maroochydore Library providing a small cash bar. I will present an informal floor talk about the exhibition, including discussing to process and inspiration behind the work on display.
'Grounded' … my solo exhibition
Stepping in to a natural space, be it my garden, an afternoon country drive or a morning bush walk, affords me the opportunity to take a moment, stop and breathe. It calms me. It grounds me. It helps me manage my own mental health.
It is these moments of calm and respite that I aim to share with my work.
I am a printmaker, enjoying the process-driven art form in all of its inky glory. Through the meditative processes of printmaking, combined with my subject matter, I am connected to the present moment. Time stands still, sometimes for hours on end.
I am also the wife and carer for, my husband, a medically retired contemporary war veteran with PTSD and other injuries. My arts practice is my respite from the sometimes chaotic world we both live in and with.
With my art and the natural environment, I also escape the fast-paced, technological culture that dominates much of our lives.
It is my hope that you may find your own moments of personal respite in my work, and that it may encourage you to take yourself in to natural environment – to stop, breath and relax; to bring you back to the here-and-now in the sometimes overwhelming world that we live in.
'Grounded' … a thank you
This exhibition would not have been possible without the generosity of the Sunshine Coast Council and their commitment to the Arts. The Caloundra Regional Gallery and Sunshine Coast Libraries generously host exhibitions at the Maroochydore Artspace, upstairs at the Maroochydore Library.
Thank you Caloundra Regional Gallery. Thank you Sunshine Coast Libraries. And thank you Sunshine Coast Council.
'Grounded' works on display
The exhibition will have a collection or recent and new work. Reduction linocut prints, gelatin plate monotype prints and hand-printed eco-printed textiles. This work represents the printmaking process I use to find my own respite … my own moments of peace and quite, mindfulness, to help keep me Grounded in crazy world we live in.
All work will be available for sale. And I am running two short workshops for Carers only on Friday 18 October. This date coincides with Carers Week, running nationally from Sunday 13 October to Saturday 19 October. Click here for more information.
Below are some work-in-progress photos of some of the work that will be in display.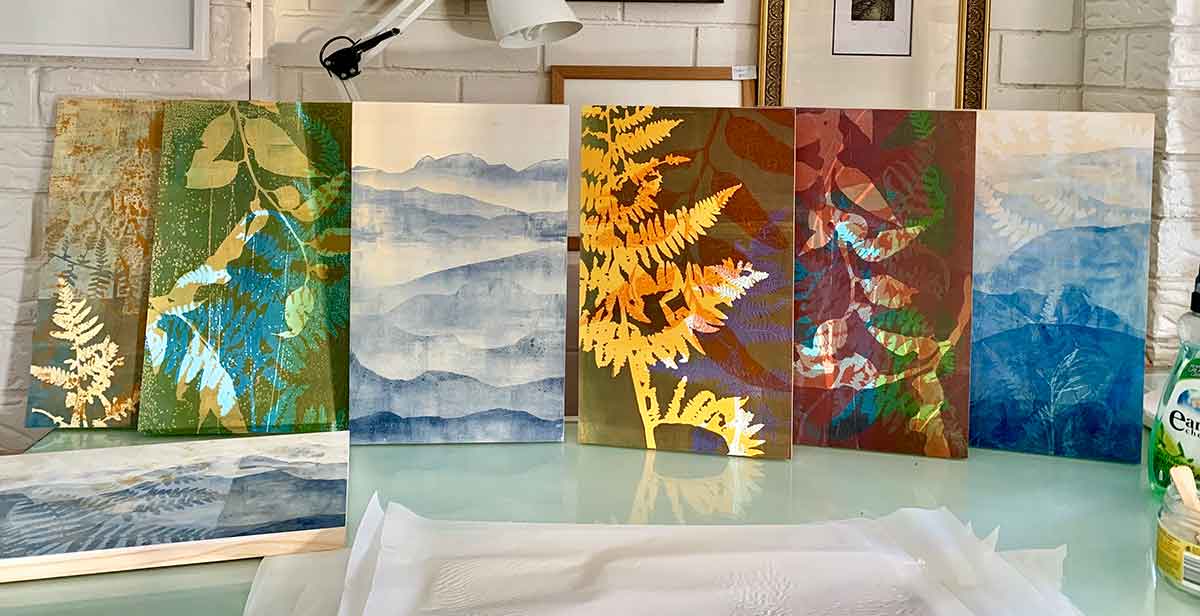 'Grounded' a workshop
I will be running two short workshops at the Maroochydore library during my exhibition, on Friday 18 October.
Printmaking is my respite from the sometimes challenging world I live in as a Carer for my husband. I want to share with other Carers the therapeutic benefits of stepping into a creative space inside your mind and enter a state of 'play'. And what better way to do this than with gelatin plate monoprinting.
A maximum of 10 people per session.
In two two-hour workshops I will introduce you to gelli plate printing. It is simple, fun, and easy! It is a process that you can do at home, in your own space and time, with minimal investment. This workshop is a mini-version of my full day Gelatin Plate Monoprinting workshop.
WHO CAN ATTEND: The workshop is open only to Unpaid Carers. I am an Unpaid Carer. I want to share this process with other Carers.
COST: $5 per person, to cover basic materials
WHEN: Friday 18 October
WHERE: Maroochydore Library
TIME: Session 1 9am-11am and Session 2 11.30am-1.30pm
BOOKINGS: click here
Find the Maroochydore Library Artspace
Maroochydore Artspace @ the Maroochydore Library, 44 Sixth Ave, Maroochydore