Vessel Exhibition 2022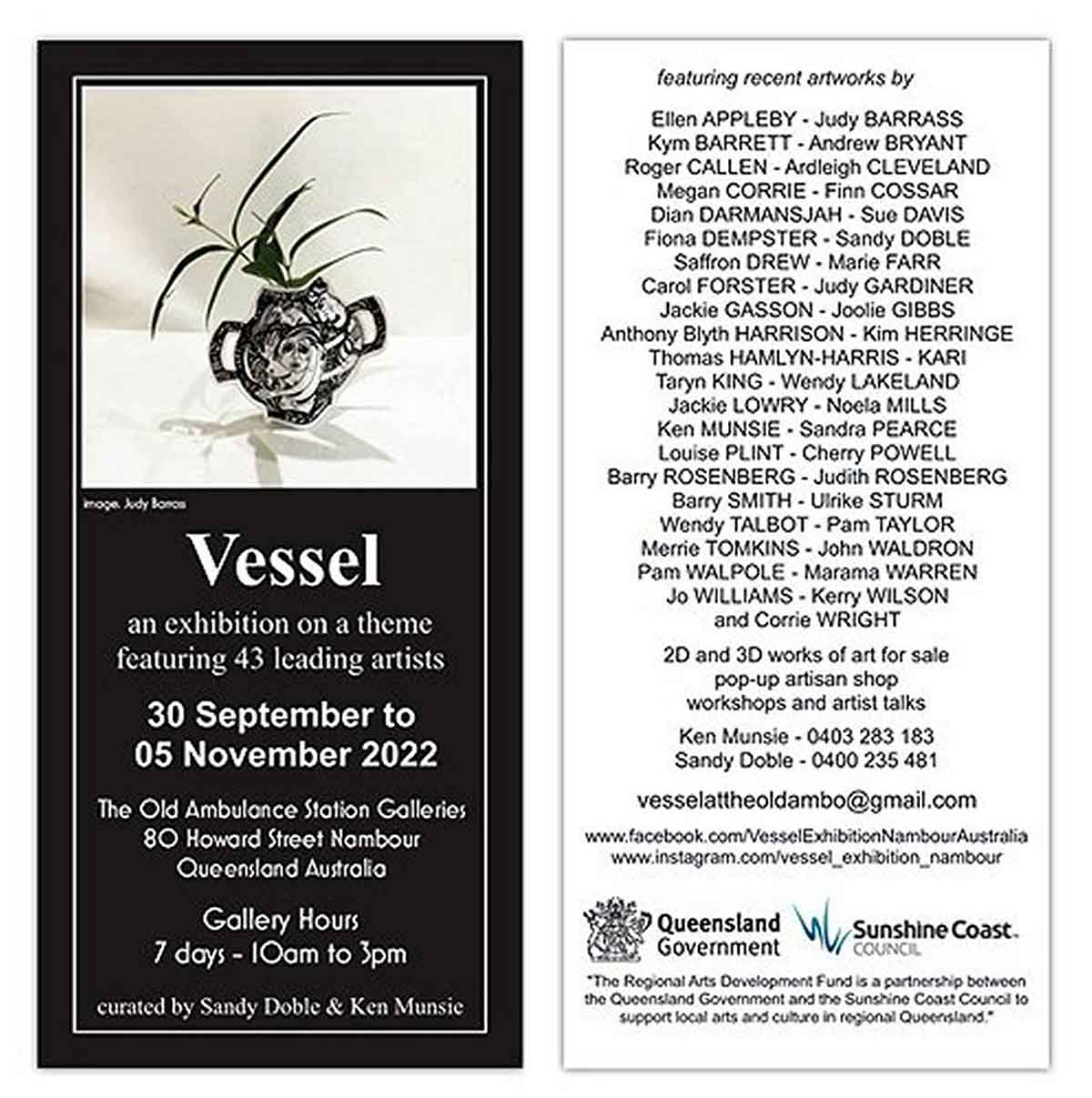 I am super excited to share that I have 3 new printmaking pieces included in the upcoming Vessel exhibition at the Old Ambulance Station Gallery in Nambour.
Vessel is a themed exhibition curated by Ken Munsie and Sandy Doble. It will feature up to 3 works each from 43 established printmakers, painters, potters, sculptors and more. The exhibition opens on Friday 30 September, running until Saturday 5 November, and has a program of artist talks and workshops running throughout the show.

My three pieces are a little different from my 'usual' work, as I explore new media and new thinking. I have been pretty quite on the new work front this year, and as much of a challenge I found it to create, I enjoyed it. I'm realising now how much I miss it.
I decided late last year that I would have a rest from reduction linocut for 6-12 months and look at some new processes and approaches. It took me a while, but I finally got myself into some creative headspace, and this is the result – a blind embossing triptych (pictured below), Ride, Trust and Self.
Artist Statement
Vessel, for me, presented an opportunity for self reflection and understanding of where life is right now. I am currently exploring new print media, and looking directly inside myself as I work through stormy and squally times.
Life has taught me that the safest passage through a storm is to ride it out, trust that it will pass, and unite with a stronger and more resilient Self when the winds and waters have settled.
Articulating these feelings for this exhibition was a cathartic release, and serves as strong reminder the every storm will end.
About the work
When working on concepts for this exhibition I couldn't get past the idea that I was the vessel.
Life threw me a curve ball this year, and I am in the middle of navigating a very difficult situation. One thing I am learning in life is that tough situations teach us the toughest lessons.
Working through these pieces helped me come to the realisation and understanding that every storm will pass, eventually … even without knowing what the calmer waters look like on the other side.
I'll be completely honest and share that it was difficult to focus and create; and while my work comes from my heart, it doesn't often reach this far down into the recesses my soul. 6 months ago I started with some very different concepts, but the theme of my ideas followed a similar vein throughout that time. It's a strange feeling to look at the outcome of many hours of testing, trialing, conceptualising, failing and testing again – then giving yourself permission to have the confidence that you achieved your goal.
I feel there is a simplicity in these works, but with a lifetime of lessons and years of hurt behind them. I know the storm will pass.
Each print is a blind embossed impression – a metaphor of my own passage, as the vessel, through some tough times.
The embossed impressions have been printed on to Magnani Etrusca 600gsm paper. Delicious!
There is only 1 final image of each – I didn't print an edition. I did however, print many, many test prints to get to where I was happy with the end result of each. The testing and trial prints will be one artist proof for each image, with others finding their way into an artist book.
Embossed prints on white paper are VERY hard to photograph. I did try though. I have shared a little more about the story of each of the three images in the triptych below:
Ride
Ride the wave. Let your weight carry with the force and fury of the power and energy around you. I have learned that it is easier to ride with, rather than against, the beast. Alert and aware, conserve your energy for the moments that matter most during the peaks of the storm.
Trust
Trust in the knowing that every storm will eventually pass. It will blow itself out. But how hard is it to trust when there is no compass or map to tell you when the storm will end? There is both blind fear and peace in the Trust.
Self
When the wind has blown away and the force and tumble of the waves settle, you can breathe again and reunite with your Self.
23ct gold leaf has been applied to the vessel in this print.
Self is precious, and living is brave.
Visit the Vessel Exhibition
If you can, stop in and visit the show:
EXHIBITION OPENS – Friday 30 September 2022
CLOSES – Saturday 5 November 2022
EXHIBITION LOCATION – Old Ambulance Station, 80 Howard Street, Nambour
HOURS – Monday-Sunday 10am-3pm
And while you're there, cross the road and enjoy the artworks installed on Howard Street Wall. See if you can find my monotype print in that exciting collection of work by local Sunshine Coast artists 🙂
Vessel Exhibition Program of Events
Ken Munsie and Sandy Doble have scheduled a series of Meet the Artist artist talks and workshops throughout the exhibition. For all enquires, email Ken or call Ken on 0403 283 183 or Sandy on 0400 235 481.
Below is the events schedule:
Friday 30 September – Exhibition opens
Saturday 1 October – OPENING EVENT – 4pm-6pm
Sunday 2 October – MEET THE ARTIST- Sue Davis, Joolie Gibbs and Judy Barrass – 11am
Saturday 8 October – MEET THE ARTIST – Kim Herringe – 11am
Saturday 15 October – WORKSHOP – Aluminium Plate Etching with Megan Corrie – 9am-4pm
Sunday 16 October – LONG TABLE DINNER – 6pm-8pm
Saturday 22 October – WORKSHOP – Jewellery Making with Noela Mills – 9am-4pm
Sunday 23 October – MEET THE ARTIST – Jo Williams – 11am
Saturday 29 October – MEET THE ARTIST – Kym Barrett – 11am
Exhibiting Artists
Ellen Appleby
Judy Barrass
Kym Barrett
Ardleigh Cleveland
Megan Corrie
Finn Cossar
Dian Darmansjah
Sue Davies
Fiona Dempster
Sandy Doble
Saffron Drew
Marie Farr
Carol Forster
Judy Gardiner
Jackie Gasson
Joolie Gibbs
Anthony Blyth Harrison
Kim Herringe
Thomas Hamlyn-Harris
Kari
Taryn King
Wendy Lakeland
Jackie Lowry
Noela Mills
Ken Munsie
Sandra Pearce
Louise Plint
Cherry Powell
Barry Rosenberg
Judith Rosenberg
Barry Smith
Ulrike Sturm
Wendy Talbot
Pam Taylor
Merrie Tomkins
John Wladron
Pam Walpole
Marama Warren
Jo Williams
Kerry Wilson
Corrie Wright
You can view a selection of works by participating artists on the exhibition's instagram page – @vessel_exhibition_nambour
There are workshops and floor talks happening throughout the exhibition program.
Update: November 2023
I am thrilled to report that the triptych found a very special forever home. They will hang the walls of a home of a very special person.
This work is also the inspiration behind a new Embossing on Paper workshop coming in 2023.