Gel Printers Summit 2023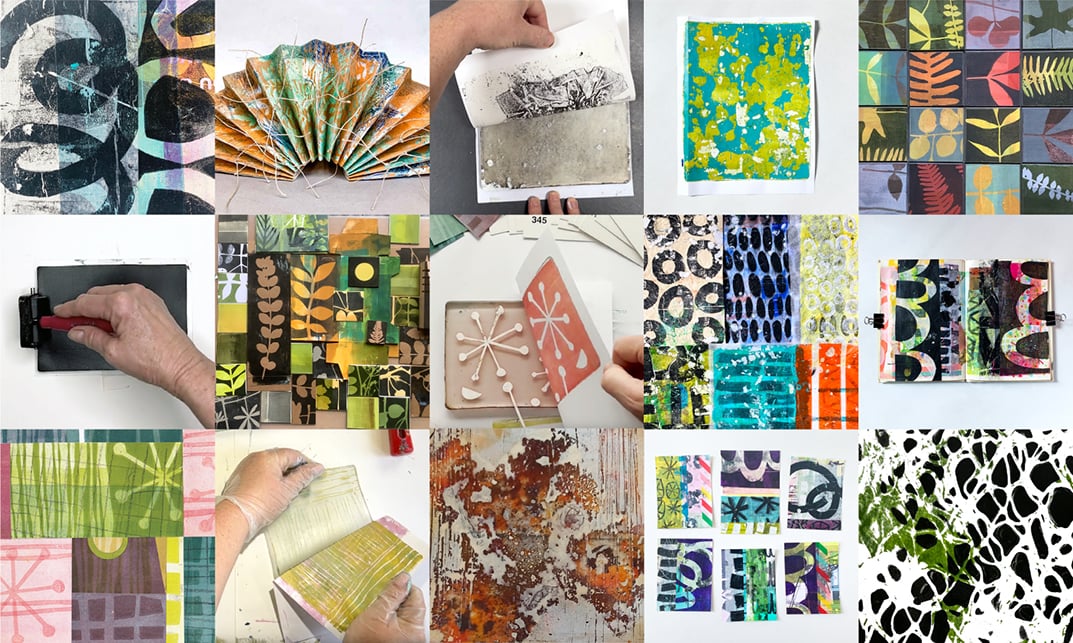 I am so excited to be a part of the upcoming Gel Printers Summit. Drew Steinbrecher has gathered 14 top gel plate artists in one place where we share our processes, tips & tricks, and artistic thoughts for students around the world.
What is the Gel Printers Summit?
14 instructors from around the world – all in the one online place!
Discussion forums and Facebook group.
Self-paced and Lifetime access.
Tips, tricks and insights into each instructor's process.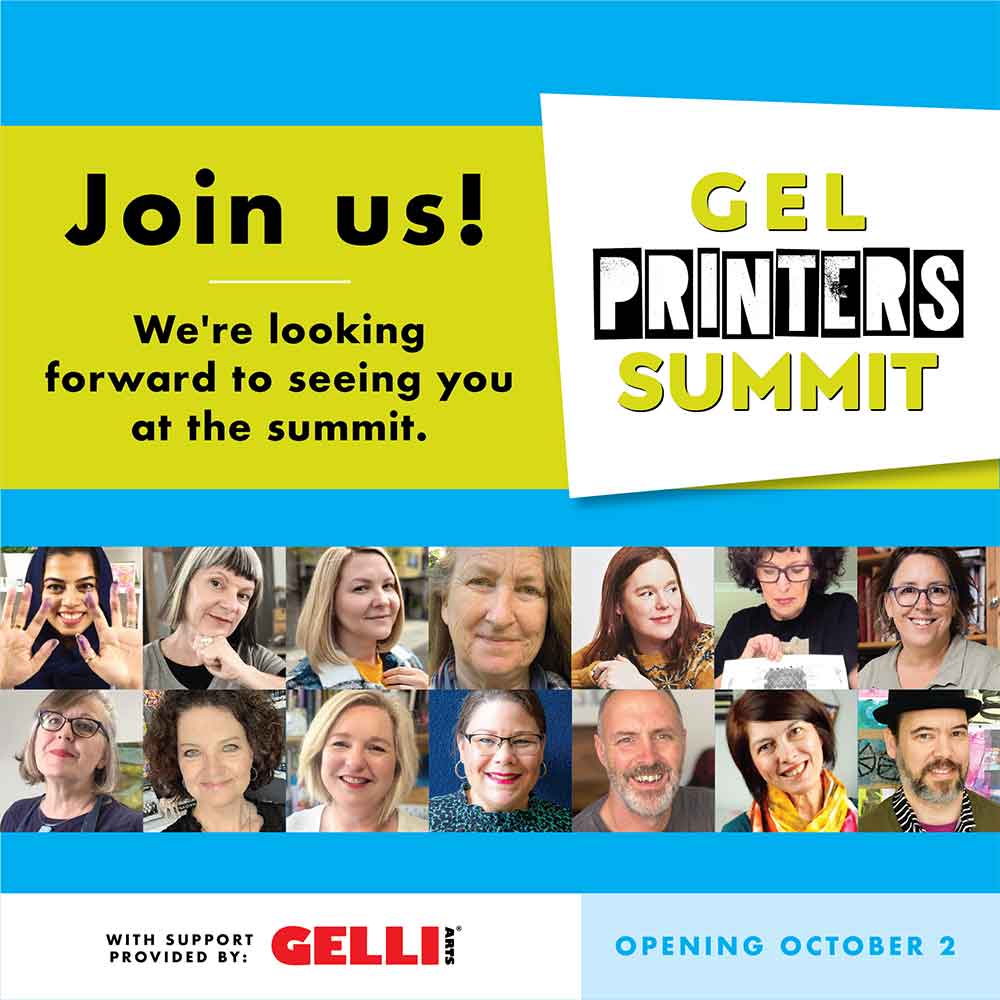 How much does it cost?
US$67 – EARLY BIRD pricing starts 18 September
US$97 – Regular pricing from 2 October
Who are the Instructors?
Tania Ahmed
Tara Axford
Nadya Borisevich
Jennifer Douglas
Jayne Emerson
Jane Faase
Kim Herringe
Birgit Koopsen
Susan McCreevy
Marsha Valk
Mark Yeates
Giovanna Zara
Drew Steinbrecher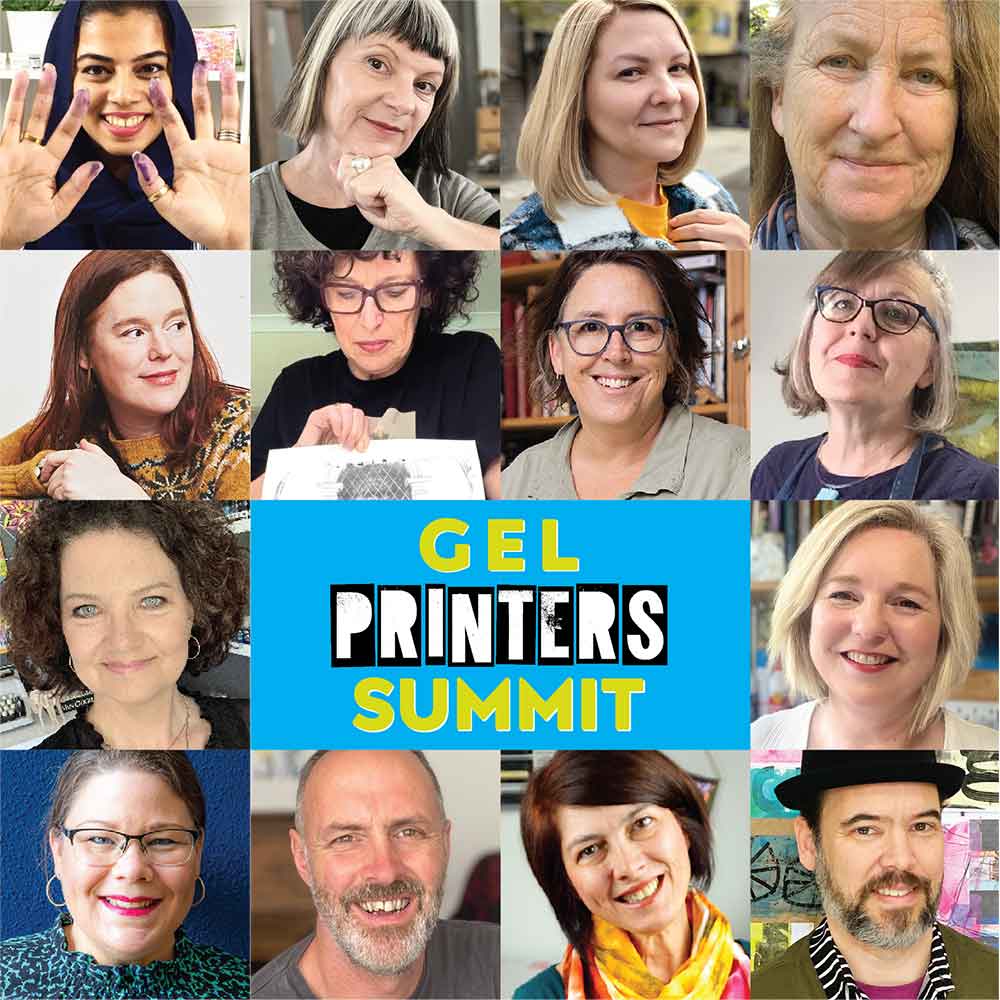 How do you sign up?
This link will take you to the signup page:
www.subscribepage.com/gelprinterssummit
Each instructor earns a small commission from sales from their own Gel Printers Summit link.
It means a lot to me if you enrolled via my link 🙂

What am I teaching?
Each instructor was asked to create a video (approximately 30 minutes in length) sharing something special about their gel plate monoprinting process. My submission is about 30 minutes of video content in 2 parts:
I will be previewing some of my Beyond the Basics printing approach, specifically printing onto oversized paper.
Then I will be using some of the printed papers to make a visually stunning handmade book, accompanied with downloadable templates for reference.
GEL PRINTERS SUMMIT FAQs
Schedule
The summit is opening on October 2. Early bird pricing begins Monday, September 18 and continues through Sunday, October 1.
Pricing
The early bird price is only US$67. You'll want to swing in there and grab the early bird price before the price increases to US$97 on October 2.
What is the Gel Printers Summit?
GPS brings together top gel plate artists in one place so that they can share their processes, tips & tricks, and artistic thoughts for students around the world.
What will I learn at the Collage Makers Summit?
Fourteen instructors will share prerecorded video lessons incorporating their favorite gel plate techniques to help invigorate your gel plate art.
The summit is self-paced so you can enjoy when you have the time. We will also be hanging out in a Facebook group where you can ask questions and share your work.
We're looking forward to having both new and experienced artists from around the world in the summit.
100% money back guarantee
We want you to pay only if you find value in the summit. That's why we offer a 15-day money back guarantee. If after watching less than 50% of the content you don't like the class, email Drew and we will refund 100% of your money. drew@drewsteinbrecher.com
Is it a one time payment or a subscription?
It's a one time payment, not a subscription. You pay only once and you have lifetime access to the content.
What level is this course suitable for?
This summit is for anyone who wants to learn more about gel plate printing. The material is suitable for both beginners and more intermediate artists.
Is there an online community for this class?
Yes! There are discussion forums for each lesson that you can use to ask questions, as well as a Facebook group where you can share your work and interact with other students.
Are you having a giveaway?
Yes! Students who purchase the early bird rate between September 18 and October 1 will be entered in to a drawing to win amazing Gelli® Arts products.
Do you offer scholarships?
Yes! We will be offering scholarships. You can apply here: https://forms.gle/dkGQMBqP8JM1vV9y5