Hinterland – Solo Exhibition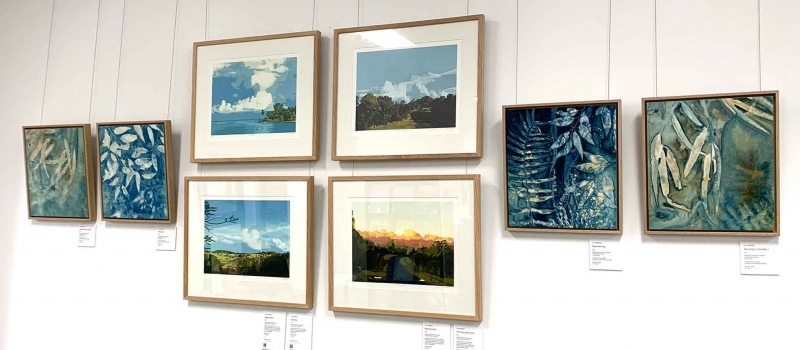 I am super excited to be showing work in a public space … a selection of my recent reduction linocut, cyanotype and artist book fine artworks will be on display and available for sale at the Maleny Library for the month of December.
Exhibition Artist Statement
Stepping into the natural environment of the Sunshine Coast Hinterland, be it my own garden, an afternoon drive or morning walk, affords me the opportunity to take a moment, stop and breathe. To appreciate where I live. Its beauty, space and sanctuary. And it is these moments that are a source of inspiration for my work.
I am a printmaker, enjoying the process-driven art form in all its inky glory. With the many different meditative processes used in printmaking, combined with my subject matter, I am connected to the present moment.
Hanging Artworks
The wall display (below) features hand-printed reduction linocut and mixed-media cyanotype artworks. They share my own moments of pensive observation within our beautiful landscape.
Escape the constant news cycle and travel back to moments and memories of distant beautiful places visited in another age.
Take the long way home. Slowly meandering along back-roads, delaying the start of a working week or extending the delights of a lazy Sunday afternoon drive.
Nearing home at the end of a long day. Driving those familiar roads. Anticipating that feeling of belonging. The landscape a warm golden green as the setting sun kisses her goodnight.
Nearing home at the end of a long day. Driving those familiar roads. Anticipating that feeling of belonging. The landscape a warm golden green as the setting sun kisses her goodnight.
Mixed Media Cyanotype prints
These cyanotype 'sun prints' have been created by combining gel plate monoprints, cyanotypes incorporating water in the exposure process and pigment powders. They use plant materials foraged from my garden. I don't have extensive gardens, but I do love to wander around the yard, foraging for interesting shapes. The plant materials become my stencils, layering and making marks on the paper; telling a story of the gardens they came from.
Each print on paper has been mounted to board and custom framed in an oak float frame. The oak in the frames will age with time, turning a warm honey colour. Delicious!
Artist Books
Artist books have been another long-time creative love of mine. The Hinterland provides inspiration for many of my books, observations from my own moments and experiences. The tactile nature of an artist book, combined with the multidisciplinary approach of different printmaking processes, work to create a haptic experience that eludes much of our modern lives.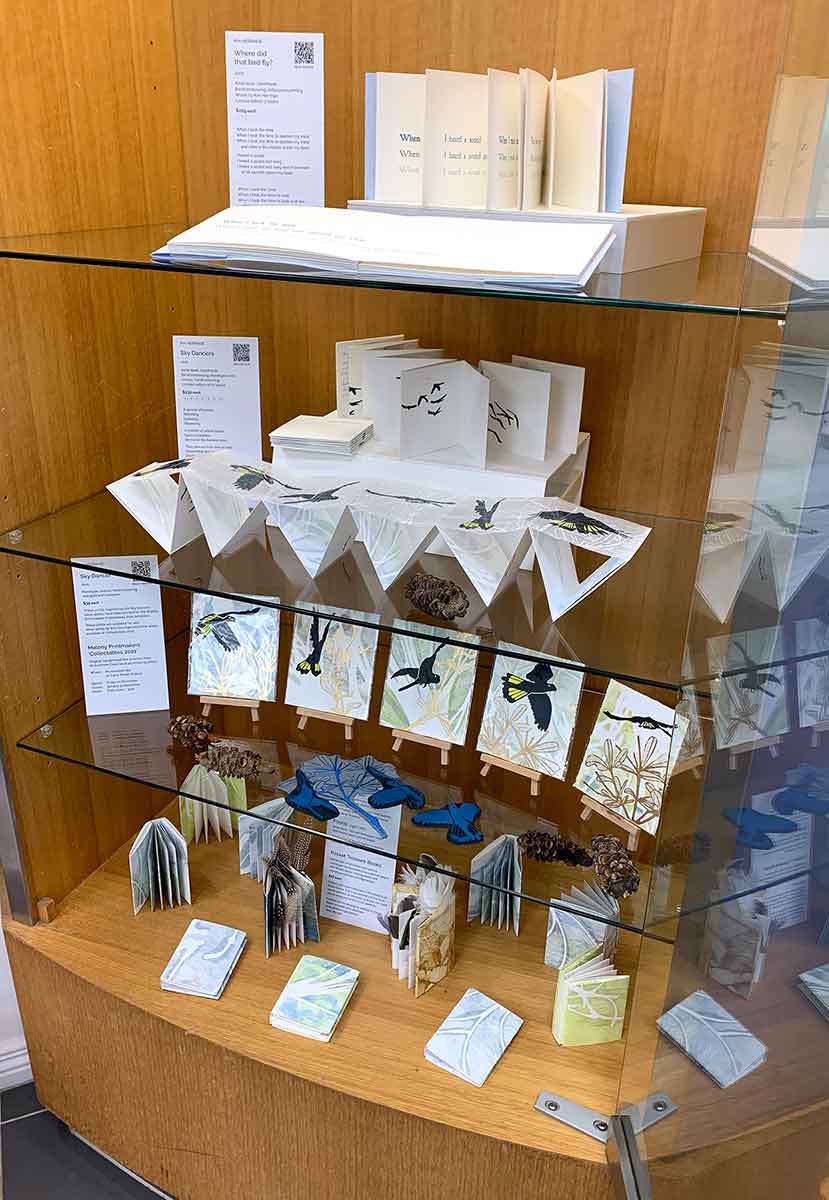 I thoroughly enjoyed putting this collection together. All works inspired by moments and experiences in the Hinterland.
Top shelf: What happens when you give yourself time to breathe and open your eyes and feel the air and the breeze and the sounds and the sights around you … and wonder?
Second shelf: It was a special afternoon and a privilege the watch and hear these glorious feathered creatures dance from tree to tree, screeching and squawking, chattering and crying.
Third shelf: These prints, inspired by the Sky Dancers book above, have been printed for the Maleny Printmakers Collectables 2021 exhibition.
Pocket Treasure Books
Bottom shelf: Handmade artist books with various handprinted covers and pocket pages with different papers. Pockets at the front, secret pockets at the back, and more secret pockets in the covers. Perfect for keep found treasures.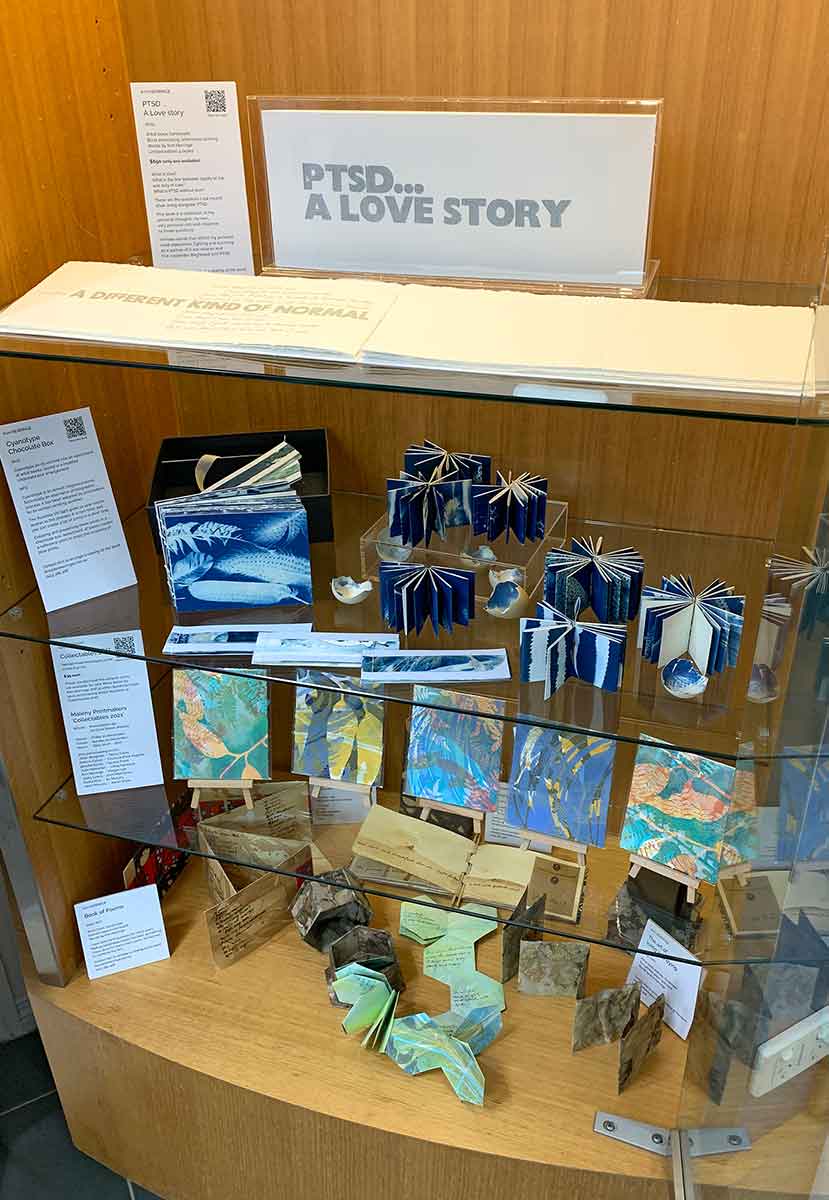 Artist books and printmaking are a match made in heaven. Whether it be to print papers specific to a book project, or use pre-printed papers in new book projects. The books below are a combination of both:
Top shelf: What is love? What is PTSD without Love? What is the terrain between Love and PTSD?
Second shelf: Cyanotype prints stiched into an assortment of artist books, stored in a modifed
'chocolate box' arrangement.
Third shelf: Small collectable prints ready for the Maleny Printmakers Collectables 2021 exhibition later this month.
Home, Turning Point, Book of poems, The Art of Living and Dying
Bottom shelf: A collection of books made with different papers, bindings and sentiments. I love the intimate nature of artist books.
Maleny Library – Sunshine Coast Libraries
Visit the library to view the work.
Please contact me directly for more information about the work, or to make a purchase.
Exhibition opens – Wednesday 1 December
Exhibition ends – Thursday 30 December
Library Address – 5 Coral Street, Maleny
Library Hours
– Monday-Friday 9am-5pm
– Saturday 9am-12noon
– Sunday Closed