Nearly home – a new Reduction Linocut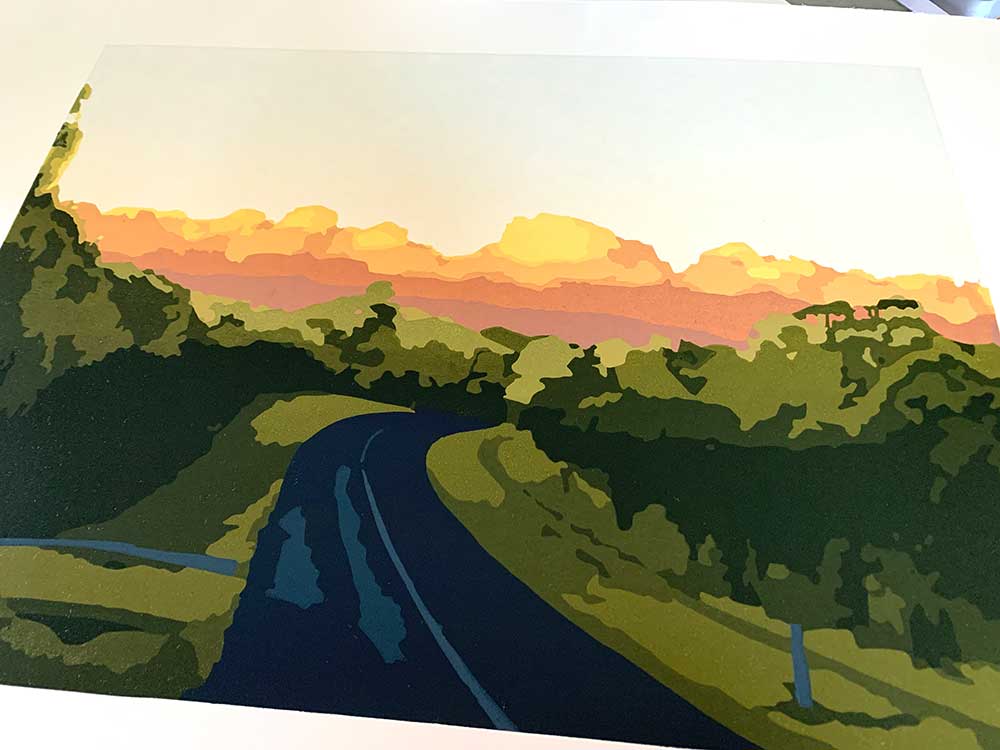 I find it a deeply comforting feeling … nearing home at the end of a long day. Driving those familiar roads. Anticipating that feeling of belonging as I arrive home at my safe place. The landscape a warm golden green as the setting sun kisses her goodnight.
Sometimes the setting sun lights the dusk sky on fire. That intense glow reflected from the cumulus clouds above throws a warmth on the landscape that adds to that feeling of home.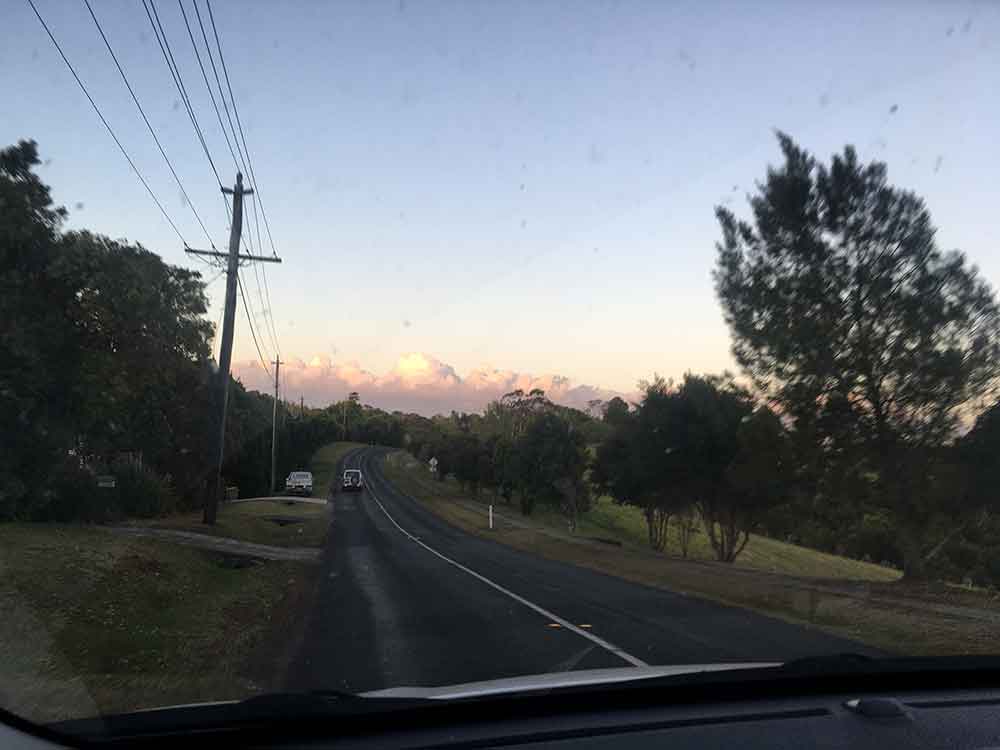 The photo I took on a drive home last year (above) didn't capture the intensity of colour that I remembered – but it became the reference for my latest reduction linocut 'Nearly home'. However, one early morning while printing this print, the morning sky shared the colours that were in my memory (below).
When all the yuck is going on around us, there is something special about being able to stop, catch your breath, and marvel at small moments of beauty on our marvelous planet.
The Process and Layers
I knew from the get-go that this print was going to take me out of my normal colour comfort zone. But more than that, I knew I loved the idea of this image. The firelight-feel of the clouds. The road driving home. The bend and sweep of the road inviting me around the corner.
But I have to admit that as much as I knew that before starting – it was a challenging print as I mixed colours and printed the cloud layers.
Layers 1–7 – the sky and clouds
Have you noticed how pale the dusk sky can get as it transitions from daytime-blue to night-time black? I have learned to notice that contrast … that movement of colour as the day merges into night.
The first layer down for this print was to capture that subtle graduation of pale colours above the fire-light clouds hovering close to the horizon.
That first cloud yellow was intense!
A the tricky thing with colour is that the final presentation of any one colour relates directly to other colours placed with them – colour context. That adds a whole new dimension to colour mixing and layering with the reduction linocut process as you print each layer in a backwards ordering of colour.
The final cloud layers, layer 6 and 7 (below), absolutely tested me!
Colours much bolder and richer than I was used to printing.
In the spirit of blog-posting-honesty-and-vulnerability – those bold colours didn't print quite as I expected them to. I didn't anticipate the colour interaction between the previous layer and newly printed layer – but I should have.
I was feeling nervous when layer 7 went down. But being the stubbornly tenacious human that I am, I was determined to not give up and keep going! That 7th layer was not the colour I was working toward – but I wasn't going to let that stop me.
Plus – I was a little excited at the tree silhouette appearing on the right side of the foliage horizon.
Layers 8-13 – the golden landscape
I love love love that golden green glow the landscape creates with a warm setting sun.
I especially love it when there are deep grey clouds framing the horizon as the sun sets shining into the landscape. There is something delicious about the deep grey and warm greens.
However, with this print I was printing fire-clouds separating the pale dusk sky and warm glowing landscape.
Layers 8 and 9 are the same carving – a double-hit of ink for that one carved layer to block out the background clouds.
I felt like layers 10 and 11 were teasing me. The foliage was starting to reveal itself. I was still a little unsure about the final colours of the fire-clouds, but wasn't going to know how it was all going to come together until the last layer was printed.
But, as layers 12 and 13 went down I got a little tingle in my tummy that maybe this was going to work.
I used paper masks for most layers of this print – protecting the paper from unwanted ink marks, but also unwanted emboss marks from the carved lino.
I did the same in my recently completed 'Kavieng' reduction linocut. I have been using masks for a long time, but I'm using them better and more often now – with excellent results.
It was with the 13th layer that my favourite little element of the print popped out – the bin.
Can you see it lower-left corner of the print (below)? Its small. You can see the yellow lid and green bin sitting in front of the shadowed hedge. I'm enjoying adding a little subtle man-made element to my landscape prints, much like the letterbox in my 'The long way home' reduction linocut.
Layers 14-16 – the road home
Sky and clouds – done.
Bush foliage landscape – done.
Now to add the final layers – the road and driveway.
With our eyes we look at a surface and see 'a colour', but on close inspection we can see that that one colour is made up of many different colours and reflections of light working together.
For the most part I work with flat solid areas of colour in my reduction prints. I thought hard about how I wanted to print the road – what colour was I going to print? I didn't want a grey bitumen – there is so much more colour than grey.
I wanted blue! A rich, deep, dark blue, but more blue than black. It is so hard to show in these photos how blue that blue road it – but I loved it! Very bold compared to my normal colours – maybe that's why I loved it so much too.
'Nearly home' reduction linocut print technical Information
Print process – reduction linocut print
Edition Size – a limited edition of 11 prints plus two (2) Artist Proofs and one (2) Hors de Commerce
Layers – 15
Inks – Sakura oil based inks
Paper – 300gsm Arches 88
Image size – 40cm x 30cm
Tools – Pfeil carving tools
Printed – I printed this print with in combination with my press and trusty glass Print Frog barren, and new Speedball teflon baren