Gel Plate Printing Tip – printing a white silhouette
How do you print a white silhouette with a coloured background when printing with gelatin plates? Here I share my process with you …
Gel plate printing, aka gelli printing, aka gelatin plate printing, is one of life's simple pleasures. I, quite simply, can't get enough of it. It's spontaneous, fun and immensely satisfying. And, like just about any other art form, there are so many different ways to approach the medium.
My approach is to build up thin layers of colour, using plant matter to create my image. Weeds are my favourite plant material to use – they provide a vast variety of shape and size, and have strong vein structures. And, yes, they grow in abundance at my house!
In this article I'm sharing the steps I use to create a white silhouette effect from a gel plate that already has colour and detail impressed onto the plate. Below are 3 example of the process, created in some time-out play time yesterday …
Lets Get Gel Plate Printing
You will need:
A gelatin plate – either a commercial Gel Plate or Gelli Plate, or have a go at making your own. I'm using the commercial 6″x6″ Gel Press plate in this demonstration, but you can make your own very easily. I have a recipe here.
paint or ink in your colour of choice
a Brayer (aka roller)
2x sheets of paper
mark making elements (eg plants, stamps, stencils). For this example I am using plant matter.
Step 1. Ink your gel plate
I've inked my gel plate with an even layer of prussian blue paint.
Mix it up a bit and introduce a 2nd colour to the plate before you roll the paint out, or only roll the paint over some of the gel plate. You can get some great results when you play around with different applications of paint to the surface of the gel plate.
Step 2. Place your 'mark' on the plate
By 'mark' I mean leaf matter, stamp, stencil – what ever it is that you want to 'print' as the background behind your white silhouette.
I love to use plant materials, and generally weeds. In this example I've used the leaves from a cobblers peg plant. In a world focused on sustainability – I have a very sustainable supply of this plant in my garden 😉
Step 3. Make an impression
Now make your first print. But this printed impression isn't part of the final print. Rather it's used as more of a blotting sheet to create the 'ghost print' layer.
The real purpose of this print is to create an impression of the leaf shape and vein structure on to the surface of the gel plate.
I rub the paper over the leaves, firm, but not so firm in the uncovered parts of the gel plate (the area with no leaf covering). I don't want to remove too much paint from these uncovered areas at this stage.
The two pictures shown for this step show:
the printed impression next to the plate, you can the paint has transferred to the paper, but I pressed lightly enough so as to leave enough paint on the surface of the plate for the next and final print.
plant removed from the plate revealing the impression left by the leaves and vein structures, ready for the next step.
Step 4. Place your white silhouette
Now place the item that will form the white silhouette on to the surface of gel plate.
I like to play with shape contrast – big and small, long and short, thick and thin. The contrast creates interest on the final printed piece.
In this example I've laid some very thin roadside grass on the gel plate.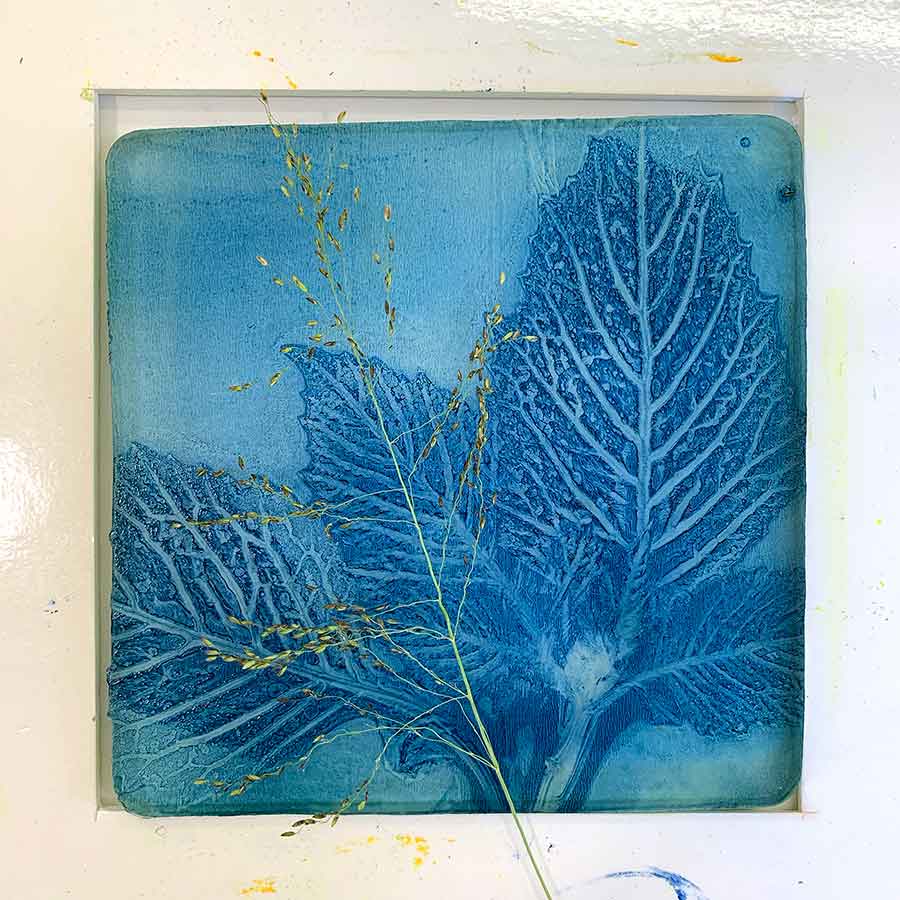 Step 5. Make your final impression
Grab your 2nd sheet of paper and place it over the gel plate. Give it a good, all-round, gentle rub to make your printed impression, then lift from the plate.
Viola!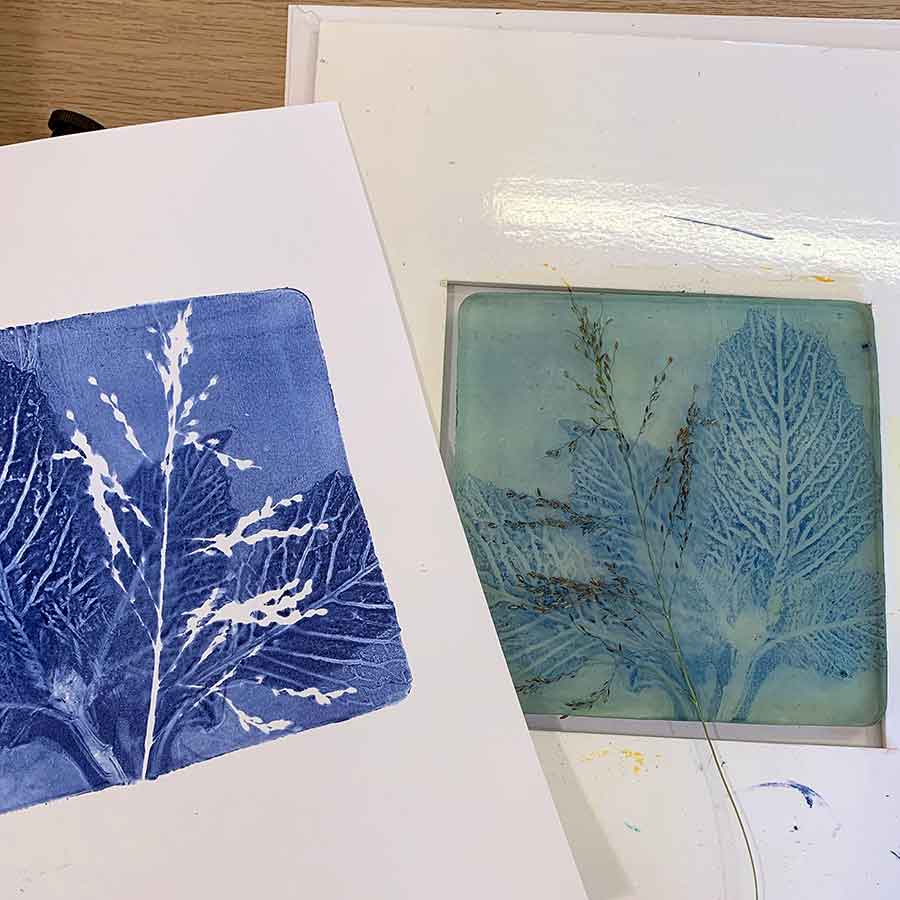 The final image
And here she is … printed.
Mix it up a little – use leaves from a previous print that have paint on them, and face the leaves paint-side-down on the gel plate.
Use the same process with stencils. Print onto music paper of other pre-printed papers.
The ideas and possibilities with this process are unending.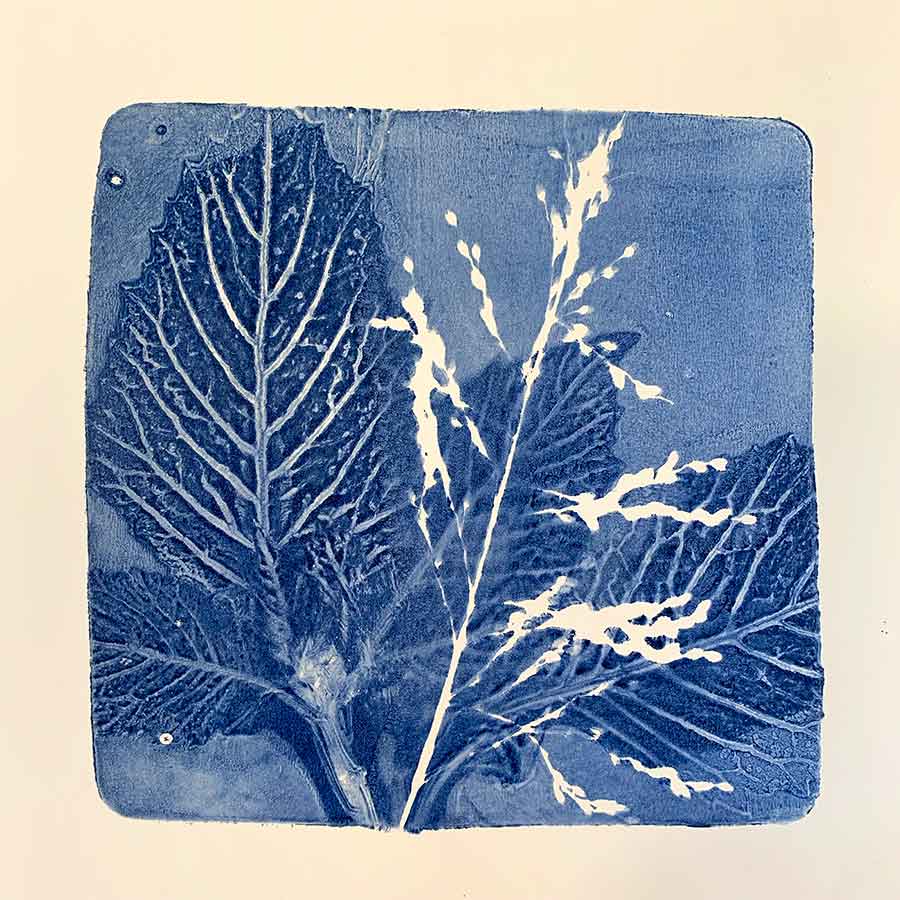 Gel Plate Printing Tip – mountain ranges
This is one of my favourite sequences to print with my gelatin plates. 2 (sometimes 3) paint colours, some torn paper and a brayer. Viola! I love sharing this process in my workshops … and then I love to see students make it their own with their own colour combinations and modify the sequence. Have a go yourself and follow the step-by-step instructions here.
Gel Plate Printing Tip – colour and composition
Do you feel comfortable arranging elements on your gelatin plate to create a satisfying and balanced composition or design?
I share a few tips around composition when printing with gel plates in my workshops. For the most part, I encourage play and experimentation – I believe that 'doing' in the process builds confidence and hones intuition. Click here to find out about 3 simple composition tips I share in my workshops, and my thoughts around colour in this process.
Interested in learning more about my approach to Gel Plate Monoprinting?
Printing with gelatin plates, home made or commercially bought, is fun and easy. There are many different approaches you can take, using different paints and inks. If you're interested in learning my approach, I offer both in-person workshops and an online workshop.
In my workshops I demonstrate and share with you how I create my layered prints using botanical materials. And that demonstrating this post's process, and how I make my DIY gelatin plates.  I'd love to share this all with you.