Wandering … a new Gel Plate Monoprint Series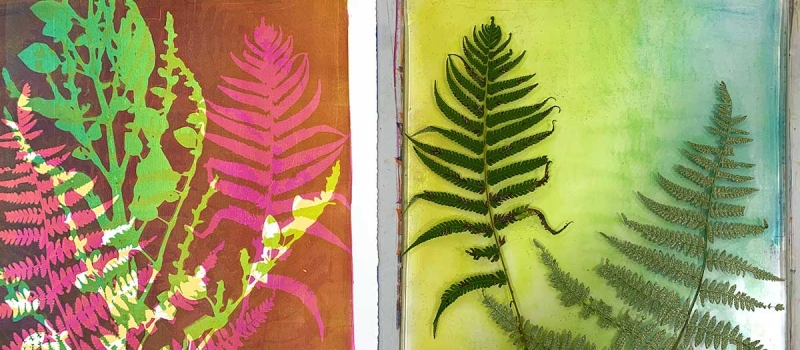 I share a lot of my linocut printmaking work in my blog … I think its time I share some of my approach to gelatin plate monoprinting!
I was privileged to have been the July's Feature Artist at Montville Art Gallery. The Gallery sells many of my reduction linocut prints. I took this opportunity to print a new series of gelatin plate monoprints to add their collection of work for sale.
This picture of me was taken a few days ago, when I spent Sunday morning at the Gallery meeting vistors and chatting about all things printmaking.
My New Work
Below are my newest prints – Wandering 1, Wandering 2 and Wandering 3. They were printed for display and sale at Montville Art Gallery.
I used my super-sized 16″ x 20″ (or 40cm x 50cm) Gelli Arts gel plate.  The trimmed papers are a little smaller than the plate, then mounted to board and framed. I looooove working large. So much surface to work with. It affords me the space to work with larger plant material, or play with more detail in smaller leaves.
I foraged for the plant materials in my own garden. I have a good variety of different plants and leaf shapes to print with. And it is the story of foraging and wandering around my own property that I am telling with these prints. The plants growing up from the ground, leaves hanging down from branches.
I love where I live. Taking time to wander in my own space, creating my own artwork, affords me great respite from this crazy busy world; and even more respite from the never-ending news cycle about COVID19 and its devastating worldwide impact.
Below the 3 images is a video where I talk through some of my layering approach with these prints. The video is part of one of my lessons in my new online Gel Plate Monoprinting workshop.
Above is a 2:50 minute video taken from my online workshop. Here I talk through some of my approach in a little more detail for my Wandering print series.
My Approach to Gel Plate Monoprinting
There is such a delicacy and strength in gel plates – whether they be the commercial Gelli plates (which I use most), or a home made gelatin plate and making your own gel plates opens up a whole lot of new possibilities with plate size and shape).
The softness of the gel plate will capture and hold even the tiniest detail, be that botanical materials or textiles, textured paper, stencils or scrunched plastic. That captured detail can be printed onto just about any flat, or not-so-flat, surface. I print primarily onto paper. Sometimes silk. I still marvel with an almost child-like wonder when I lift my paper from the gel plate to see the detail printed from a fern frond or remnant of embroidered fabric.
This process, for me, comes with an approach where there is no such thing as a mistake; and there is no right or wrong way to print with gel plates. I like to release the attachment to the outcome, enjoying each step of the process in a playful and mindful way.
When I truly allow myself to step into that headspace, I am able to create what I think is my best work with this process. Its not always easy to 'just let go', but I do try to with this process.
I like to print in layers of very thin, translucent, colour. Playing with compositions of botanical materials in different shapes and sizes. There is no right or wrong, and I like to 'feel' my way through each print. I try not to think ahead, leting my own intuition guide me. I also work hard to remove outcome-focussed pressure from myself and create for the sake of creating, not for any other reason.
Gelatin plate monoprinting affords me that freedom.
Below are some work in progress images of gel plate monoprints.
Interested in learning how to do Gel Plate Monoprinting?
This processes is easy, versatile, therapeutic, exciting, restful and accessible. I teach my own personal approach – and from there students can adapt and make it their own in whatever way tickles their fancy.
You don't need a lot of space*, and other than some paint, paper, a roller and a gel plate (which you can buy or easily make yourself), you don't need any other fancy tools or materials to get started. Absolute beginners, people terrified of working with colour, experienced mixed media artists, people dealing with arthritis and Parkinson's tremors, able-bodied accountants – this process is accessible and do-able by ANYONE!, almost anywhere.
I teach from my in-person workshops from my working studio. I can run this workshop from community art spaces in private group workshops, and, excitedly, I am launching an online version of my Gel Plate Monoprinting workshop. This online version can be accessed from anywhere, worldwide, with internet access. It is a self-paced workshop with 2 hours of video content, spread across 30 videos.
If you want to know a little more about this process and my approach, I have written some 'how to' articles in my blog:
Whether you learn from me, from the myriad of online tutorials or teach yourself – I urge you to give this process a go! It suits all ages, all abilities. It is fun, and limitless in possibilities when it comes to 'how' to print.
*You really don't need a lot of space – a corner of the kitchen table will work! But I say that knowing that I am spoiled for space in my studio. And I will consume just about every empty horizontal surface with plant material and papers when I am in the throws of a printing session. What space do you create in?