Collectables 2017 – An Exhibition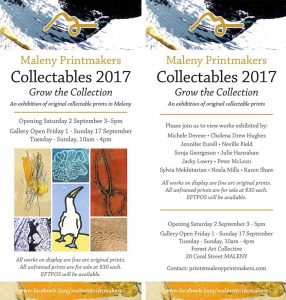 The Maleny Printmakers are preparing for their next "Collectables" exhibition. This will be the 3rd event – time to come along and grow your collection.

When: Friday 1 – Sunday 17 January 2017
Hours: Tuesday – Sunday, 10am-4pm
Where: Forest Art Collective, 20 Coral Street Maleny
Click here to view on Google maps – hhttps://goo.gl/maps/qMhJ3uLXtep
Just a minutes drive from the main street in town, in front of the Forest Heart Nursery.

Opening event – Saturday 2 September, 3-5pm
Maleny Printmakers exhibiting members:
Michele Deveze
Cholena Drew Hughes
Jennifer Eurell
Neville Field
Sonja Georgeson
Julie Hanrahan
Jacky Lowry
Peter McLean
Sylvia Mekhitarian
Noela Mills
Karen Shaw
There will be original work from a broad range of printmaking mediums. All works on display are fine art original prints. All unframed prints are for sale at $30 each. EFTPOS will be available
On the same weekend in Maleny is the Maleny Music Festival and Horizon "Art Street Maleny" Festival. It will be a great weekend to visit Maleny and feast the senses on an array of the arts.
More on Facebook – https://www.facebook.com/malenyprintmakers/