Open Studio Sunshine Coast – 18-27 March 2022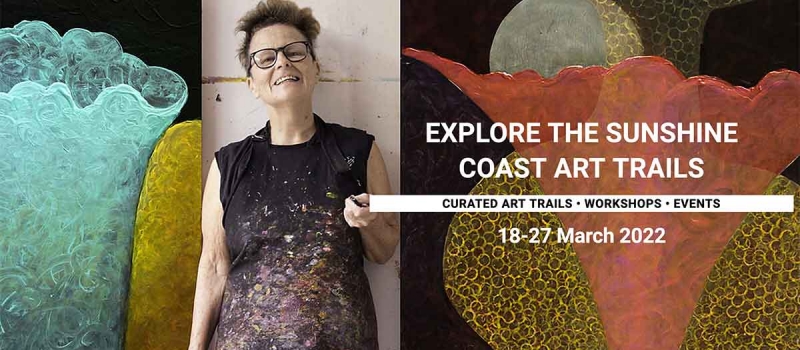 It's on again – Open Studios Sunshine Coast.

Artists are opening their studio doors at the end of March – printmakers, painters, sculptors, photographers, mixed media artists, shoemakers and more!

73 creative spaces – artist studios and galleries – are participating in this 10 day event.
My studio will be open
Friday 25, Saturday 26 and Sunday 27 March
10am-4pm daily

10 Nadi Lane, North Maleny
#59 on page 52 in the Trail Guide
The event kicks off Friday 18 March with the opening of the coastal studios. The following weekend sees the opening of the Hinterland studios. The demarcation line is the Bruce Hwy – studios on either side of the highway have been grouped into Art Trails.
Friday 18 – Saturday 19 – Sunday 20 March* – the 43 COASTAL studios open their doors to the public, from Caloundra up to Coolum and out to Yandina.
Monday 21 – Friday 25 March* – workshops are running at different studio locations, along with some artist's studios open during that week.
Friday 25 – Saturday 16 – Sunday 27 March* – 30 HINTERLAND artist studios from the Glass House Mountains and Landsborough to Maleny, Montville and Mapleton open their studio doors to the public.
*be sure to check out each artist on the Trail Guide. Not all artists are open all days, and some artists are open on additional weekdays.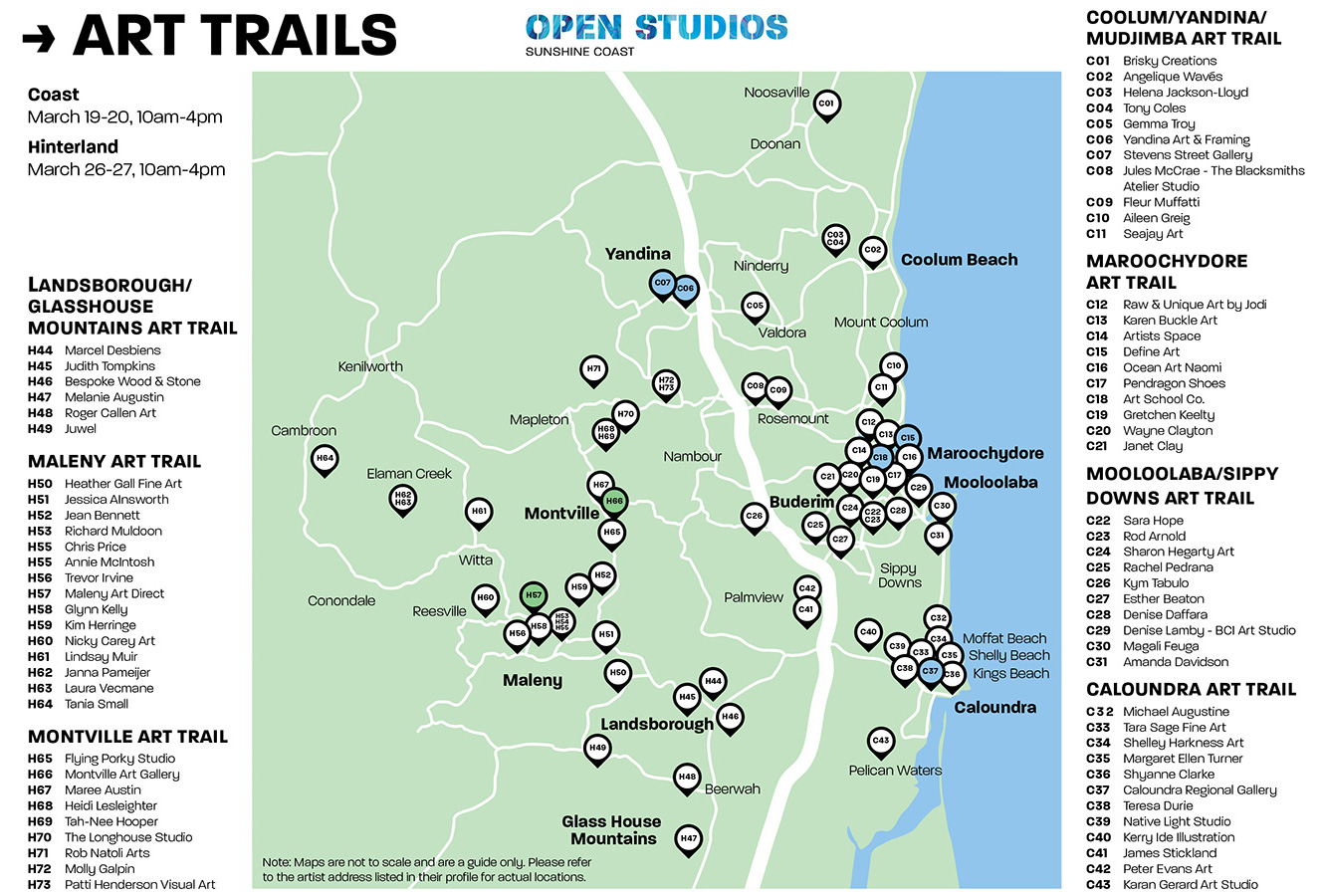 Open Studios last year (2021) was a fabulous weekend! If you couldn't make last year's event – I hope to see you this year. If you did visit last year – please come again!! I opened my studio in August 2019 – it was The Studio's grand opening weekend event. I love to share my space and meet people interested in my work and/or printmaking, even if its to learn what 'printmaking' is ?
Take advantage of this unique opportunity – to step inside the hidden sanctuary of an artist's studio. Artists' whose work you love, who you have never heard of, or who create in a medium that piques your interest.
My studio, The Studio, is my own quiet and safe space. It's where I create, and where I share my printmaking skills in year-round workshops. It is where I find respite from our discombobulated world and the stressors and pressures of life.
Engage your senses while you have a look around and chat with me about process, practice and printmaking.
There will be work for sale – original hand-printed framed and unframed works – new and old works. Linocut. Monotype. Etching. Artist books. Hand-made books. Printed scarves. With tea and coffee and nibbley treats on hand.
Participating Printmakers in 2022
When looking through the 2022 Trail Guide you will find six printmaking artists. I have listed them below…
On the first weekend, Friday 18-Sunday 20 March*, the COASTAL printmaking artists are:
Brisky Creations #01 on the Coolum/Yandina/Mudjimba Art Trail, on page 17 in the Trail Guide
Gretchen Keetly #19 on the Maroochydore/Buderim Art Trail, on page 27 in the Guide
The second weekend, Friday 25-Sunday 27 March*, the HINTERLAND studio open, you can visit:
Kim Herringe ? #59 on the Maleny Art Trail, on page 52 of the Guide
Nicky Carey #60 on the Maleny Art Trail, on page 53 of the Guide
Montville Art Gallery represents a few printmakers, #66 on the Montville Art Trail, on page 63 of the Guide
Roger Callen #48 on the Landsborough/Glass House Art Trail, on page 47 of the Guide
*be sure to check out each artist on the Trail Guide. Some artists are opening their studios on the weekdays bridging the weekends.
Open Studios Sunshine Coast 2021
Last year's Open Studio event was a huge success. Studios across the Hinterland and coastal areas enjoyed so many visitors. My weekend was too busy for me to get photos – the photos below have been shared with me from people who visited – THANK YOU x
I hope to see you over the weekend of 25-26-27 March !!
Open Studios Sunshine Coast 2022 – THANK YOU