Introducing The Repeat Offenders Reward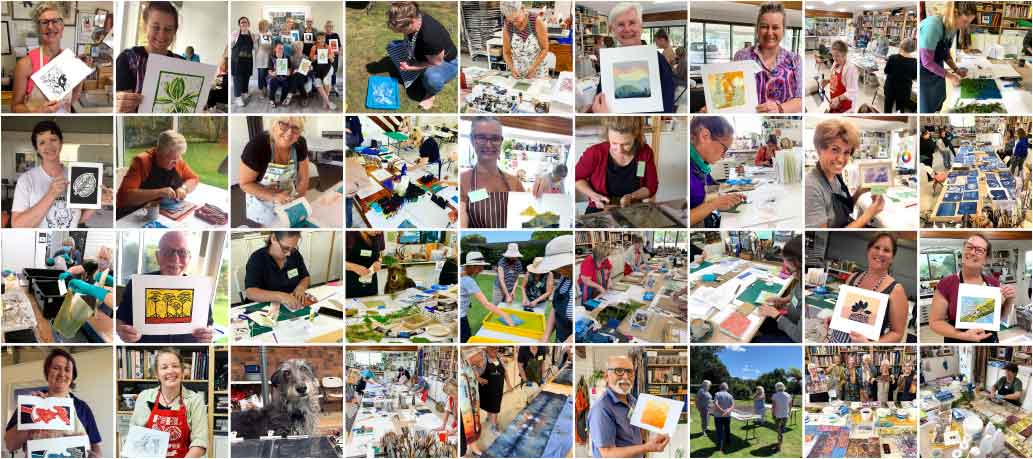 In the most fun way, when you attend more than one of my workshops –  you are officially a Repeat Offender ?

 

And in a spirit of generosity and gratitude, when you attend ten (10) workshops, I will gift you the Repeat Offenders Reward … a FREE workshop*.
For as long as I can remember, I wanted to teach and make art. Life took me down a different path far removed from teaching and creating for the love of creating, but five years ago I managed to find my way to combining my two passions – printmaking and teaching.
Recently, being the Excel-spreadsheet-loving-nerdy-printmaker that I am, I had a look through my workshop numbers – the number of workshops, number of students and number of workshop enrolments.
Since January 2018 (when I started my printmaking workshops) I have run 143 individual small group printmaking workshops and private tuition sessions; with over 750 enrolments from over 420 people.
Some people have attended one workshop, others have come along to 2 or 3 or 4 and some people have attended 8 workshops. A few people have hit the 10 workshop mark, and one person 15 !! Katie, that's you !!
WOW !! WOW !! WOW !!
I feel excited and full of gratitude for continued support of my workshop offerings, and humbled when I realised just how many workshops some people have come to.
I can't tell you how special it is when people come back for another workshops. Familiar faces enjoying The Studio space and the printmaking goodness I love to share. And beautiful relationships developing with students as they become friends.
I know when a you pay for any workshop experience with a new tutor, you are trusting that the tutor will deliver on the promise made on the brochure or webpage you are responding to.
There are certain values I apply to the way I design and deliver my workshops. One of them is to come from a spirit of generosity. It is important to me to deliver on and above the expectations of the promise you read on my brochure or website. The familiar faces and beautiful souls who come to The Studio give me permission to believe that I am achieving that goal. Thank you.
By really looking at the numbers in my nerdy spreadsheet I gained a real understanding of just how many people have attended multiple workshops, and repeated some workshops.
You are the Repeat Offenders.
So how does the Repeat Offenders Reward work?
If and when you attend ten (10) of my workshops*, I will gift you a FREE workshop.
The FREE workshop can be any of my one day workshops; or
You can offset the value of that one day workshop against a two day workshop of your choice: or
It can be exchanged for a one-on-one private 2 hour tuition session.
I'll let you know when you have reached the 10 workshop mark, or getting close to it, and we can have a chat about how you want to use your Repeat Offenders Loyalty Reward.
From the tips of my toes to the bottom of my heart …

THANK YOU ?

 

Thank you for your continued support of my workshops and thank you for embracing one or many of the different forms of printmaking I love to share.

 

Viva la printmaking !!