The Art of Combining Passions … Printmaking and Teaching
I am passionate about 2 things … printmaking and teaching.
Since early school years I dreamed of being a high school art teacher, but life and circumstance carved out a different path – one that saw me spend the best part of 30 years behind a computer in the design and advertising industry. Creative, but commercial.
Over the past 7-ish years I have focused my creative energies on my own fine arts practice, and this year launched my own series of printmaking workshops.
Kerry Brown, editor of Come On Up newspaper, published an article about the 'collision' of my two passions in their April/May edition. The paper is published by Hinterland Tourism.
The Art Of Combining Passions
Kim Herringe is passionate about printmaking and teaching. It was a childhood dream to teach but life and circumstance carved out a different path and for more than 30 years Kim worked in design and advertising, the last 10 years were exclusively in a digital environment.
Today Kim is living her dream, she spends much of her time creating her own art, fine art – not commercial art. Now running art workshops she explained how her two passions collided, "I found working in the digital environment quite unsatisfying, the desire to touch and hold the result of my efforts, plus an inherent desire to create, has fuelled the growth of my arts practice," Kim said.
"The act and art of 'hand- made' is alluring. Printing on quality papers, inky fingers, the smell of the oils and inks, holding the end product in my hands, enjoying the imperfection of hand printed artwork, as opposed the perfect results attained in the commercial world is limitless."
Kim describes Printmaking as versatile, "It has a long history of traditional techniques and an exciting future with new technologies and experimentation," She said. "My teaching goal is to demystify the process, and introduce this most versatile medium to anyone and everyone wanting to learn. I also aim to provide students with all the information they need to take their new found skills home and continue to print in their own home and studio environments.
There are numerous online resources that explain what printmaking is and detail the many different approaches, "It's versatility and broad scope means that even the person who thinks they are the most un-creative, un-inspired, can take what I can teach and create their own piece or art,"
This year Kim is focusing her workshops around the processes of lino printing and mono printing with gelatine plates and 2019 will see the introduction of additional printmaking processes cyanotype, aluminium plate etching and screen printing. She will also host weekend workshops to combine learned skills in experimental printmaking workshops.
Living in Maleny on the Sunshine Coast Hinterland provides the perfect relaxed and natural environment to create and teach art workshops. It is only a short drive from the hustle and bustle of the city and once you drive up the mountain, you are surrounded by creative inspiration. For more information on Kim's workshops visit www.kimherringe.com.au/workshops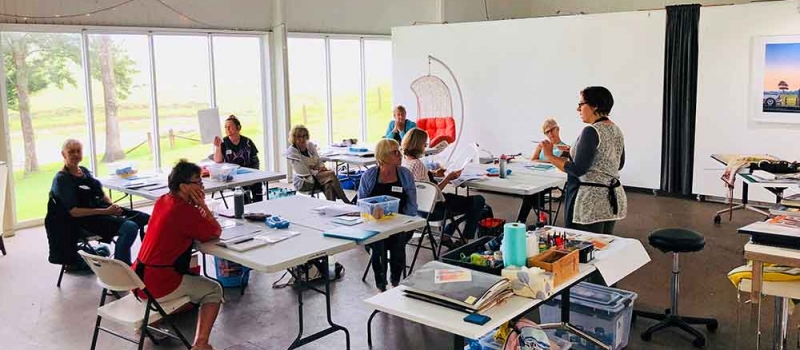 Are you interested in attending a printmaking art workshop?
I love to share my skills and the craft of printmaking. Have a look through my workshop program below. New printmaking workshops will be added over time.
Scroll through some feedback past students have shared
Another thoroughly enjoyable weekend spent at Kim's wonderful studio. The venue is perfect and Kim's amazing teaching skills make for a wonderful learning experience. She is so very generous with sharing her talents and knowledge and provides students the best materials and resources.

Metal Plate Etching Extention Weekend

You run a fantastic workshop Kim, you made everyone feel relaxed and you were so generous with your knowledge, resources and tips to ensure every one achieved a good result. Your passion for printmaking really shines through and is so very infectious. You ensured each participant was given the guidance they needed and took particular interest in ensuring everyone understood the process. You were most helpful in explaining ways to overcome any hurdles and genuinely wanted people to be happy with what they were producing. I came away itching to finish my print and to improve my reductive linocut printmaking skills. I have no hesitation in recommending this workshop to others and l look forward to doing more workshops with you.

Reduction Linocut Printing

I can highly recommend doing Kim's classes. She knows that everyone learns differently and she is very patient. At the end of a lesson you know you can go ahead and do this yourself.

Linoprinting 101

You made it easy and we ended up with a great print we did ourselves. It would be great fun whether you are into art, crafts, printing or not at all - I recommended it to the friend who minded my dog yesterday. You are engaging and passionate about printing and shares whatever you can. I had been interested in trying printing and you literally made me think not only could I do it, but that it would be exciting, challenging and rewarding. You may never get rid of me.

Linoprinting 101

Again I had the opportunity to attend one of Kim's lino printing workshops. She is unbelievable in the knowledge she has and is willing to pass on to you. Kim goes way beyond what would be expected of a tutor. I fully recommend her to anyone thinking of taking up a new art. Kim makes it so easy to learn. Thank you.

Linoprinting 101, Private Group

Great inspiration to keep me motivated in my art practice. Thank you for providing and sharing your techniques.

Gelatin Plate Monoprinting

Though I've never tried printmaking before, I really enjoyed your workshop Kim.  It was very relaxed and friendly, with heaps of paints, paper and materials to experiment and play with.  The small group we had was lovely - we could get inspiration from others and the right amount of assistance as we needed it.  There was a good amount of activities and best of all, plenty of time to practise what we'd learned – I had a fun day and loved it!

Gelatin Plate Monoprinting

I did Kim's Linoprinting 101 workshop and really enjoyed it. Leading up to the workshop, all of Kim's communications about what to expect on the day and what to bring were clear and timely. The studio for the day was well organised and everyone had their own setup which allowed us to work at our own pace. The small group size (8 in total) was ideal for beginners and allowed Kim to focus on personalised help as we worked through our projects. Morning and afternoon tea was an added bonus! Kim is a very talented artist and her passion for her subject matter really shone through, both in her clear explanations of the printing process and in some of the inspiration she shared with us. I'm looking forward to my next class with her.

Linoprinting 101

It was a friendly relaxing environment and Kim demonstrated the techniques in a clear manner. I took a while to remember processes but that was part of the fun in experimenting and not trying to make perfect art. Just play!

Gelatin Plate Monoprinting

I really did enjoy this class! I definitely recommend giving it a go. Kim is super friendly and willing to help and nothing is so be of an issue. She is so organised from start to end which makes it a nice stress free experience. Where Kim held the workshop was a nice intimate space and everyone had a nice laugh and a great time. Definitely recommend do the course!

Linoprinting 101