The Repeat Offenders Reward for 2022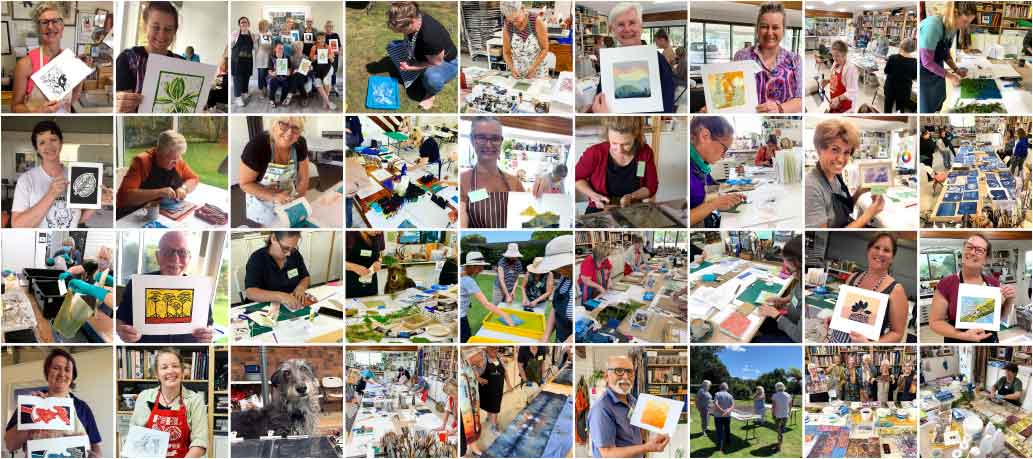 Earlier this year I introduced the Repeat Offenders Reward program … in the most fun way, when you attend more than one of my workshops –  you are officially a Repeat Offender; and when you attend ten (10) workshops, I will gift you the Repeat Offenders Reward … a FREE one day workshop.
Katie and Barbi, congratulations, you reached 10 workshops (or more) this year. Thank you ?
Katie attended her 15th workshop and Barbi her 10th this year. WOW!!
In addition to Katie's 15 and Barbi's 10 workshops, 5 people have attended 7 workshop, 6 people 6 workshops and 5 people 5 workshops.
I have been running my workshops for 5 years now. I can't believe how fast that has gone, how much has happened, and how my workshops have grown and developed over that time.
I had a look through my workshop numbers since 2018. I've run over 170 workshops with somewhere around 400 students across nearly 1000 enrolments. It all started in January 2018 with an offering of 3 different workshops, and has ended in 2022 with an offering of 9. I'm adding 3 new workshops in 2023, taking 2023 up to an overall offering of 12 workshops.
The Repeat Offenders Reward
When you attend ten (10) of my workshops, I will gift you a FREE workshop*:
The FREE workshop can be any of my one day workshops; or
You can offset the value of that one day workshop against a two day workshop of your choice; or
It can be exchanged for a one-on-one private 2 hour tuition session.
I'll let you know when you have reached the 10 workshop mark, or getting close to it, and we can have a chat about how you want to use your Repeat Offenders Loyalty Reward.
*Repeat Offerenders Terms and Conditions (click to open)
*'my workshops' means attendance at workshops booked and managed by me directly from my public workshop schedule; not a workshop booked and managed by someone else where I have taught or a private group booking.

Attendance at the following events does not count toward the 10 workshop tally – Private tuition sessions, free workshop attendance, online workshops and Executive Ink weekly classes.
Booking in to your preferred Repeat Offender Reward workshop is subject to availability at the time of booking, with only one Repeat Offender Reward place allocated in any workshop.
The Repeat Offender Reward is not transferable to any other person, it can only be used by the person it was awarded to. It is not transferable to cash.

From the tips of my toes to the bottom of my heart …

THANK YOU ?

Viva la printmaking !!