Take a Peek inside my workshop studio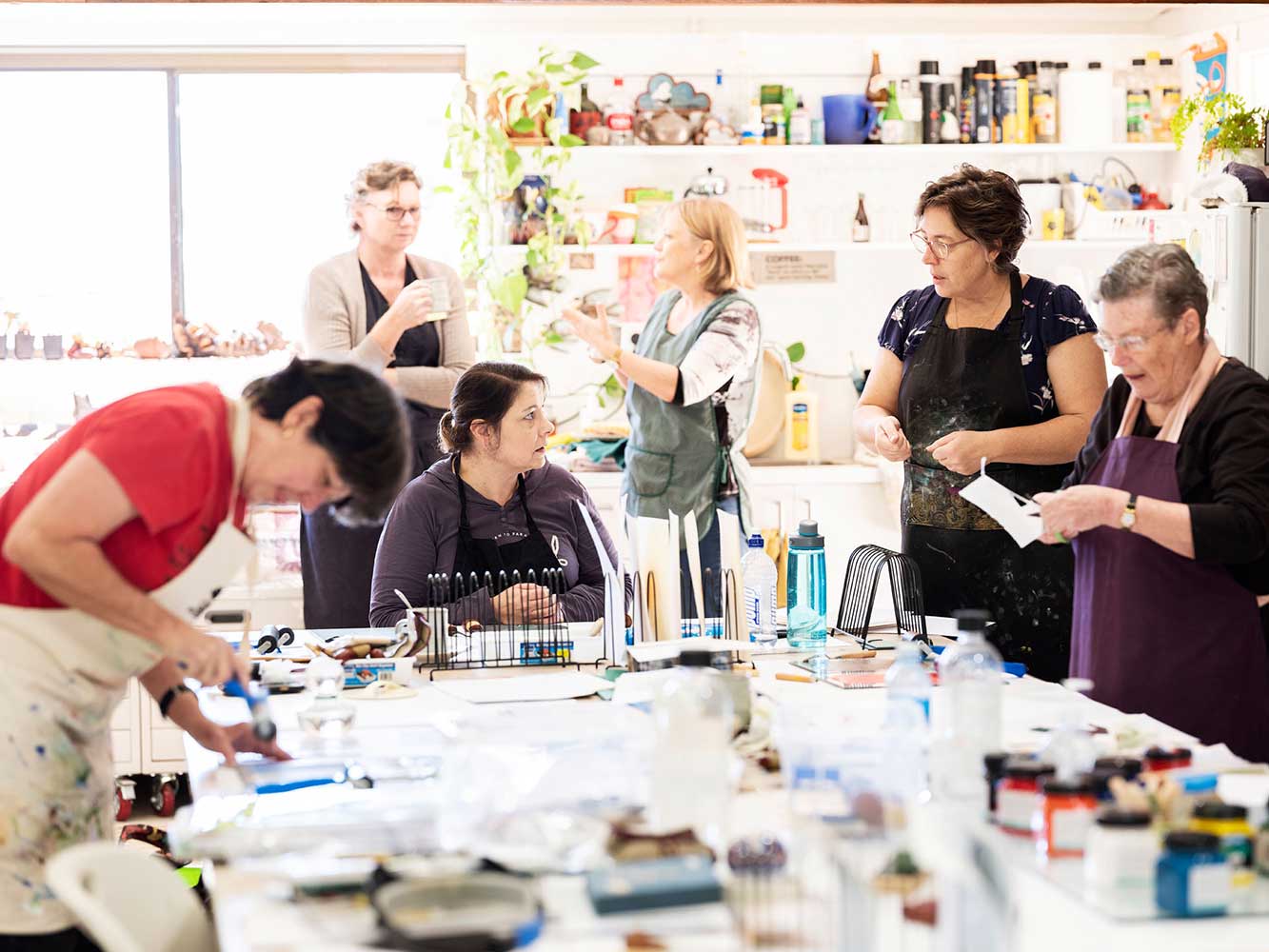 Thanks to the talents of an extraordinary photographer, I am able to bring you inside one of my recent printmaking workshops.
Richard Muldoon from Vivid Photography spent time with me and students in my 2 day reduction linocut workshop to capture the experience on camera.
The photo above is my absolute favourite from the weekend. I love the story its telling. Students chatting, at work, planning and printing. We're in full swing, each student working at their own pace.
This reduction linocut workshop runs over 2 days. These photos were taken on the morning of day 2. We had spent day 1 discussing the basics of the reduction linocut process, selecting our images and carving and printing the first layer.
I say "discussing the basics" because it isn't really until we get into process that most students truly understand how the reduction process works. Its not as complex as you think, but getting into process is the best way to learn.
Day 2 starts at a pretty relaxed pace, often a little earlier than day 1, then the pace picks up a through the day as our end-of-workshop deadline approaches and there is some serious printing to be done.
Both days are so much fun for different reasons:
Day 1 is exciting as students finally understand how the reduction process works. How the process of carving and printing, layer upon layer, reducing the block as they go, works to realise their final image;
Day 2 … printing and processing, understanding and troubleshooting. Learning then trusting the process. And the joy as students print each layer and their prints tell their own stories.
Throughout each workshop day, this one and any other, there is banter and questions and laughter.
Every student group takes on its own personality, grown from the unique personalities of each individual student. I love that!
I love to share my studio space with people wanting to learn anything printmaking. I love that more and more people are wanting to learn about different printmaking processes. And I feel so grateful and fortunate to have my studio space to share with people wanting to learn.
It isn't lost on me how fortunate I am to have such a big space to work from. I have worked hard throughout my life to come to this position, and I wholeheartedly appreciate every square inch of it.
Upcoming In-person Workshops
The workshop calendar for the rest of 2020 is pretty full. Having to cancel workshops earlier in the year due to COVID-19 meant changes to this year's calendar overall. I am looking into adding a few extra workshops dates for week days in October/November, but will wait and see what happens with COVID cases in and around where I live over the next few weeks. Watch this space for upcoming announcements.
When it comes to workshop dates for 2021 – I will be launching new dates in November. Dates will be published to my website and emailed to people on my mailing list. I'll publish dates to Facebook end-November/early-December.
Here's hoping that the virus fades into oblivion and there are no cancellations next year, for anything, or anyone, anywhere!
NEW Online Workshop
Printmaking is growing in popularity – and I couldn't be more excited about that. I have had people contact me asking if I would create an online course for my gelatin plate monoprinting for a few years now. I admit, I resisted for a while. But lifestyle changes bought about with COVID19 and my own desire to sharing printmaking beyond the physical restraints of my studio space gave me the push I needed! Later this month I will be opening pre-enrolment to my first online workshop – Gel Plate Monoprinting, with access to the online workshop from 14 September.
I am super excited !!
And to support that workshop, I have built my own online learning portal, cleverly named 'The Studio'. I will be adding more workshops and printmaking resources over the coming months and years! I am so excited about that too. Read more here – Finding my Sweet Spot.
About Vivid Photography
Run by Catherine Muldoon and Richard Muldoon, Vivid Photography captures moments of love and connection in their wedding and portrait photography business. They approach their work with a creative and artistic viewpoint – both artists in their own right.
Vivid Photography is located in Maleny, having relocated from Brisbane a few years ago. There is just so much creative talent in the Sunshine Coast hinterland.
And not only are Cath and Richard exceptionally talented photographers, they are both beautiful people.
Richard, THANK YOU for coming to the studio, thank you for your time, and thank you for the fabulous collection of photos you have given me to work with.
And guess what … Vivid Photography also runs workshops – photography workshops. They run their own workshops throughout the year, as well as hosting other professional photographers in their dedicated gallery and studio space in Maleny, at The Photography Zone.
If you're interested in an exciting photography experience, they have a 2 day Photographers Retreat coming up 24-25 October. 8 different presenters over the weekend teaching and sharing their skills across portrait and landscape photography, nude and newborn photography, lighting, studio business and self-promotion.
Below is the lineup of presenters for the weekend. Click through the link above for full workshop and retreat details, including pricing and booking.