How to share a printmaking practice, in a book, away from the studio
How do you demonstrate printmaking practice and process to people viewing your work in a gallery space when you're not there yourself?
How do you make a personal connection with people interested in your work when you can't be there to talk with them, about your practice or the work they are viewing?
And how do you explain the techniques, processes, complexities and time involved in creating an edition of prints.
How do you help people understand that printmaking prints ARE original fine art, and not simply reproductions?
Fine art printmaking prints and their processes are a mystery to many people. The public may view and admire the work, but quite often don't understand what it is they are looking at. They don't understand the time involved in creating it, or even the fact that the print they are viewing is an original piece of fine art.
I have work in two galleries, Montville Art Gallery (Montville) and Peace of Green Gallery (Maleny), in the Sunshine Coast Hinterland (just over an hour's drive north of Brisbane). I have been asking myself these questions most of this year … and a few weeks ago I solved my dilema …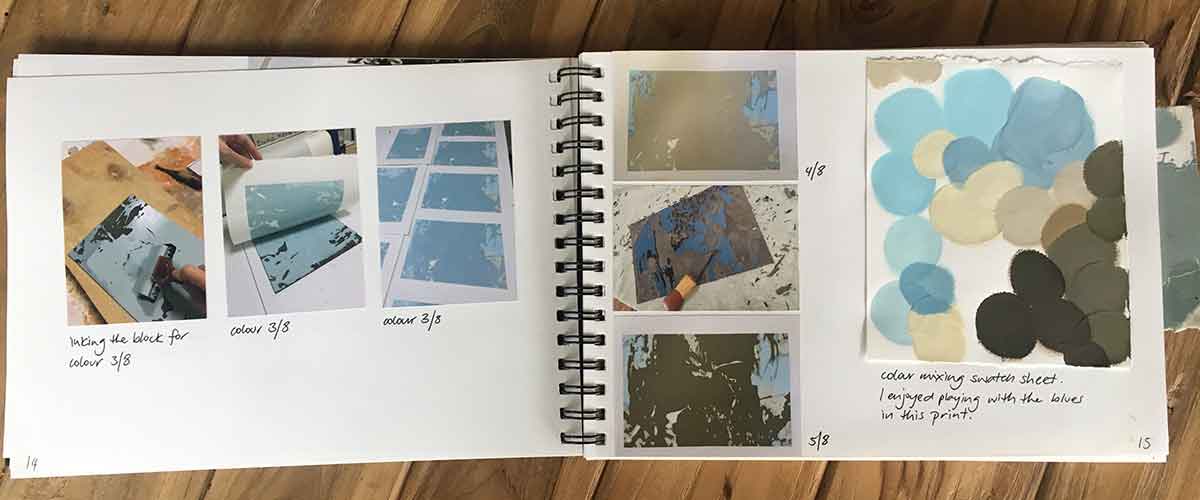 How I shared my printmaking practice in a sketchbook
I have been wanting to create a book that illustrated printmaking processes and the steps I take in my reductive linoprint work. However, I didn't want it to be colour printouts in plastic sleeves held together in a ring binder. I wanted to create a book where the reader could 'feel' connected to the work I do… feel the paper, feel texture on the paper, feel the paper weight when turning pages.
Printmaking is a tactile experience. I love the action of hand printing, inking, carving the lino, caressing the paper.
I recently learned a new word – 'haptic'. According to the Oxford dictionary, haptic is defined as:
Relating to the sense of touch, in particular relating to the perception and manipulation of objects using the senses of touch and proprioception.
Then I had to look up the meaning of 'proprioception'. Again, according to the Oxford dictionary:
Perception or awareness of the position and movement of the body.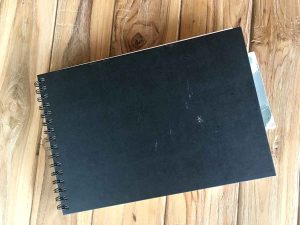 So …
I bought me a sketchbook and set about printing then pasting progress photos of my work, my studio and the tools I use. I have added comments and notes in my own handwriting. The idea is to give people a sneaky peek into my art studio and printmaking practice. I share much of my process online in Instagram and Facebook, and this seemed the most appropriate way to share my printmaking practice.
I often reference the experience of touch when I explain printmaking to people. Touching paper. Hand mixing inks. Holding my carving tools as I carve the lino. Hand rolling ink from the glass to the lino plate. It was important to me to create an experience that involved the sense of touch when people took a look into my studio and printmaking practice.
With my new book, I think I have created a haptic experience, and hopefully something that shares with others my printmaking practice and process.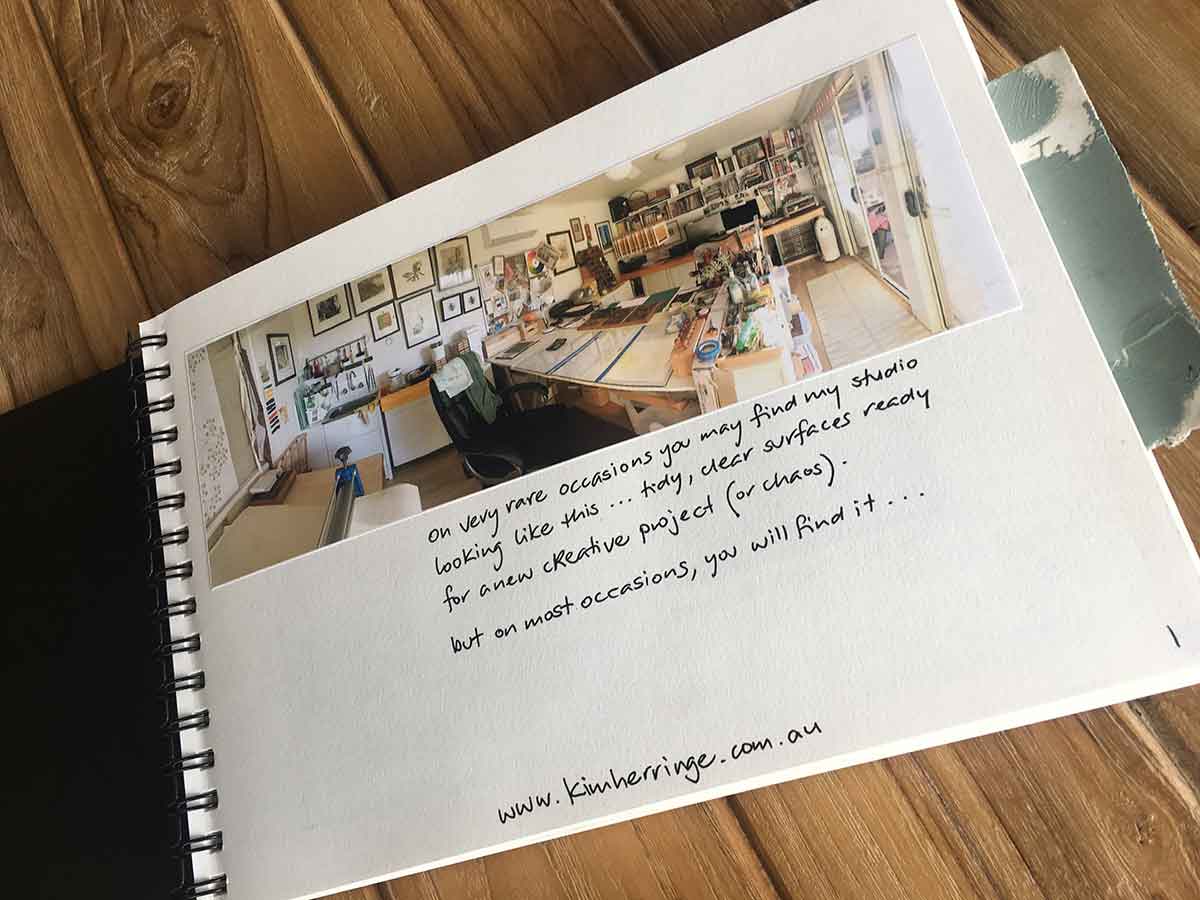 I started the book with a photo of my studio, taken on the rare and unusual occasion when everything is in its place, and there is surface space beckoning me to start creating and printing my next project.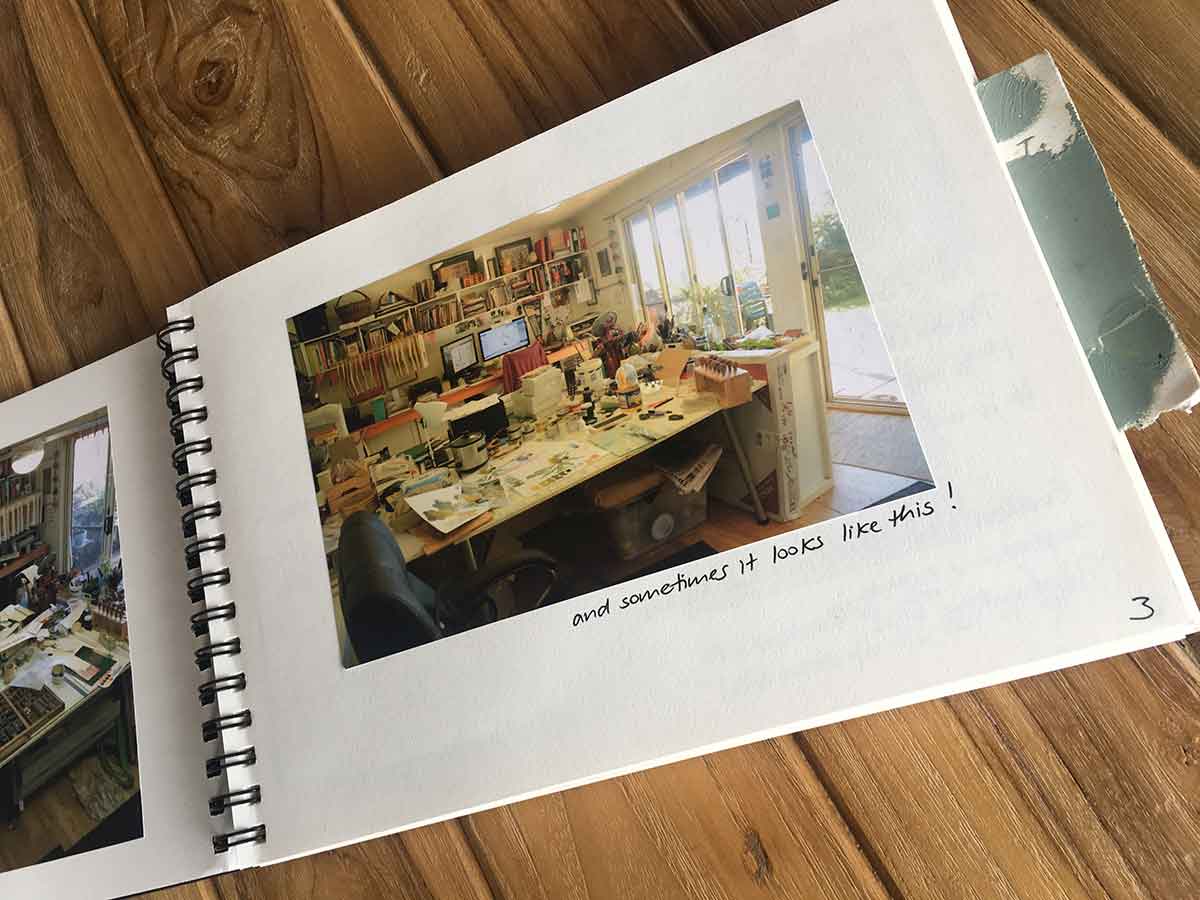 But when you turn the page, you'll see two photos a little more realistic and honest about the state of the studio on most days!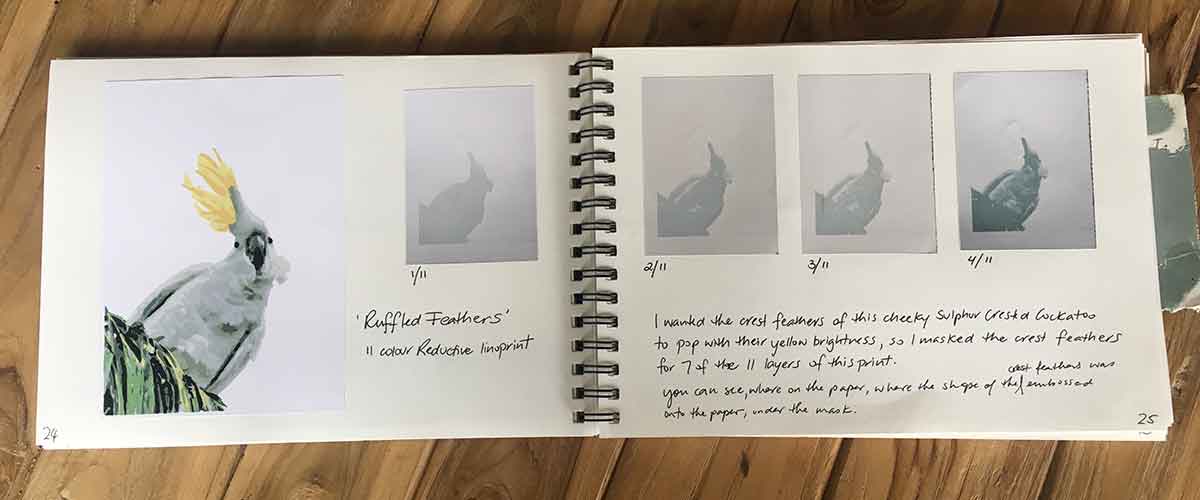 For completed prints I start with a photo of the final print, then show each layer and colour, to the reader can get a sense of the building up of the printed image. Its also a good opportunity to share some insight and personal comments about my thoughts and thinking about the image itself.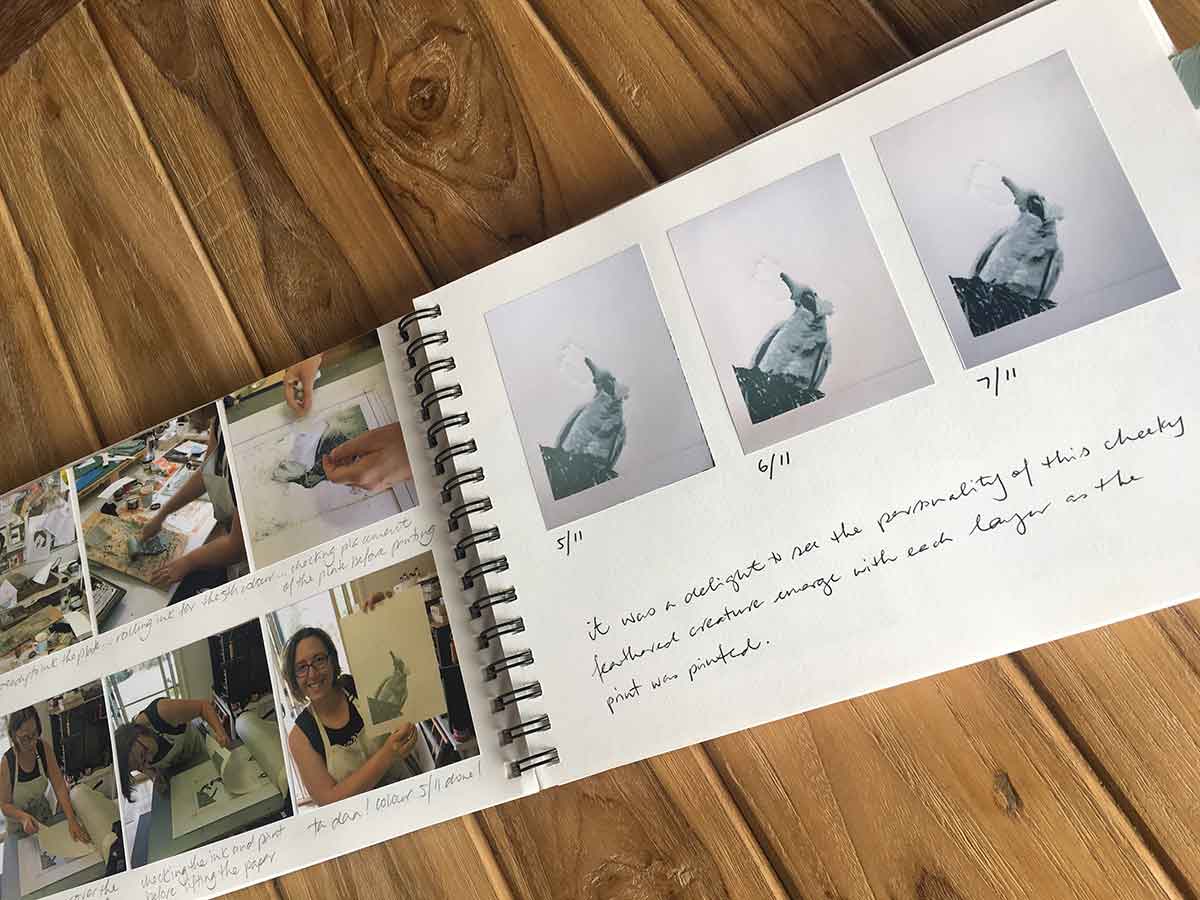 There are pages peppered through the book where I also show 'action shots'. Photo illustrated pages that work to give the reader a sense of the process in progress.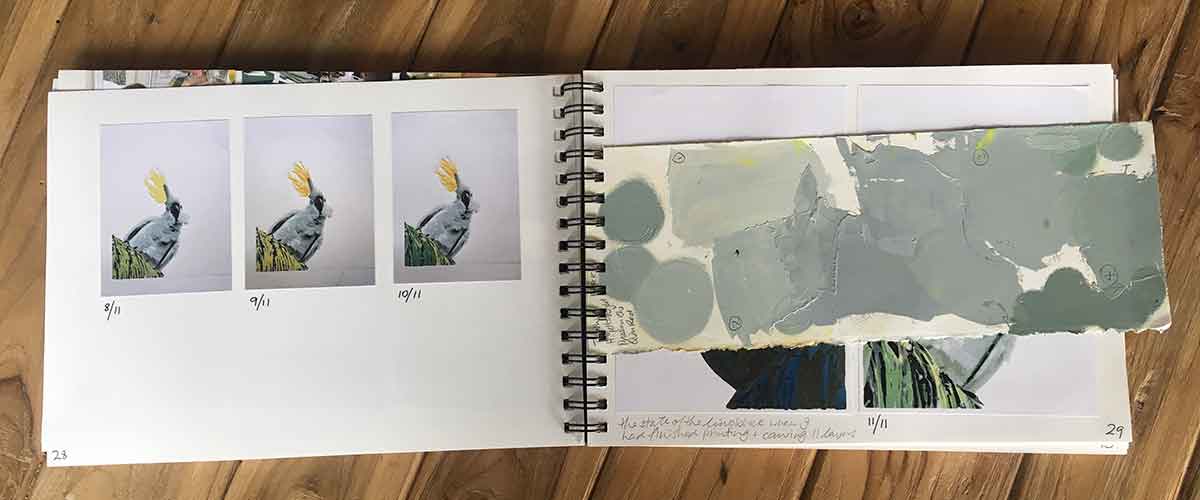 As I print, I have a swatch sheet the same paper that I am printing onto. I use this swatch sheet to check colour matching and coordination. I never throw them away, but until this book, I wan't quite sure what to do with them. This book provides a perfect place for them. The viewer can touch the ink on the paper. They can see a range of colour mixes. It is my intention that the reader/viewer gains a stronger sense of what is involved in the process. It is my hope that this gives them a stronger connection to my work.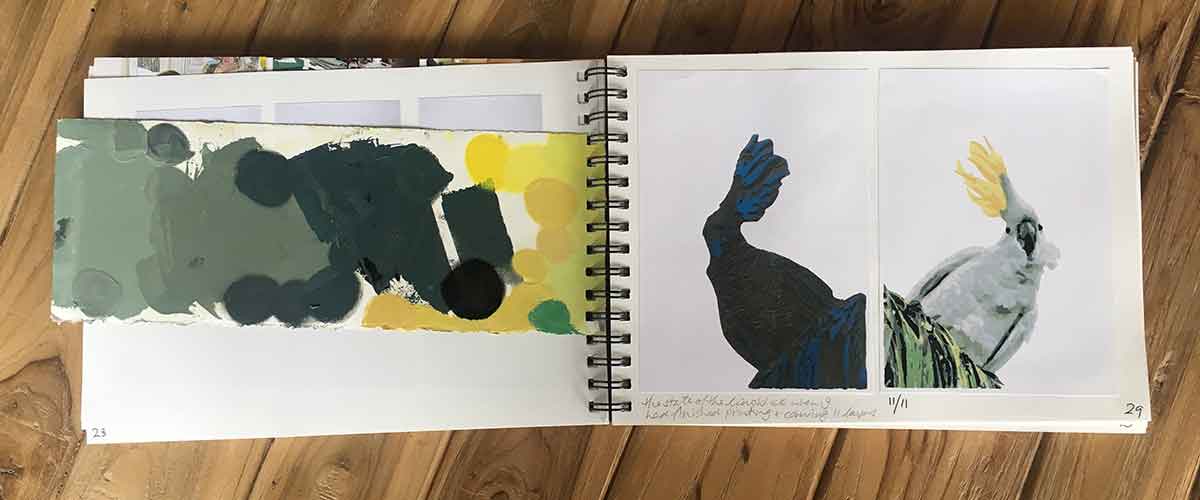 I included a photo of the final state of the block for this Ruffled Feathers print.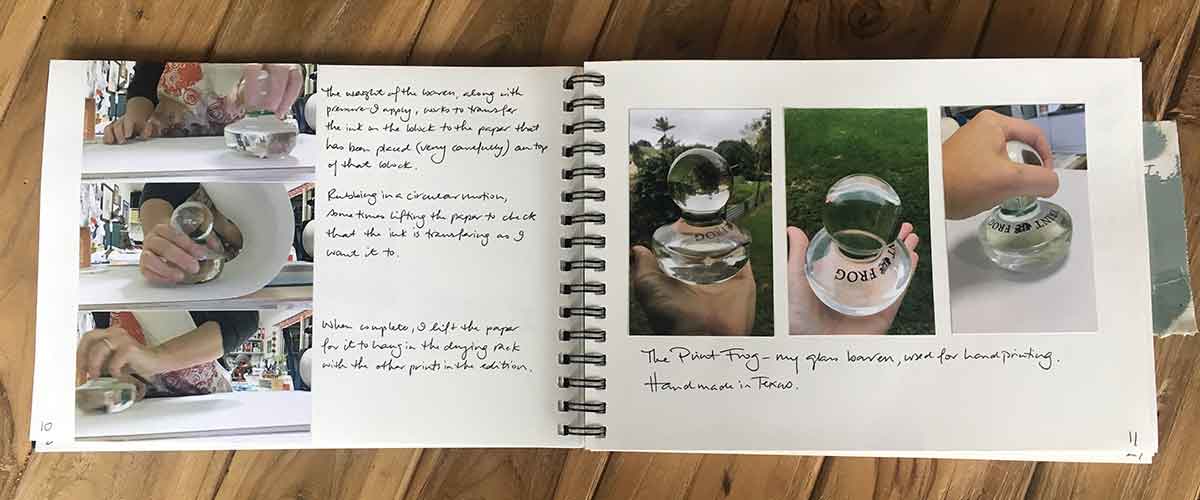 I love my Print Frog! To demonstrate what it is and how I use it, I included photos and a small explanation in my book. I hope that these pages help to demonstrate and explain the handprinting nature of the process.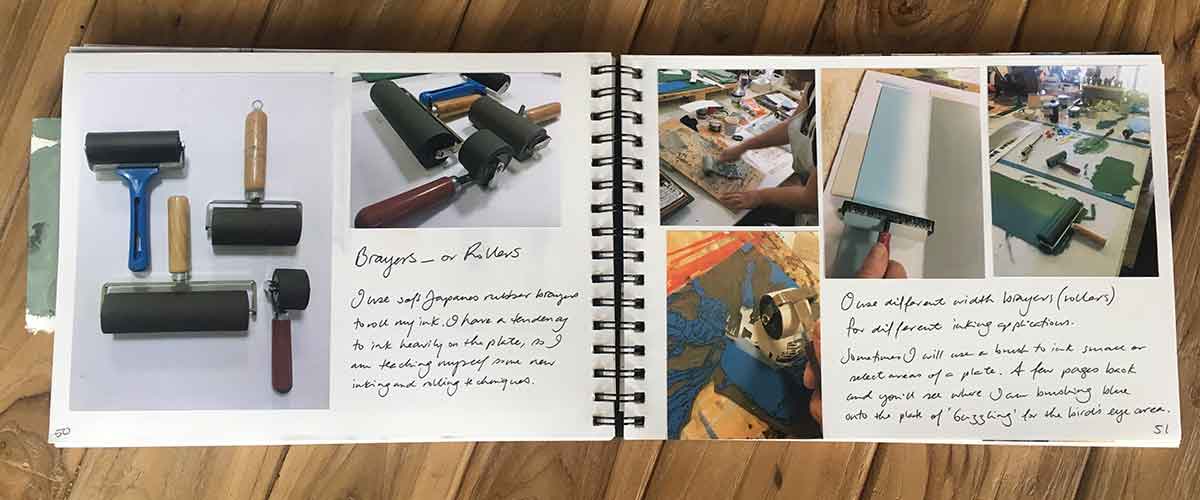 And of course the rollers/brayers. Whether printing with my Print Frog of using my press, my brayers are essential tools in the printmaking process. Sharing photos of the brayers in action I hope helps the viewer get a stronger sense of the process.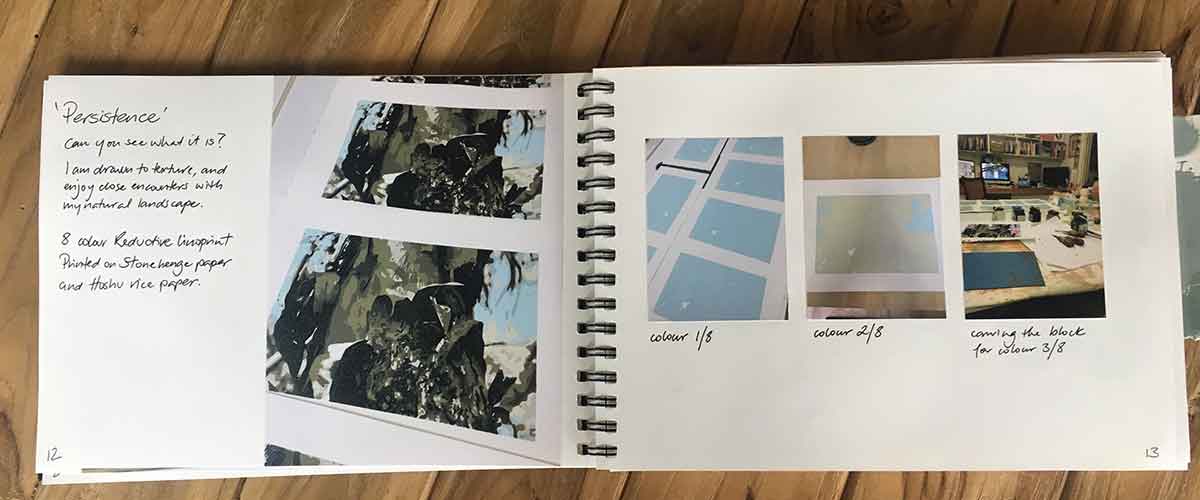 I hope that the picture directly above and below show the process of my 'Persistence' in layers; and also the stages of production for each layer. Again, I was able to include the ink swatch sheet, so people can touch the ink on the paper.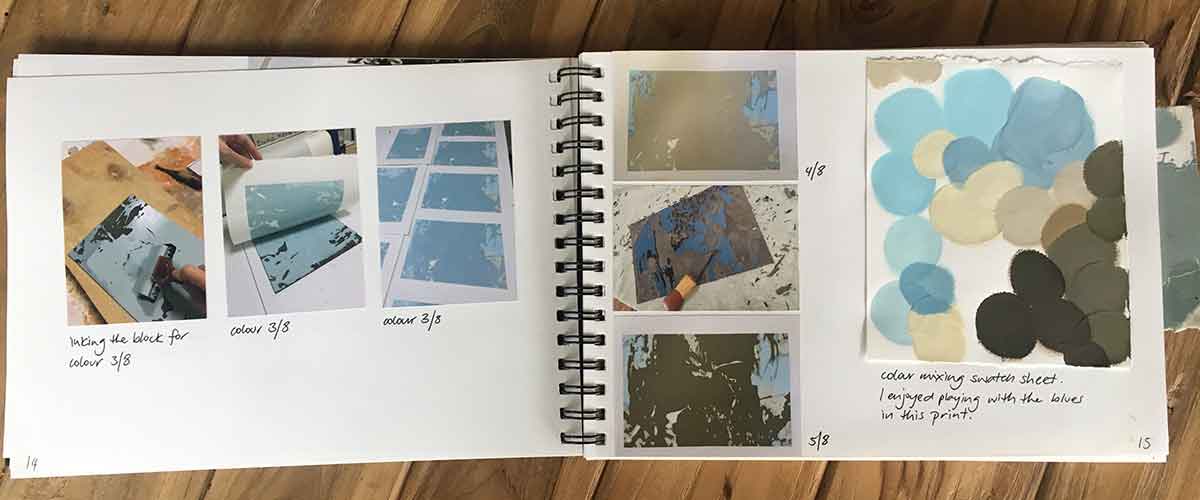 Some notes
I am so used to writing on a keyboard that the book has numerous typos. I did find myself on the odd occasion cursing the fact that there was no spell check for handwriting!
The book is a Work In Progress. As I complete new prints, I will add their progress photos and comments to the book. It is my hope that as and when people return to the gallery, they will be interested to see what is new in the book.
A question
Have you had the same questions? And solved them? (ok, two questions!)
I'd love to hear how you share a bit of yourself and your work with people when you can't be there in person.