What made you become an artist?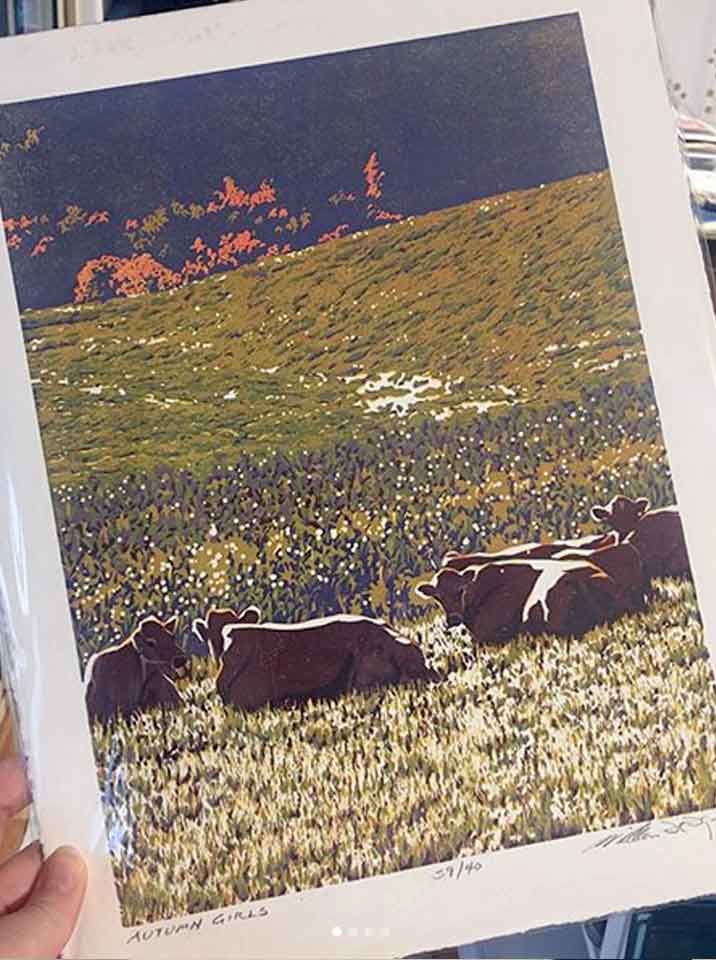 A few months ago I was asked, by an Arts student, to share some insight into what motivates me as an artist. I was flattered, and enjoyed the experience to dig into my own thoughts about the What, Why and How I go about my arts practice. I have written in the past about artists who inspire me and what was the trigger to my arts practice, but this was a different approach to self-reflection.
This print, "Autumn Girls" by William Hayes, was the image I spied online that got me head-first back into reduction linoprinting. From memory I saw it on Pinterest years ago, then earlier this year I was lucky enough to purchase my very own original print from the edition.
Below are the questions and answers …
What made you want to become an artist?
I'm not sure that it was any one thing, event or thought. I love creating. I loved art when I was a kid, wanting to be a high school art teacher 'when I grew up'. I fell in to a career of graphic design after school, and that took me away from creating the work I wanted to create. It is only in the past 8 years that I have focussed back on my own art to build up my arts practice, and this year I have hung up my keyboard and mouse, shut the doors on my web development business, and now focus full time on my arts practice and printmaking workshops.
What inspires you?
Nature! I look for 'moments' in nature, moments of contemplation, beauty, stillness – and I love to recreate those moments in my art. I am also inspired by the 'challenge' of pushing my printmaking medium and tools to and beyond their normal limits. The images that I like to create holds some personal value to me, so working on them takes me back to that moment.
Are there any artists whose work inspires your own work?
What is your preferred style?
Contemporary realism in my reduction linocut prints.
I don't have a defined style in my other printmaking media – I am working with different approaches and still developing my style there.
What medium do you prefer to work in and why?
My (current) favourite printmaking medium is reduction linoprinting – but I also love to work with collagraph, cyanotype and letterpress.
I work with oil based inks – I love their richness of colour and have finally sorted out how to clean up with no toxic chemicals.
I love pushing lino beyond what people expect that it can do. I love to work with subtle shifts in colour to create almost-realistic scenes. I enjoy working with layers, adding detail and colour, adding to painterly and almost-realistic representation.
My 2nd favourite is monoprinting with gelatin plates, using acrylic paint. I work with organic materials and layer colour, using leaf matter to make my marks. This is a very spontaneous process, in start contrast to my reductive linocut prints. The results can be unpredictable and it encourages me to 'release the attachment o the outcome' and just play.
Are there any advantages or disadvantages of your chosen mediums?
Lino advantages – versatile, easy to work with, and I can print without a press
Disadvantages – carving and printing is starting to take a physical toll on my wrist and shoulders
And I am terrified of printing – I 'paint' with my printmaking.
Are there any environmental factors you take into consideration in your practice? In what ways have you made your practice environmentally sustainable?
I like to live and work with an attitude of 'reduce, reuse and recycle'. This isn't always possible, but it is my aim. I am conscious of clean up and storage of inks and materials, buy in bulk and work with other artists in group buying opportunities. This helps keep costs down as well as being efficient with supplies and materials.
I don't like to work with toxic materials and chemicals, for personal health and environmental reasons. Printmaking can be a toxic craft, so I work to find ways to create my work in as less a toxic environment that I can.
In what ways have you made your career sustainable?
I effectively worked 2 jobs until I was in a position to stop my professional/commercial career in the graphic design and marketing field. I have spent 30 years in the graphic design/marketing world, running my own business for the past 13 years. Over the past 7 years I have worked to build my reputation and personal position so that I can stop that work to focus on my art.
How do you maintain social sustainability in your practice? For example, do you use social media; participate in art shows/fairs, sell your artworks online.
Social media is a big platform for me – from 2 different aspects. 1 to share my work and my process with people interested in seeing what I am creating, and taking inspiration from my work; and 2 in taking inspiration from others. I am a firm believer is skills sharing, and that we all work to inspire and motivate each other. Social media provides a platform with more reach than any other that I know of.
I do sell my work online, and write about my related experiences in my blog. I'm never really sure how many people ready what I write, but i love to engage in conversation and dialogue about arts practice and printmaking.
I love to teach, and in my workshops I aim to ensure that people in need of creative respite, but who may not be able to afford such opportunities, can attend. I do this with reduced pricing for carers and pensioners, and free places where possible.
Is there any advice you could offer in terms of making a career in the Art Industry sustainable?
The advice I would give isn't specific to the Arts – more to any aspect of life … work hard, earn your place and don't expect any free rides. Nothing comes from nothing, and anything of personal value is worth working hard for. I have learned that there are no quick wins or short cuts to a sustainable career. Years ago I heard the line "it takes 10 years to become an overnight success". I have never forgotten that, and believe it to be very true! Persistence, determination and the courage to believe in yourself will go a long way to building a sustainable career in anything.
11.   Any other comments/words of advice?
Be your best self.