Why do we create?
The video above is a moment of me in absolute pure unadulterated creative bliss! Sanity. Now. Respite. Creativity in action. Clarity. Trust. My own art therapy.
I believe that at heart every single one of us is creative. You don't have to be able to draw or paint or play music to be 'creative'. We all solve problems every day – that in itself is creative. And we all create in different ways for different reasons. Survival. Recreation. Education. Self care.
I have had the desire to create all my life. In so many ways I have created everyday of my life, both personally and professionally. I left school and started a career in graphic art. I moved to management roles then started my own business in digital marketing; and now I am working as an artist.
Last week, after a very difficult personal time, I observed with such clarity that I was desperately yearning to channel my emotional energy into my art. It was the first time that I realised WHY I need to create, why my art is so important to me … it has become my sanctuary and safe place. My respite. I can shut the world out and regroup. It is therapy, my own art therapy.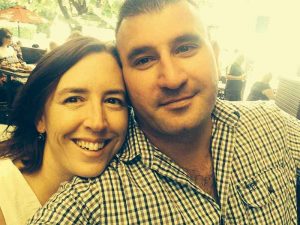 My husband is a war veteran with PTSD. He struggles with that ongoing fight everyday. Some days are OK, others great, and other days just downright suck. He fights a strong and brave fight, and it breaks my heart every time the lurking shadows take hold of him. We have been married for only a short time. I love him to death, despite, and in spite of, his PTSD. I am in constant admiration of how hard he works on himself to be the best man he can.
My own life has been lived with anxiety and depression.
I knew from the beginning that our path would be challenging, and I knew that I didn't know how hard it would or could get. A few weeks ago was the biggest struggle we have come through to date. We were travelling, which amplified everything. PTSD triggers everywhere, and both of us struggling to manage ourselves let alone support each other.
What the experience did for me though was help me feel so clearly how important my desire to create is. How strong my need to use my hands to make something, touch something, that creates a tangible expression of me. And also how acutely critical self-care is. Again, creating is therapy for me. My own art therapy.
Once home, I sat in my studio, still. I could breath again; feel my energy returning; feel my emotional strength returning. This morning I started printing again. Ink. Paper. Music. Single-minded focus on my project. Nothing else mattered.
My husband plays the bagpipes, and he plays them exceptionally well. I knew that his playing was an essential part for his own self care and healing. To hear and see him play brings me such joy. I can appreciate now with a much deeper understanding how essential his creative outlet is. Music is his own art therapy.
For both of us, I think we create to maintain sanity, and also a connection to 'self'. For me too, creating, working in my studio, helps with my own self-care, and I hope helps me to be a better and supportive wife.
My husband is the love of my life. Printmaking is my passion and respite.
My art therapy in action
I'm currently working on my most complex reductive linoprint project to date. It started as 15 colours, then 18, but I think will finish at 19 colours. I have had to bring in a 2nd plate for part of the reductive process. I'm also considering how I can add some definition back into areas where I think I have lost it. I've set myself a deadline for Easter to have this finished, but I'm also not wanting to rush it. I have enjoyed the process so much, and shared every colour on social media – which I found terrifying – but at the same time, putting my work out there gave me an accountability that I enjoyed. I can't quite explain that, but it has been a good exercise. And thank you everyone who has endured the images, liking and commenting on them.
Below are a few images of the print's progress. Once finished I'll show all layers, explain the process and make a video like I did with Ruffled Feathers.
Save