The long way home – Local Artist Local Content 2021 Finalist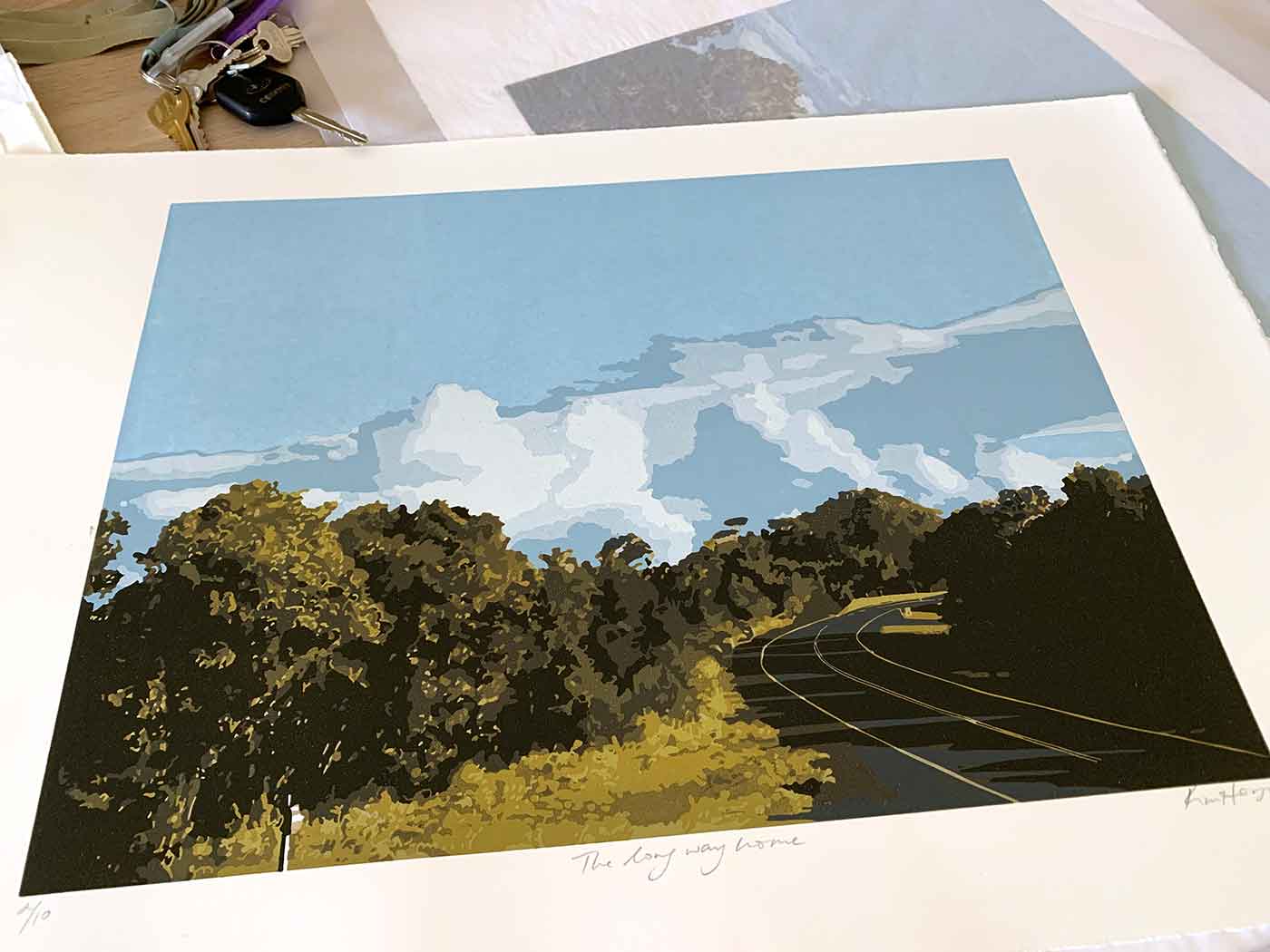 I am thrilled to share that my 'The long way home' reduction linocut print has been selected as a Finalist in the Local Artist Local Content 2021 Art Prize.
The competition is run by the Friends of the Regional Gallery Caloundra Inc.. and hosted by the Caloundra Regional Gallery. The Art Prize is open to residents of the Sunshine Coast Council, aiming to showcase local artists in the Sunshine Coast region. Click here to view the full Finalist selection.
I feel honoured to have been a finalist in the 2018 ('Beerwah Rising' reduction linocut) and 2020 ('You are here' reduction linocut) Art Prizes. The quality and diversity of the work of all Finalists for each year was outstanding. 2021 looks to be no exception.
Art Prize Announcements: Friday 19 March 2021
Exhibition Dates: 19 March to 2 May 2021
Venue: Caloundra Regional Art Gallery, 22 Omrah Avenue, Caloundra
The Local Artist Local Content 2021 Art Prize
40 Finalists have bee selected from over a large collection of entrants. Prizes will be awarded across 6 categories, totalling $13500.
Winners are announced at the official exhibition opening Friday evening 19 March 2021.
The exhibition opens Friday 19 March at the Caloundra Regional Gallery, running until Sunday 2 May 2021.
The exhibition coincides with the Open Studios Sunshine Coast 2021 event. Studios on the Hinterland open to the public on the weekend of 20-21 March, with studios along the coast opening the following weekend, 27-28 March.
And on that 27-28 March weekend there are a series of Artist Talks planned at the Caloundra Regional Gallery. This is a great opportunity to hear from the artists themselves as they talk about the inspiration and motivations connected to their work.
'The long way home' Artist Statement
Take the long way home. Slowly meander along the back-roads. Drive with the radio on. Radio off. Windows down. Fresh scenery. Look forward. Look left and right. Look up. Stolen moments before returning to whatever realities await. Enjoy where the road takes you.
This print is a 15 layer reduction linocut printed in a limited edition of 10 prints. I wrote an article a little while ago that details the process and progress of this print, including photos of each layer.