PTSD Love Stories … A Documentary Film
4 years in the making … hours of filming and interviewing and retakes and raw honesty and … PTSD Love Stories is finally going to air.
I have shared a little over the past few years about my involvement in the documentary film … and now I'm nervously excited to share that it will be making its on-air debut on ABC Compass on Sunday 30 May.
The documentary film follows 3 Carers of war veterans/first responders living with PTSD:
Cathy Sadler from Brisbane
Katie Tonacia from Canberra
and me! Kim Hodge (aka Kim Herringe) from Maleny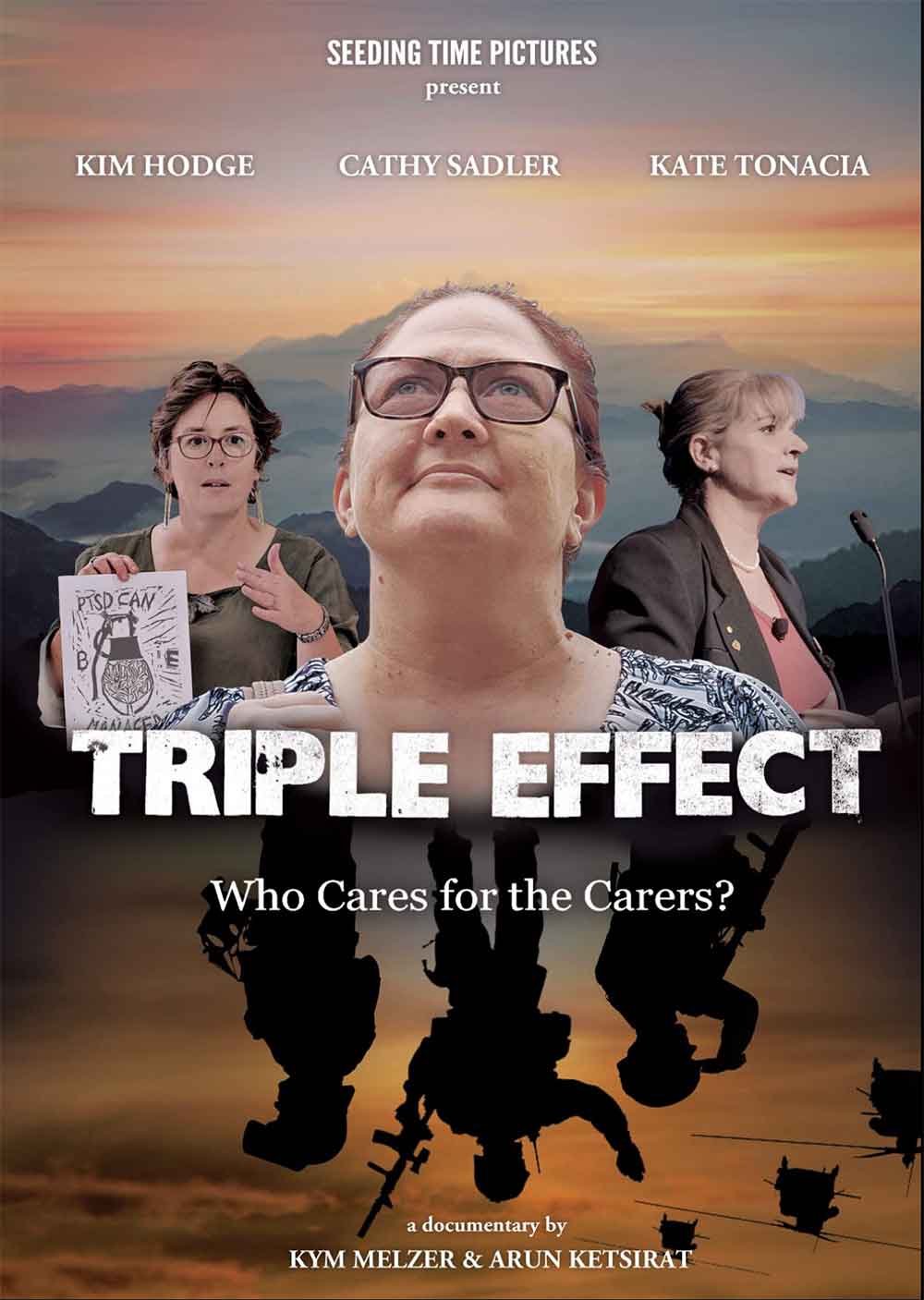 Who Cares for the Carer?
Its an important story to share, posing the question "Who cares for the Carer?"
"It has been a heart-warming journey, learning about these rarely discussed issues that matter to millions of people around Australia," said Ms Arun Ketsirat, Co-Producer/Director/Cinematographer.
"Our social impact campaign will highlight the services, community awareness activities, and quality programs available."
Kym Melzer, Producer and Writer, describes the three women as "admirable and inspirational".
"One in eight Australians are carers, so our goal is to increase awareness of some of the everyday issues and challenges faced by 2.7 million Australian caregivers and their families."
Cathy, Katie and I are very different people living very different family situations; but we all share a similar life situation – loving and caring for a partner with diagnosed PTSD and associated mental health conditions. Our partners have served in Australian Federal Police and/or Defence roles.
Some days are great and 'normal'. Some days are not. Other days are a challenge. Its not always easy; and its not always bad either.
I made the decision when filming started that I was going to be honest. There was no point being involved if the subjects weren't raw, honest and vulnerable in the process. This side of the documentary going to air, I don't know how it will be received, and how many people will see it. I'm so close to it. But I am proud to have been involved, and hope that our stories raise the profile of the question "Who cares for the Carer?" and brings a spotlight on the 2.7 million people in essential unpaid caring roles around the country.
The film started with a working title "Triple Effect. Who Cares for the Carers". As it evolved in post-production and drew near the end of its final editing, it was renamed PTSD Love Stories. I think that is a perfect title.
Love binds us. It is not easy. I also don't think it solves all of life's problems. And 'love' comes in many different forms. Love – of self and of my husband – this is my love story behind my story in this film.
Not long before the filming project started, the idea for my PTSD … A Love Story book came to mind. I finished the book late-2019, before filming finished, and the book is introduced in my story in the documentary. Working on the book was difficult and cathartic at the same time – during filming andduring life. Below is an excerpt from the book that I think sums up how I'm feeling.
Some days he is with me
Some days he is a universe away
Some days he fights just to make it through the day
Some days he tap dances on the clouds of silver linings
Some days I am his wife
Some days I am his carer
Some days I just want my husband back
But all days I love him as best I can
I Care for Me – With my Art
Very early on in my relationship with my husband I learned the value of self care. Who cares for the Carer? First and foremost I think it needs to be the Carer. A lot harder said than done. But an essential survival skill in the essential and vital role of being a Carer. I am fortunate to enjoy tremendous support from family and friends – and for that I am grateful beyond words.
For me, creating and sharing my printmaking arts practice is my respite and maintains my sanity in what can sometimes be a rollercoaster ride of biblical proportions. My husband is a huge supporter of my art. He has a strong understanding of how important it is for me, and therefore 'us'.
The processes involved in printmaking – the planning and preparation and printing, the actions of using your hands to create something tangible and made by yourself … all work to provide a meditative escape from some of the realities of being a Carer (and of life). I enjoy the process of what I do more than the end result. It is in the process where I get lost – in the best possible way. When I give myself the gift of time to create, I am mindfully focused on the creative task at hand.
And it is creative escape and respite that I aim to share with students in my workshops – one in-person and online. We are at heart creative beings – and I am passionate about sharing the creative respite I enjoy.
Note to Self – Words of Self-care and Self-love
The understanding of the importance of self-care focused my attention on my own internal dialogue; an awareness of words I used to keep going. That awareness sparked the idea of a postcard series sharing some of the 'note to self' statements that help get me from one day through one drama to the next and out the other side.
The Rolling Film Credits
The film has been produced and written by Kym Melzer and directed and co-produced by Seeding Time Pictures Co-Founder Arun Ketsirat.
Download the press release here.
The production was supported by Screen Queensland through the 2020 Completion Fund – and a large team of editors and animators and film crew and other support staff. I met many people during filming but am so so so sorry that I can't remember everyone's names!
The project received endorsement from Documentary Australia and is supported by Carers QLD, Carers NSW, Carers NT and Carers Tasmania.
Thank you Kym for your initial invitation to be involved in this project. Thank you Kym and Arun for working so hard to bring to people's attention Carer's stories.