Introducing … Paul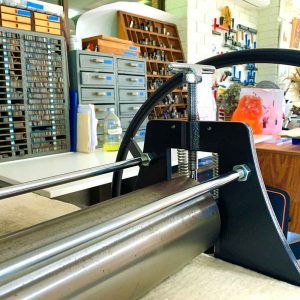 Yes … Paul … my new etching press. Paul came to The Studio a few weeks ago and last week I sorted out his new home, creating the stately pride of place that he so richly deserves.
"Etching!?" I hear you ask.
Yes, and Etching press. I will print etchings with Paul, but my first love is still reduction linocut. I explain a little more about that below 🙂
I needed to shuffle things around a bit in one corner of the Studio, jiggling and juggling and moving tables and insanely heavy cabinets of lead type – but with a bit of planning and lots of slow moving, I'm happy with how my new printing corner has come together.
Not only do I have a home for Paul, but I FINALLY dissed my orphaned lead type, restacked my ramshackled emptying leading cabinet, had Dad cut me some table-leg-props to take the crazy weight on my letterpress worktable and arranged everything so there is order and a functional space to work in. Now I have no excuse!
This was my starting point …
No turning back now! I have to finish what I started …
Then done!
It feels so much better … some clear desk space.
Everything in its right place. Ready for me to start a new project.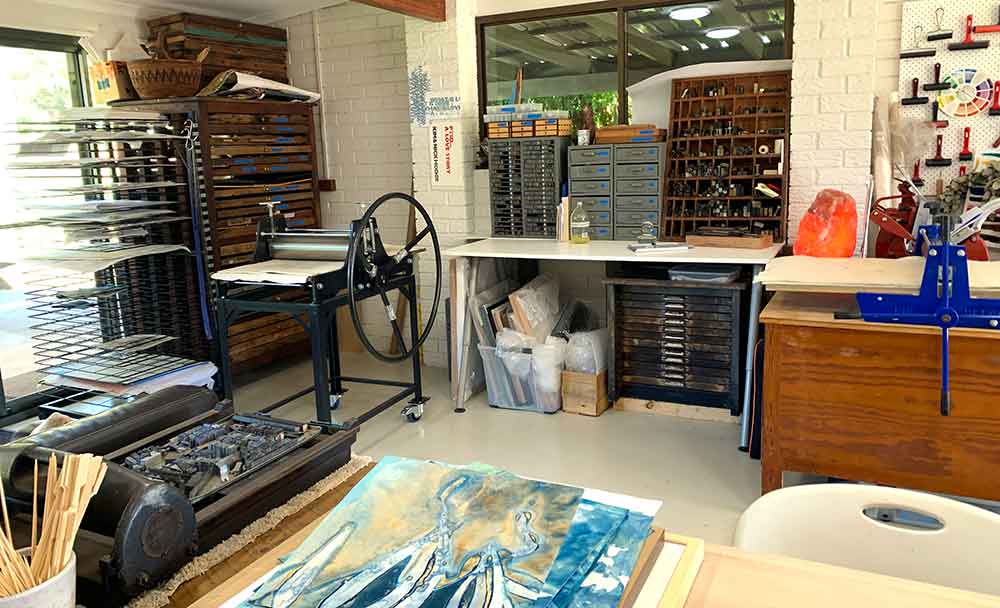 Why 'Paul'?
This beautiful beast of an etching press belonged to David Paulson, a prominent painter born in the UK, residing in Maleny (at the time of writing this). He used the press for a collagraph printmaking project. I was very fortunate to be able to buy the press from him … and am proud to know its story.
'Paul' seemed like the perfect name. Assigning a masculine or feminine persona was an interesting observation for me. I tend to assign a feminine persona to my equipment (and car which is definitely feminine and aptly named Persephone). I admit I'm wavering between a 'him' or 'her' when I reference my new press, but I think I'm settling with the press being Him.
So what next?
My first printmaking love is reduction linocut. And for about 90% of my reduction linocut printing, I hand print using a baren and a lot of physical arm power to print the layers that I do. I have a love-hate relationship with hand-printing … I love the idea of it, but the physicality is becoming a problem. 30 years working at a computer with bad posture and 10 years of hand-printing is taking its toll on my body and I am starting to find it too hard to hand-print. The Magpie Stories reduction linocut series I recently finished highlighted how much of a challenge hand-printing was becoming.
So … being one to always look for a solution, combined with stubborn determination and independence, I am finally going to teach myself how to print my linocut prints with the press. I've learned some great tips for Dianne Fogwells' A Printmaker's Cookbook (excellent book and must-have for every relief printmaking studio!).
And now I'm off to plan my next print.