Published!
I am so excited to share that some of my gelatin plate monoprints have been featured in the gallery section of the revised reprint of a book about gelatin plate monoprinting …
Gelli Arts® Printing Guide: Printing Without a Press on Paper and Fabric Using the Gelli Arts® Plate
Gelli Arts® Printing Guide is a revised and expanded version of Gelli® Printing published in 2014.
I was contacted late last year about the book's reprint, and today my own copy of the newly printed book arrived in the mail, fresh off the press in all its (commercial) inky glory. Its so exciting that this no-press-required printmaking process has maintained its popularity and grown in reach to warrant a new and revised reprint.
And each of the prints shown on my gallery page in this book have found their own homes.
Written by Suzanne McNeill, the book shares a range of step-by-step gelatin plate monoprinting sequences and projects, including two gelatin plate recipes.
The Gel Plate Monoprints in the book
Below are the prints reproduced in the book. I work almost exclusively with botanical materials when I print my gelatin plate prints. I love the action of foraging to plants to work with in my garden and surrounding area. Late-2019 I held my first solo exhibition which displayed mostly gelatin plate monotype prints – Grounded. Two of the prints show below are from that exhibition – Grounded in Grey and Botanical 1. The other 2 – Wandering 1 and Wandering 3 were more recent works, printed during our COVID shutdown in 2020.
And I am in good company!
I share a double-page spread with UK printmaking artist Jennifer Douglas. I follow Jennifer on Instagram and thoroughly enjoy watching her botanically inspired gelatin plate monotype prints.
And a couple of pages along is the work of Tara Axford, and Australian mixed media artist. I love Tara's work, and especially love the stitched gel plate printed paper vases you can see on her page. Tara also has a great Instagram account where she shares her work and the inspiration for a lot of it.
The Gallery section of the book is an important addition to this revised edition. There are 16 artists from around the world highlighted in the Gallery. THANK YOU Fox Chapel Publishing and Suzanne McNeill for this lovely opportunity.
Where and How to buy the book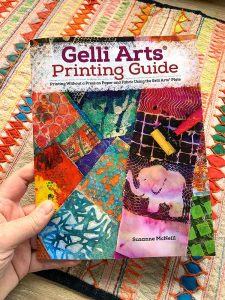 The new book is published by and available to buy online from Fox Chapel Publishing. The previous edition is still available from various online bookstores, and I dare say this new version will be available over the coming months.
Discover the amazing Gelli® plate—a revolutionary printmaking surface that makes it easy to produce one-of-a-kind artwork with amazing colors and textures! Gelli® Printing will show you how to use gelatin printing to create 32 stunning designs of layered prints, decorative pages for art journals, fabric for quilting, handmade greeting cards, and more! This newly expanded edition contains an updated art gallery featuring the latest Gelli® plate techniques.
Would you like to learn how to create your own botanically referenced monotype prints?
I'd love to teach you.
I love to share my printmaking skills. I run different workshops across different printmaking media … and late-2020 launched my online Gelatin Plate Monoprinting workshop. In this online workshop I teach the exact same process that I use to create my layered botanically-reference gel plate monoprints. I share clear video instruction, all with closed captions, and tips to get you started and printing. There is a Facebook group only for online students where we share work, ask questions, and encourage each other to develop our own work. Please join us 🙂
Gelatin Plate Monoprinting ONLINE Workshop
Online, self-paced – access from anywhere with internet.
Cost: AUD$97 pp
Approx USD $75 and approx GBP £54
– 6 Learning Modules
– 2 Bonus Modules
– 2 hours of video content across 30+ videos
– Exclusive access to my own online portal The Studio