Printmaking Workshop Expenses and Materials Costs
Running workshops, art workshops or other, are a heap of fun, plus some hard work. I love to share my skills with people interested in the art of printmaking.
Planning the workshop program is pretty straight forward, but costing the workshop adds an administration dimension that, as an artist (albeit one with a bit of a business head), wasn't so straight forward; and once done, proved to be a very enlightening exercise.
When working out the tuition cost and materials fee for my workshops, I realised there was a lot to consider … teaching time, program and handout preparation time, venue costs, catering, promotion and advertising, preparation and cleanup and of course the materials used during the workshop.
Most people understand the need to charge for materials and find the tuition cost reasonable. Some people, without understanding what is behind the costs, have questioned the pricing. I have written this page to help explain what is involved from a costs perspective in running my workshops. I hope you find is helpful.
The Tuition Cost
Time
For every workshop, be it a single day or weekend workshop, and even private tuition, time is the largest resource investment. There is the time taken to actually teach a class, but there is also almost as many hours in preparation, promotion and administration of each workshop.
Coordinate student enrollment
Check and collate materials
Venue setup
The workshop itself
Venue clean and tidy up – before and after each workshop
Tools cleanup and packing
Add to that the hours of preparation, planning and development that go in to each and every workshop to ensure the best quality delivery of content and workshop experience that I can possibly deliver.
PLUS there is also the time to create and distribute promotional and advertising material, including printing flyers, newspaper and magazine advertising, social media posts and promotions and email newsletters. Oh and the website … that is one task that seems to never end – maintenance and updates on my website.
Venue and Catering
My workshops are run from my personal studio. With that is the need to cover the costs associated with workshop furniture and resources and other utilities such as water and electricity.
I love to have a cuppa on hand while I'm working, so I assume that other printmaking enthusiasts feel the same. I provide tea, coffee and hot chocolate and a light morning and afternoon tea with each workshop.
The Materials Fee
For every workshop and private tuition session, a range of materials are needed. For all workshops, unless specifically noted, ALL materials are provided. That way you don't need to bring anything (other than lunch).
My intention is to give all students a fun and education experience learning their new skills, without having to go buy special materials and tools. If you love what you have learned – I have plenty of information to share about what you may need to buy from where and for how much.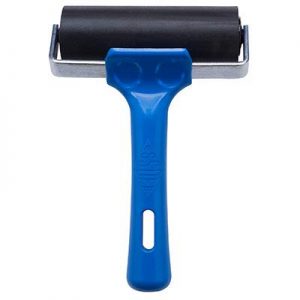 My attitude in life is to buy the best quality resources that you can afford at the time. I believe this to be especially true when it comes to buying art materials. Over many years in my own printmaking practice I have afforded myself a collection of quality tools, all of which I treasure (you can read about my favourite printmaking tools here).
When it comes to tools used in my workshops, I maintain a similar approach. Given the volume and multiples of items needed to run the workshops, I have purchased mid-range quality tools and resources. We print with quality printmaking papers and there is a collection of other good quality tools and resources we use during each workshop.
All the necessary materials for all workshops are covered in the Materials Fee of each workshop. I do this so people can learn a new process without having to buy everything first. That way they can explore to see if they like the process before investing in tools and equipment. During each workshop we talk about the tools and resources needed. I share what I buy what, and different prices points for different budgets.
Different workshops require different materials, but all materials are quality, and wherever possible, 'artist quality':
handouts and fact sheets
reference images for print inspiration
tracing paper to transfer images
pencils, erasers, pencil sharpeners, permanent markers, rulers, scissors, cutting knives, sticky tape
lino block for carving and printing
lino strips for practise mark-making
different mark-making tools and resources
aluminium metal plates
brayers (aka rollers)
barens, several different types
quality printmaking paper
cartridge paper
fabric swatches and silks
printmaking inks
artist quality paints
carving tools
etching tools
palette knives for preparing and mixing ink
glass for ink mixing and rolling
wipes and rags
paper soaking and washing trays
newspaper
pre-made registration boards
materials for making registration boards
foraged plant materials
cleaning and clean up materials and resources
different chemicals for different processes
gloves and safety equipment where needed
gas cookers and boiling pots
brushes for cleanup
reference books, magazines and literature
and a collection of purchase prints by other artists to share with you as examples of different styles and approaches to the medium you are learning
the list goes on but I'll stop here, but I hope you get the idea.
In Summary
Talking money and costs can get a little awkward, but I hope this article helps with a breakdown of the costs associated with my workshops.
If at any time you have questions or want more information, please contact me directly. I am happy to answer any questions you may still have.
Ready to join a workshop?
Have a look through my workshop program here: