Printmaking Workshop Expenses and Materials Costs
Running workshops, art workshops or other, are a heap of fun, plus some hard work. I love to share my skills with people interested in the art of printmaking.
Planning the workshop program is pretty straight forward, but costing the workshop adds an administration dimension that, as an artist (albeit one with a bit of a business head), wasn't so straight forward; and once done, proved to be a very enlightening exercise.
When working out the tuition cost and materials fee for my workshops, I realised there was a lot to consider … teaching time, program and handout preparation time, venue costs, catering, promotion and advertising, preparation and cleanup and of course the materials used during the workshop.
The Tuition Cost
Time
For every workshop, be it a single day or weekend workshop, and even private tuition, time is the largest resource investment. There is the time taken to actually teach a class, but there is also almost as many hours in preparation and promotion of each workshop.
Check and collate materials
Coordinate student enrolment
Venue setup
The workshop itslef
Venue clean and tidy up – before and after each workshop
Tools cleanup and packing
Travel to and from the venue
Time to create and distribute promotional and advertising material, including printing flyers, newspaper and magazine advertising, social media posts and promotions and email newsletters. Oh and the website! That is one task that seems to never end – maintenance and updates on my website.
Venue and Catering
Oh I wish I had enough space in my own studio to run workshops, but alas, no. Instead I rent space from the Maleny RSL. The RSL holds a very special place for both myself and my husband, so I am happy to support them with venue rental costs, and I appreciate their support and willingness to make the space available to me. Venue costs cover the costs associated with the use of chairs and tables and other basic utilities such as water and electricity.
I love to have a cuppa on hand while I'm working, so I assume that other printmaking enthusiasts feel the same. I provide tea and plunger coffee and a light morning and afternoon tea for each workshop.
The Materials Fee
For every workshop and private tuition session, a range of materials are needed. Some materials are new for each session others are used over and over until they are worn, damaged or misplaced, then need to be replaced.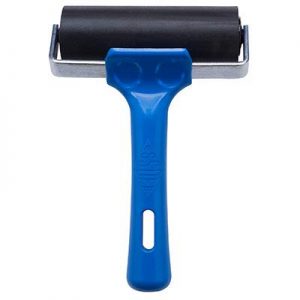 My attitude in life is to always buy the best quality you can afford. I believe this to be especially true when it comes to buying art materials. Over many years in my own printmaking practice I have afforded myself a collection of quality tools, all of which I treasure (you can read about my favourite printmaking tools here). When it comes to tools used in my workshops, I maintain a similar approach. Given the volume and multiples of items needed to run the workshops, I have purchased mid-range quality tools and resources, such as quality brayers (rollers) and carving tools. We print with quality printmaking paper and there is a collection of other tools and resources we use during each workshop. Below is a list of the materials used in each workshop. It's not everything, but it is a little longer than I expected.
All necessary materials for making your first lino print are covered in your Materials Fee and provided for this workshop.
handout booklets and fact sheets
collections of images to reference for print inspiration
tracing paper to transfer images
pencils, erasers, pencil sharpeners, permanent markers, rulers, scissors, cutting knives, sticky tape
rubbing crayons to check the progress of work
lino block for carving and printing
lino strips for practise mark-making
brayers (rollers)
barens (for rubbing over the paper to transfer the ink form the lino to the paper)
quality printmaking paper
cartridge paper
printmaking ink
artist quality paints (for the monotype workshop)
carving tools
palette knives for preparing and mixing ink
glass for ink mixing and rolling
wipes and rags
newspaper
brushes for cleanup
nonslip mats
materials for making registration boards
reference books, magazines and literature
In addition to these materials are a collection of reference resources – books, magazines, fact sheets and other reference material to help demonstrate, explain and inspire you during your workshop.
In Summary
Thank you again for reading this far in my article. Talking money and costs can get a little awkward, but I hope this article helps with a breakdown of the costs associated with my workshops.
If at any time you have questions or want more information, please contact me directly. I am happy to answer questions you may still have.
Ready to join a workshop?
Have a look through my workshop program here: