Art Workshops in Maleny
Fresh air, green rolling hills, dairy farms, rainforest pockets and sweeping views down to the Sunshine Coast and Brisbane … Maleny. Maleny is the perfect destination for artistic inspiration and expression. Breathe the fresh rural air and join in art workshops in Maleny.
Maleny is home to a large number of professional artists, and with that comes a large selection of art workshops in Maleny. Workshops are held in private and public studios. Some artist run regular workshop programs, while others run workshops at irregular times throughout the year. If there is a particular artist, art medium or style you are wanting to learn more about, I recommend contacting the artist directly. You can ask if they hold workshops, or if they offer private tuition as a learning option.
Finding and contacting artist can be a little tricky. Artist, by nature are generally a little introverted (well, I am) and enjoy quiet and privacy. Something that Maleny offers in abundance. If a particular artist you want to reach does not have a strong online presences, then visits to the local galleries can provide a contact opportunity. Speak with staff in the gallery. They may be able to confirm if an artist offers workshops or tuition, or contact them on your behalf to find out.
There are several artist groups in the area. Most groups have an online presence, by way of websites and social media. These groups also present a great contact opportunity to contact artists directly, and find out about art workshops and classes in the area.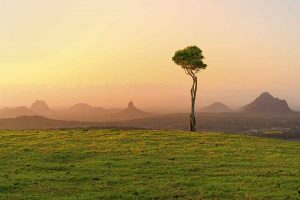 Just 90km north of Brisbane, Maleny sits perched on the Blackall Range, in the Sunshine Coast Hinterland. Drive along the ridgeline for spectacular views of the iconic Glass House Mountains. On a clear day you can see the highrise buildings in Brisbane. Take the drive to Montville for views to the ocean and the Sunshine Coast seaside towns.
This unique rural community has a history for tree felling and dairy farming. It has grown to an iconic creative and wedding destination.
Great local eats, coffee shops, local galleries and welcoming community atmosphere, Maleny really is a perfect creative hub.
Art Workshops in Maleny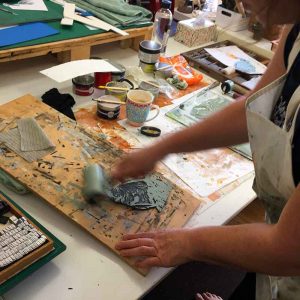 With so many professional artists in the region, you don't have to look or search too far to find different art workshop options. Two local artists offering regular art workshops in Maleny are Kim Herringe and Cathy Lawley. Kim offers a range of printmaking workshops, catering to a range of skill levels from her own studio in North Maleny. Cathy share her love of clay in a selection of pottery workshops that include hand-building and wheel throwing.
Maleny is an easy destination for a day trip up from Brisbane or any of the Sunshine Coast surrounding coastal areas. If you are planning on a 2+ day workshop (or even a one day workshop), there are plenty of accommodation options available to you, across a range of budgets. Enrich your workshop experience with a stay in Maleny for a day or two or three. The open spaces, fresh air and spectacular views provide the perfect backdrop for artist inspiration.
Printmaking Art Workshops in Maleny
Local Maleny printmaker, Kim Herringe, leads printmaking workshops throughout the year in Maleny. She is a firm believer that Art has never been made while thinking of art … rather, Art is made by doing art! Whether you are new to the art of printmaking or wanting to extend your current skills, join Kim Herringe as she leads small group printmaking workshops in Maleny, up in the Sunshine Coast Hinterland (just over an hour's drive north of Brisbane). The aim of each workshop is to ensure that you leave with new skills and information so you can continue to print, confidently, in your own home or studio space.
Different workshop dates have been scheduled throughout the year, and private tuition and group bookings are also available. Below is a selection of printmaking workshops with a focus on linoprinting:
Linoprinting 101
Get a handle on the basics of lino printing – preparing an image, carving and printing your block in a small edition of one colour. You will take home a new skill set to to continue printing on paper and fabric at home.
Colour And Reductive Linoprinting Basics
Ready to create more complex images and bring colour in your lino printmaking work? Explore several different approaches to applying colour to your lino prints.
Duration: 2 days
Tuition fee: $260 pp
Materials fee: $50 pp
Colour And Reductive Linoprinting Advanced
This workshop focuses specifically on producing colour linoprints using the 'reductive' method. We will look at separating colours for your image and different colour registration methods.
Duration: 2 days
Tuition fee: $260 pp
Materials fee: $50 pp
Pottery Art Workshops in Maleny
If you're wanting to try your hand at clay, I can highly recommend Cathy Lawley's Fried Mudd Pottery Workshops. Cathy is a long-time resident of Maleny with a long-time love of working with clay. She is passionate about inspiring others to search for their beauty and creativity within. She runs pottery workshops throughout the year:
Fun in the Mudd
Attend a One Day or Weekend workshop. Discover your creative side, relax and indulge in a fun and unique experience, turning mud into your very own masterpiece! Develop your creativity to produce an amazing piece of clay art worthy of proud display. As an aspiring artist, with or without experience.
Click here for dates, pricing and workshop details …
Shades of Clay
Looking for something fun and different to do on a weekend getaway with your besties, a hens party or a fun afternoon with some girlfriends? Experience time on the potter's wheel, create a masterpiece and feel the clay as it oozes between your fingers – pure bliss!
Click here for dates, prices and workshop details …
Goddess Pottery Workshops
Alison Cotes, award-winning feminist theologian, and Cathy team up to deliver a workshop that will reveal the Goddess within You. Create your own garden goddess or gnome what ever inspires and is special to you.
Click here for dates and workshop details …
Art Galleries in Maleny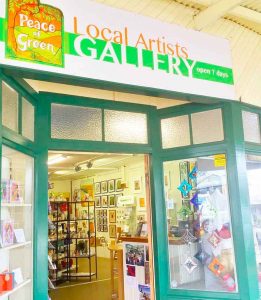 Peace of Green Gallery – and you'll see some of my work on display and for sale here, along with a range of locally made and hand crafted art and crafts by Cathy Lawley (Fried Mudd Pottery), Belinda Standon (Belinism Ceramics), Julie Hanarahan (linoprinting) and many more local artists and artisans.
38 Maple Street, Maleny, at the 2nd pedestrian crossing as you walk up the main street
Maleny Arts Direct – just a few doors down from Peace of Green Gallery
Next door to Rosetta Books at 30 Maple Street, Maleny
Maleny Arts and Craft Group
38 Maple Street, Maleny, next door to Peace of Green Gallery
David Linton Gallery
14 Maple Street, Maleny
Mary Cairncross Gallery
3 Panorama Place, Maleny
Ben Messina Landscapes
41 Maple Street, Maleny
Art Galleries Beyond Maleny
Montville Art Gallery – and you'll see some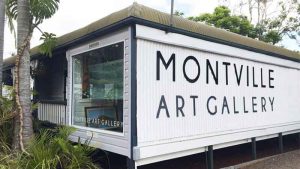 of my work on display and for sale here, along with stunning work by other professional artists from around the region, including Wayne Malkin (oil pinting), Gary Myers (acrylic painting), Bruce Buchanan (watercolour painting), Jan Jorgensen (painter), and many more. Wayne Malkin also conducts oil painting art workshops at different times during the year. Contact Wayne at the Montville Art Gallery to ask about upcoming workshops, pricing and more information.
138 Main Street, Montville
Secrets on the Lake
207 Narrows Road, Montville
Illume Creations
127-133 Main St, Shop 4 Mayfield, Montville
Other important places in Maleny…
What else to do in Maleny
If you have some time before or after your art workshop in Maleny, and have looked through all the art galleries, there is still a lot to do in and around the area. Beautiful drives, lovely walks, great coffee and food and shopping. Below is a list of some of the local activities
Maleny Dairies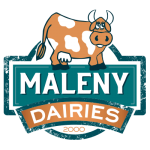 – producing and supplying the best milk and cream around! Enjoy a factory tour with cow milking and feeding, plus product tasting.
70 McCarthy Rd, Maleny
Mary Cairncross Scenic Reserve – 55 hectares of subtropical rainforest nature reserve with walking trails, cafe and picnic area, and well designed interactive ecology centre.
148 Mountain View Rd, Maleny

Coffee and Eats in Maleny
There is no shortage of coffee shops and cafes in Maleny. And the food options are just as plentiful. Below I've listed some of my favourites coffee and eating spots around town: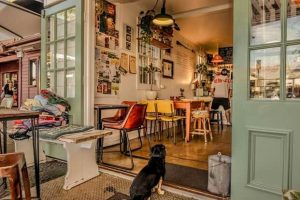 Shotgun Espresso – my favourite for coffee, food and ambiance … and crepes
48 Maple Street, Maleny, just up the road from Peace of Green Gallery
Pomodoras on Obi – my favourite for restaurant dining and great service. Plus my husband and I were married there in a perfectly simply lunch-time wedding there.
18 Lawyer Street, Maleny
Jen's Woodfired Pizza – best woodfired pizza on the range!
12 Bicentenary Lane, Maleny, inside Finbars Irish Bar
Maple 3 – open early, good coffee ad great cakes
3 Maple Street, Maleny, look for the deck as you come through the roundabout when you drive in to town
Monica's Cafe Maleny – really tasty salads
43 Maple Street, Maleny
Sarah's Unplugged – this was the Upfront Club
31 Maple Street, Maleny
Accommodation options in Maleny
There are A LOT of options catering to a range of budgets in the area. I live here so don't really stay at paid accommodation venues, but I can speak for Blue Summit Cottages. Perched on the ridge with lovely valley views, these cottages offer privacy and luxury. My husband and I stayed their on our wedding  night.
There are many options. Simply do a Google search for "accommodation in Maleny" and start looking for the style of accommodation you're after, to the budget you want to work with.
Where is Maleny?
About 90km north of Brisbane, 40km west of Maroochydore and 85km south of Gympie, Maleny is an easy-to-get to rural community.
Click the Google map link below and type in your own location for directions, distance and time needed to get to Maleny from where ever you are.