My Favourite Linoprinting Tools
I love many different printmaking processes and media, but my favourite has to be working with, carving and printing lino. Lino printing is a form of Relief printmaking. Relief a printmaking process that doesn't need a printmaking press; and working with lino is versatile and easy. Over the past 7 years I have created my list of favourite linoprinting tools and thought I'd share them with you.
I don't believe there is any specific right or wrong when it comes to linoprinting tools. Personal preference, budget and experimentation play a big part in selecting printmaking tools. When it comes to articles with tips and hints, you'll find them useful but nothing will beat using your own hands and practicing. Don't be afraid to make mistakes. I have made many! And as they say, sometimes the best way to learn is to make mistakes.
My favourite 'lino' to use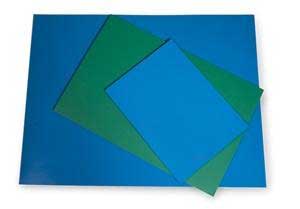 There are a few options available here. I tend to use vinyl relief plates aka Japanese vinyl. It is double-sided (blue/green or grey/green), with a black centre. The contrast of the surface colour with the black makes it easy to see where you have carved. By drawing my image on to the lino with with a thin permanent black marker also provides good contrast against the green or blue surface.
Generally this lino is easy to carve, but I have found some batches quite hard. Heating a wheat bag or hot water bottle and resting it on the area of lino you want to carve for a few minutes will soften the lino enough to make it buttery smooth to carve.
This lino plate option will also keep its shape without having to be mounted onto a block; and if it warps, heat from a wheat bag (or the sun) will flatten the plate out.
Other options are grey lino and silk cut lino. Silk cut lino is closer in composition to the original lino plates made from old flooring lino. I personally don't like the hessian backing on these lino plates as it tends to curl after washing. If you are new to lino consider giving both options a go. I don't believe with make a difference to the final image – so trying both will let you determine which feels right for you to use.
TIP – when you are ready to print, wipe your lino plate with some white spirits (ie metho or shellite). This will ensure that any permanent marker lines not absorbed into the plate don't transfer to your print.
My favourite carving tools
One of my life mottos is to buy the best quality I can afford – and this certainly extends to linoprinting tools. At school I started with the old wooden-handled-fixed-blade tools. They did the job. When I get back to the craft years ago I bought the Flexcut Portable Carving Set. A great set of 10 interchangeable blades and a handle, and a nifty tool roll to keep them in. A smaller 4-blade set is also available.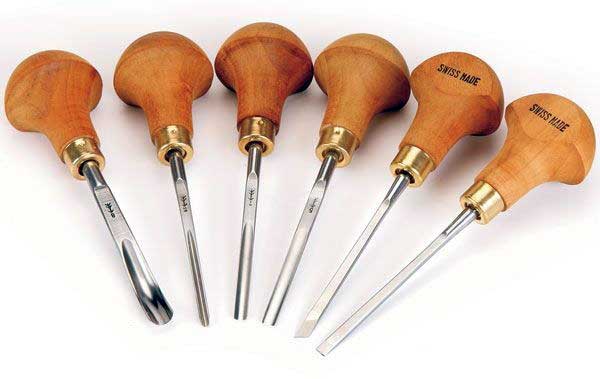 Last year I put the proceeds from the sale of work at an exhibition to new tools. Pfeil Lino Chisels. They are a delight to hold, and beautiful to carve with. Pfeil carving tools are high quality, crafted in Switzerland. They can be purchased as individual tools, in sets of 6, 8 or 12 tools. I started with a set of 6, and after more art sales earlier this year I bought a 2nd set. I'm pretty happy with the collection I have now. I can't speak highly enough of these tools – simply delightful to use. If they are a bit out of your budget now, save up! Or just buy one tool – one that you will use most, and build your collection are your printmaking practice grows. I started with the Pfeil 6 Piece Lino Palm Sets – 6C set.
TIP – if you do decide to invest in some Pfeil tools, buy tool shapes you think you will use most, and use your older tools for the not-so-often-used tools. I started this way – and now only use my Pfeil tools.
My favourite inks

When I started with lino printing I used water based inks. They were cost effective and easy to clean up. While I've not seen evidence of my own prints fading, I have seen fading in other peoples prints. Although I was concerned about clean up with oil inks, I made the switch, and haven't looked back!
UPDATED JULY 2021 ….. when I first wrote this article (July 2017) I wrote about using Gamblin oil relief inks. I loved them – their colour pigments are rich, and they're not too glossy when dry.  But they took a long time to dry. One one print the final Portland Black layer was still NOT DRY after 6 weeks.
I have officially switched to SAKURA oil inks – and love them. Fast drying and pigment rich. I will sometimes use the Gamblin Titanium White as it is more opaque than the Sakura white. I manage to print a mix of flat and glossy colour. I sometimes as Gamblin Burnt Plate oil to my inks to decrease their viscosity – I find that when I do that the inks dry with a slightly glossy sheen to them.
Inks and colour
I like to mix my own colours. Starting with primary colours, in warm and cool where available, I mix until I get the exact colour I'm looking for. Mixing my own colours pushes me to improve my colour skills. Some printmaking friends will mix oil paint into oil inks for broader colour ranges. I'm not sure about mixing different brands of ink, but if you have them, give it a go.
The only Sakura inks I use are:
Prussian Blue
Red – its a warm red
Yellow – a warm yellow
Black
White
I have mixed a metallic offset oil ink with water based etching ink (for an etching print) and it printed beautifully.
Inks and cleanup
Easy! Good old fashioned cheap vegetable oil will do the job. I will admit it took me a while to get the knack of how to clean up, but I'm not looking back. Veggie oil, rags, some newspaper and its all done. After I have removed as much ink as I can from the plate and brayer (roller), I then wipe with a lightly-soaped rag then pat dry with a towel.
Citro Clean is a great alternative! It's not toxic. It's not oily. And it smells like oranges. I think there are a few different types of citrus based cleaners, and so far I have only tried 'Citro Clean'. And I like it!

My favourite baren

A baren will help you print your lino prints by hand. It is a disk-like hand tool with a flat bottom and a knotted handle traditionally used in Japanese woodblock printing. It is used to burnish the back of a sheet of paper, lifting ink from the block. There are many options available – from the back side of a wooden spoon to a bamboo covered Japanese disc to (my favourite) glass Print Frog. Anything will work, as long as it has a smooth, flat base and you can easily hold while you burnish (or rub) the paper on top of your inked lino plate.
This Print Frog has to be one of my most favourite linoprinting tools.
Why a Print Frog? Its heavy, glass, easy to hold, and weighty enough to do some of the work for you. They're made in Texas, and come in several shapes. I use the "Pro" Print Frog – and love it! It has a broad flat base and the bulb-ish handle suits my computer-worn wrist. Its also very handy to use the side, and even the bulb-ish handle, for smaller and detailed areas of your print.
My favourite brayer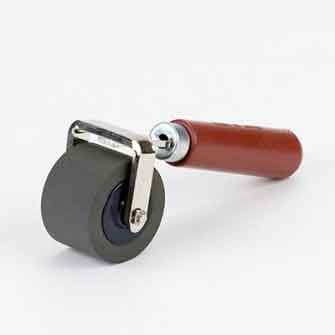 A brayer is the roller you will use to apply ink to your lino plate. Brayers are made with hard or soft rubber. I started with the Speedball rollers – using the hard rollers. I used these for many years. Until I bought my own soft rubber roller I had no idea how much easier it could be to ink my plates. I use oil inks when printing, then vegetable oil and soap and water for clean up. The oil works to keep the rubber soft. My brayer of choice is the Japanese Soft Roller from Melbourne Etching Supplies. It takes little pressure to transfer the ink to the plate, and by letting the roller do the work, the ink doesn't fill the fine carved lines. I have a range of sizes, with the 4″ probably my favourite.
These rollers aren't cheap – but well worth the investment. But they do need care to ensure you get as long a life from them as you can.
I have recently bought a Speedball Soft Lino roller – again the 4″. I need to buy brayers for upcoming workshops and wanted to give these a go. I'm happy with it, so feel confident stocking up on these linoprinting tools for my workshops. The Japanese rollers can be as much as 2-3 times more expensive than the Speedball soft rollers, but I'm not sure 2-3 times more effective.
My Favourite Registration System
Now this is a blog post all on its own. I created my own registration system, and used it for a year or 2, that gave me near perfect registration. I'll talk about that in an upcoming article.
However, earlier this year I discovered Ternes-Burton registration pins and tabs.
The Ternes Burton register pins are made with precision machined buttons that are spot welded to a stainless steel base. The pins work with tabs to align your printmaking papers accurately over the lino block to help you achieve tight registration on multi-coloured linoprints. I now use them for my reduction linoprints.
I will go into more detail about these pins in an upcoming blog post about linoprinting and registration.
My favourite paper
That's a post in its own right. Hang tight and I'll have something posted and published in the next few weeks.
So there you have it, my linoprinting tools list. Do you have favourites to share? Printmakers are a caring and sharing bunch … please share below your favourite linoprinting tools … inks, brayers, barens and plates.