Playing with Cyanotype and Printmaking with the Sun
Cyanotype (aka sun prints) is fun! Spontaneous. Unpredictable. Experimental. Well, at least the way I do cyanoytpe it is! I have had to put my linoprinting on hold for a few weeks as I wait out some joint pain issues as a result of Ross River Virus. Not one to not print for too long, I am occupying my creative mind and not-so-inky fingers with exploring and experimenting with cyanotype.
I was introduced to the process last year by a good friend and very talented artist Cholena Drew Hughes. Before our play day, cyanotype was a complete mystery to me. In this article I want to demystify the process and share some of the fun I have been having over the past few weeks.
Recent small cyanotype prints
What is Cyanotype
Cyanotype is a photographic printmaking process
Do you remember the blueprints of technical drawings and plans used by architects and engineers? I remember them well form my Dad's office when I was a kid (he was an engineer). Blueprints were created using a photographic negative or film positive placed onto a UV (ultra violet) light-sensitive sheet of paper. This process allowed for accurate and fast reproduction of documents, at a low cost, charactarised by their blue colouring. They were first used in the 1830s.
A cyanotype is effectively a blueprint. But in addition to using film negatives and positives, plant material and a host of other 3 dimensional objects can be used to create interesting and artistic images and marks on paper, fabric and a range of other surfaces able to absorb the light-sensitive chemical solution.
Have a look at my Cyanotype Pinterest board for a range of different cyanotype images.
The Process of Creating a Cyanotype Print
The cyanotype printmaking process is actually quite simple. And as with many printmaking, the possibilities of what can be created are limited only by your imagination. Below are the basic steps to creating a cyanotype print:
Mix the cyanotype light-sensitive chemical solution
Coat your paper/fabric/absorbent canvas with the mixed solution and allow to dry. This should be done in a room with no UV light.
Store the prepared surface in a light-fast bag or box until you are ready to use it
When ready, arrange your objects on your prepared canvas and place under a UV light source (sun or lamps).
After the desired exposure time, remove the objects and wash your canvas in water.
Once thoroughly rinsed, allow your print to dry
When objects (film negative/positive and/or 3D) are placed on your prepared canvas and exposed to UV light, a chemical reaction takes place. Once the exposure is complete, the placed objects removed and the canvas placed in water, the chemical reaction is stopped.
To create a cyanotype you will need the following:
Light-sensitive chemical solution
A canvas to receive your image
Objects or film negative/positive
UV light source
Fresh water
Light-sensitive Chemical Solution
The light-sensitive chemical solution is mixed from two different chemicals – ammonium ferric citrate and potassium ferricyanide. The chemicals are purchased in individual preparations then combined to create the light-sensitive solution to coat, sponge or brush over your canvas.
Your Canvas
I love paper – so paper is my primary canvas for making cyanotypes.
When using paper, you need to be confident that it will handle the washout stage – meaning it will handle some time in water without degrading or damaging the paper. I use various printmaking papers, and various weights. Japanese Ho-Sho papers work well. While I play and experiment I am using primarily Stonehenge White 245gsm. I recommend experimenting with different paper types – different paper textures will yield different results.
Cyanotpye can be done on fabric, ceramic surfaces and eggshells! As long as the canvas surface can absorb and hold the light-sensitive solution, as well as hold the final image after the washout.
Preparing your Canvas
The material you choose to use for your canvas can be just about anything that will absorb the light-sensitive chemical solution and then handle a water wash-out. In my studio I create cyanotype images with quality printmaking papers, fabric and eggshells. Watercolour paper will work. This is where experimenting with different surfaces can be a lot of fun. I will be experimenting with cyanotype on porcelain and timbers in the near future.
Once you have decided on your canvas material, apply an even coating of the light-sensitive chemical solution to that surface. I use a hake brush. A sponge will do well too.
A thin even coating is needed. I like to experiment here – I like to play with thick and thin applications. I try to get an even coverage over my canvas, and also play with painterly effects, splashes and brush marks on my canvas.
I do this in my studio in the evening and with low lighting. I have no artificial UV light source in my studio, so the regular studio lighting is fine to work with, as there is no UV light to expose the canvas.
Once your canvas is coated, leave it to dry then place in a light-fast bag until you are ready to expose it.
What is a Hake brush?
A hake brush is an oriental-style wash brush on a long flat handle. The brush bristles, normally goat hair, are bound into the flat, natural wood handle, with fine wire. These brushes are ideally suited for painting large areas of color, for wetting large surfaces, and for absorbing excess media, washes and glazing.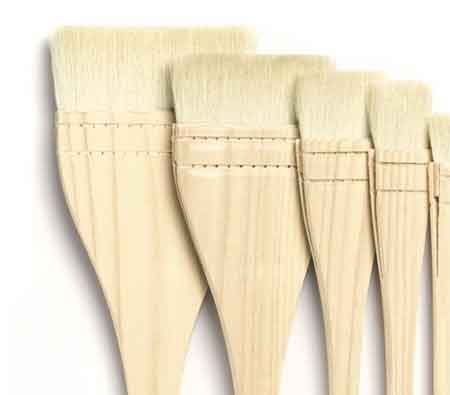 Objects for the Exposure
I use many different objects to create my images.
Film negatives and film positives printed both on my own laserprinter and inkjet printer, using compatible transparent film
Commercially printed cellophane used to wrap floral bunches. The graphic shapes and bold contract of black against clear cellophane give strong graphic results.
Organic matter such as leaves, flowers and branches branches
Other 3D objects such as feathers, shells, glass, lace, papers or just about anything that will fit on your surface and block of filter UV light will work.
And this is where you can really experiment with different objects and exposure times to create interesting, spontaneous and unpredictable results.
I place the objects on my canvas, preparing the arrangement in my dimly lit studio. Once I am happy with the arrangement I place the canvas on a table in full sun.
I like to place a sheet of glass over my objects to keep them in place and as close as possible to the canvas. The closer the object, the less UV light that can filter in around the object, then the sharper the image. Sometimes I use a sheet of loose plastic or acetate to protect my objects from the wind, but allowing space between them and the surface.
Again, this step invites a lot of experimentation to see what sort of results can be achieved with different materials and different arrangements.
Recent exposures using feathers, flowers, lace and lace paper
UV Light Source
UV light is Ultra Violet light. The natural source for UV light is the sun. Special light bulbs can also produce UV light as an artificial but controlled environment. I like to use the sun as my UV light source.
Using a UV lightbox with a controlled UV light source will allow you control and recreate cyanotype prints.
Using the sun as your light source can create some unexpected and delighful results. Different times of day and different times of the year will produce different intensities of UV light – and this will have a direct impact on the exposure times required to achieve the final result you want.
I have used midday sun, morning sun and the afternoon sun. The more you play with the process yourself you will get a feel for how long to expose your canvas at different times of day for different results. In summer, where I live, I can use the sun from 9am-4pm with consistent results.
Add to a sunny day some clouds, and longer exposure times, and the final colour and exposed image can take on a new look and feel.
I have been experimenting with 'wet cyanotype' and long exposures on overcast days. But more on that in another article.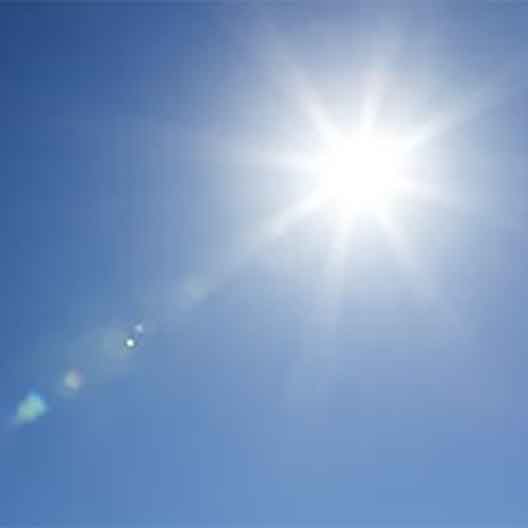 Cyanotype Washout
This is where you stop the chemical reaction and your image will start to reveal itself.
Water will stop the UV light reaction with the light-sensitive solution. Once you  have reached the desired exposure time, remove the object/s from your canvas and place the canvas in water.
This could be under running water in a tub, sink or from a hose. Or immerse your canvas in a tub of water.
From once the objects are removed to the final washed out image you will see your image transform. Depending how long you left it exposing, and the intensity of the UV light source, the image may show strong dark blue with yellow/green highlights, or pale yellow/neutral tones. As the water works with the surface of your canvas, the typical blue will reveal itself on the canvas surface.
Watch the colours change during the washout stage
*** NEW Online Cyanotype Workshop ***
In January 2023 I launched my Cyanotype Online Workshop. In there I introduce you to the history or the process (it's 180 years old!) and demonstrate several photogram and contact prints over 6 mondules. There are also 2 bonus modules where I demonstrate cyanotype on textiles and introduce you to the delicious extension of the process – wet cyanotype. If you're interested, click the button below for full workshop details…
So What's Next?
Play! I am experimenting! I am playing around with applying the cyanotype chemistry to other surfaces. Last week I played with cyanotype on eggshells. I am also playing with wet cyanotype, experimenting with toning and colouring the cyanotype prints, and mixing other wet and dry elements into the exposures for interesting results. Watch this space … I'll document more experiments over time.
Update January 2022
I wrote this article a few years ago now. I have recently posted with a peek at some recent wet cyanotype prints. I am having a helluva lot of fun experimenting, playing and pushing boundaries. Click here if you'd like to click through to that post.
I have added some recent photos below…
Cyanotype Workshops
You can attend an in-person I day cyanotype workshops in Maleny, up in the Sunshine Coast Hinterland. We learn how to create your cyanotypes, with the focus on photogram cyanotypes, and you leave armed with a shopping list of what to buy where so you can continue to play with cyanotype at home or in your own studio.
I have also recently launched an online version of my in-person workshop – find out more about that here. The online workshop is self-paced and you can access from anywhere with internet.
Cyanotype Reference Books
Do you want to learn more but can't get to a workshop? I have three cyanotype reference books on my bookshelf that have proven invaluable to my own self-education journey around the process. Click through to read what they are and where online you can buy them.