Open Studio Sunshine Coast – 19-28 May 2023
It's on again – Open Studios Sunshine Coast.

77 artist studios and galleries – along 7 scenic drive trails.

Artists are opening their studio doors in May – printmakers, painters, sculptors, photographers, mixed media artists and more!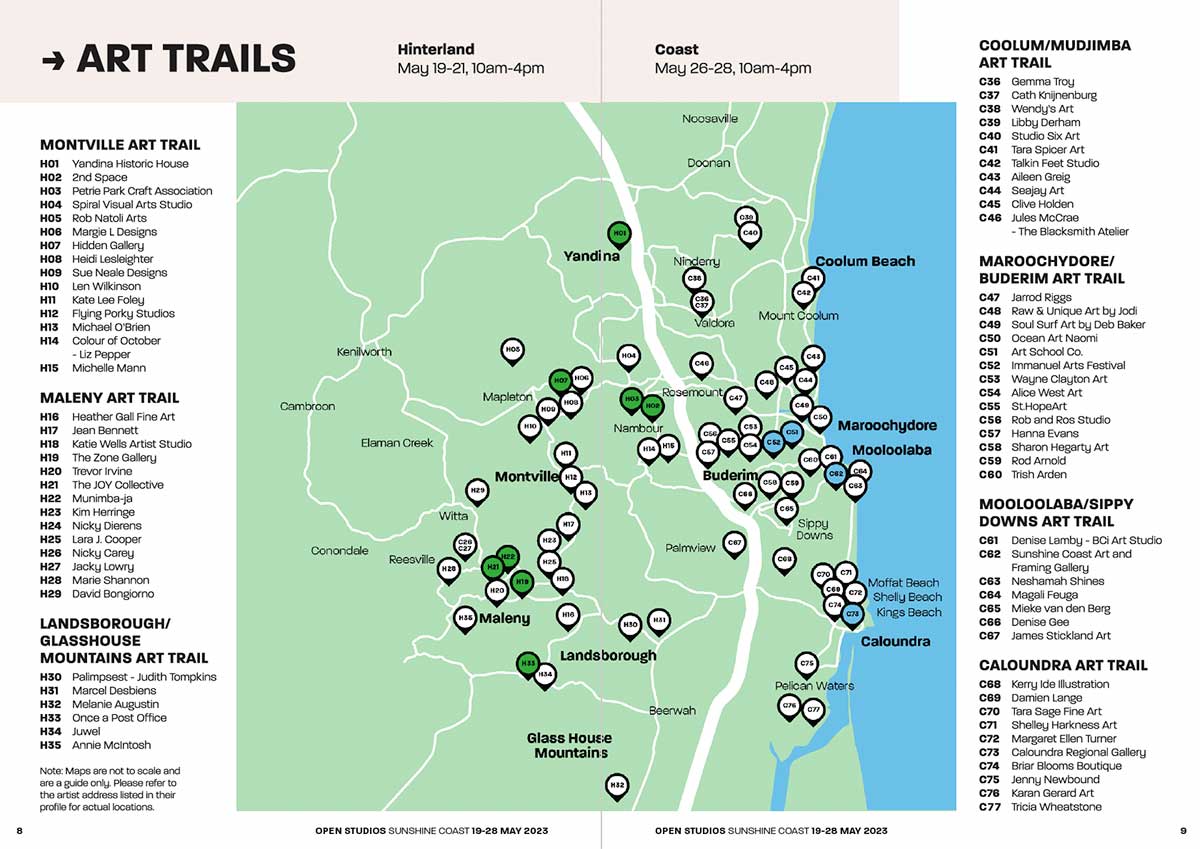 The Studio (my studio) will open
Friday 19, Saturday 20 and Sunday 21 May 2023
10am-4pm daily

10 Nadi Lane, North Maleny
#H23 on page 34 in the Trail Guide
The HINTERLAND studios open the first weekend, 19-21 May, with the following weekend sees the opening of the COASTAL studios. The demarcation line is the Bruce Hwy – studios on either side of the highway have been grouped into Art Trails.
Friday 19 – Saturday 20 – Sunday 21 May – 35 HINTERLAND artist studios and galleries from the Glass House Mountains and Landsborough to Maleny, Montville and Nambour.
Monday 22 – Friday 26 May – 25 workshops are running at different studio locations, with some artists' studios across the whole Sunshine Coast trail opening.
Friday 26 – Saturday 27 – Sunday 28 May – 42 COASTAL studios and galleries open their doors, from Caloundra up to Coolum and out to Yandina.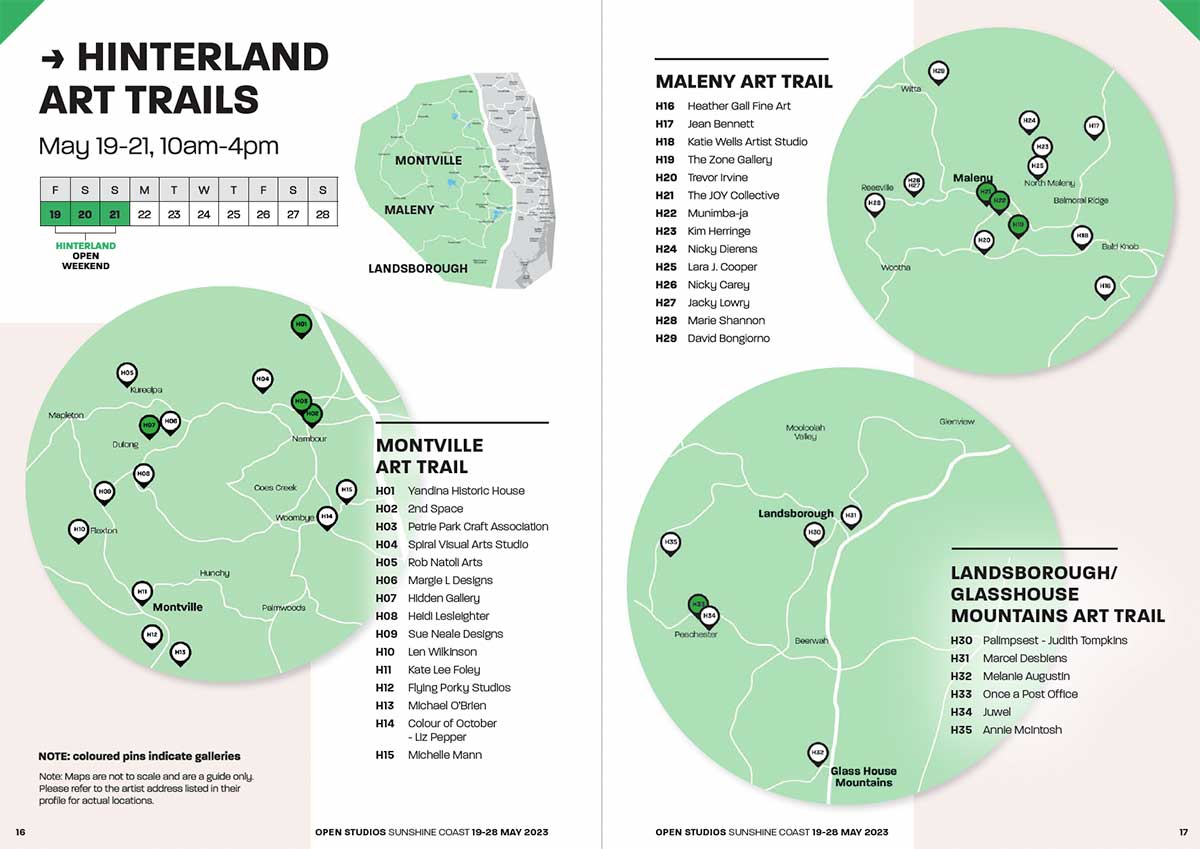 Open Studios last year (2022) was such a fun weekend!
If you weren't able to get here last year, I hope you can make it this year. If you did visit last year – please come again!! I love to share my space, meeting new people and old friends interested in printmaking, or wanting to find out what 'printmaking' is ? So.Much.Fun!!
Open Studios Sunshine Coast is such an exciting event. It creates a unique opportunity to step inside the often hidden sanctuaries of artists' studio. The program gives you the opportunity to visit and meet artists' whose work you love as well as introducing you to new artists' living and creating on the Sunshine Coast.
The Studio, my space, is where I create and share my printmaking skills in year-round workshops. I have created a quiet and safe space in the Maleny hills where the natural environment is a constant source of inspiration.
Engage your senses while you have a look around and chat with me about process, practice and printmaking.
There will be work for sale – original and fine art reproduction prints – new and old works. Linocut. Monotype. Etching. Artist books. Hand-made books. Printed scarves. With tea and coffee and nibbley treats to help sustain you through your visit.
Participating Printmakers in 2023
When looking through the 2023 Trail Guide you will find 4 printmaking artists. On the first weekend, Friday 19-Sunday 21 May, the HINTERLAND printmaking artists are:
Kim Herringe ? #23 on the Maleny Art Trail, on page 34 of the Guide
Nicky Carey #26 on the Maleny Art Trail, on page 36 of the Guide
Jacky Lowry #27 on page 37 of the Guide, sharing space with Nicky Carey
The second weekend, Friday 25-Sunday 28 May, the COASTAL studios open with one space sharing printmaking – Alice West Art #54 on the Maroochydore/Buderim Art Trail, on page 60 of the Guide.
Open Studios Sunshine Coast 2022
Last year's Open Studio event was a huge success. Studios across the Hinterland and coastal areas enjoyed so many visitors. My weekend was too busy for me to get photos – the photos below have been shared with me from people who visited – THANK YOU x
I hope to see you over the weekend of 19-20-21 May 2023 !!
Maleny, the heart of the Sunshine Coast Hinterland
The Sunshine Coast Hinterland is a spectacularly beautiful corner of the world … and I am grateful beyond words to live and work in Maleny – the heart of the Sunshine Coast Hinterland. The short video below is a quick snapshot of the area surrounding my studio space.