Watching – A Completed Reduction Linoprint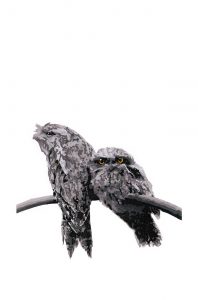 Finished! A 7 colour reduction linoprint with hand-coloured eyes. I start each reduction lino print full of hope and anticipation that, while I know it will be challenging, I'll love the process and be (hopefully) thrilled with the result.
Then, as the image meanders through its processes, the love-hate relationship starts. With each new reduction print I'm learning more not only about the printmaking process, but about colour, composition and contrast to ensure that the story of the image can be read in the final result.
This is the first image I have completed using oil inks. Previously I have used water based. And I used a new paper – BFK Rives. With my new rollers. Getting used to a few new materials added to the challenge of the image, but I think I'm pretty happy with her now.
I was aiming for an edition of 20, and did manage to print clean, new-perfect registered prints until about the 5th colour, then I ran into trouble with not being able to see ink on carve areas of the print, and a little slip with the ink. I think I'll have an edition of 12 once they have dried and I've had a good look over them.
This image was created from a photo I took in my back yard a few years ago. The mum had 2 chicks with her. I watched them for a few hours. They moved from branch to tree stump and back to branch again, with one brave chick popping off on its own explorations. Mum worked so hard to look like a stick, while the chicks, fluffy and curious, stared wide eyed and curious at the tall creature watching them.
I opted for a monochrome palette using a warm grey, over 6 colours, then black. The ensure that the eyes popped, I hand coloured the eyes of the chick with gouache. I haven't done any hand-colouring on a lino print before, and I was terribly nervous as I put brush to paper. I am happy with the result.
I'm still working on a system to consistently photograph each colour, but I've shown below each colour. Whoops – I did forget to photograph the 5th colour, and the final black is a bit shiny.
Now to name, sign and edition these lovelies …
Post addition July 2017…
This reduction linoprint edition has now sold out and now resides in homes across Australia and in the United Kingdom. It is my first sold out edition. Blank greeting cards are available, either as individual cards or packs of 5 or 10 cards.