Seasons 1 + 2 – Postcard Print Exchange Artist Books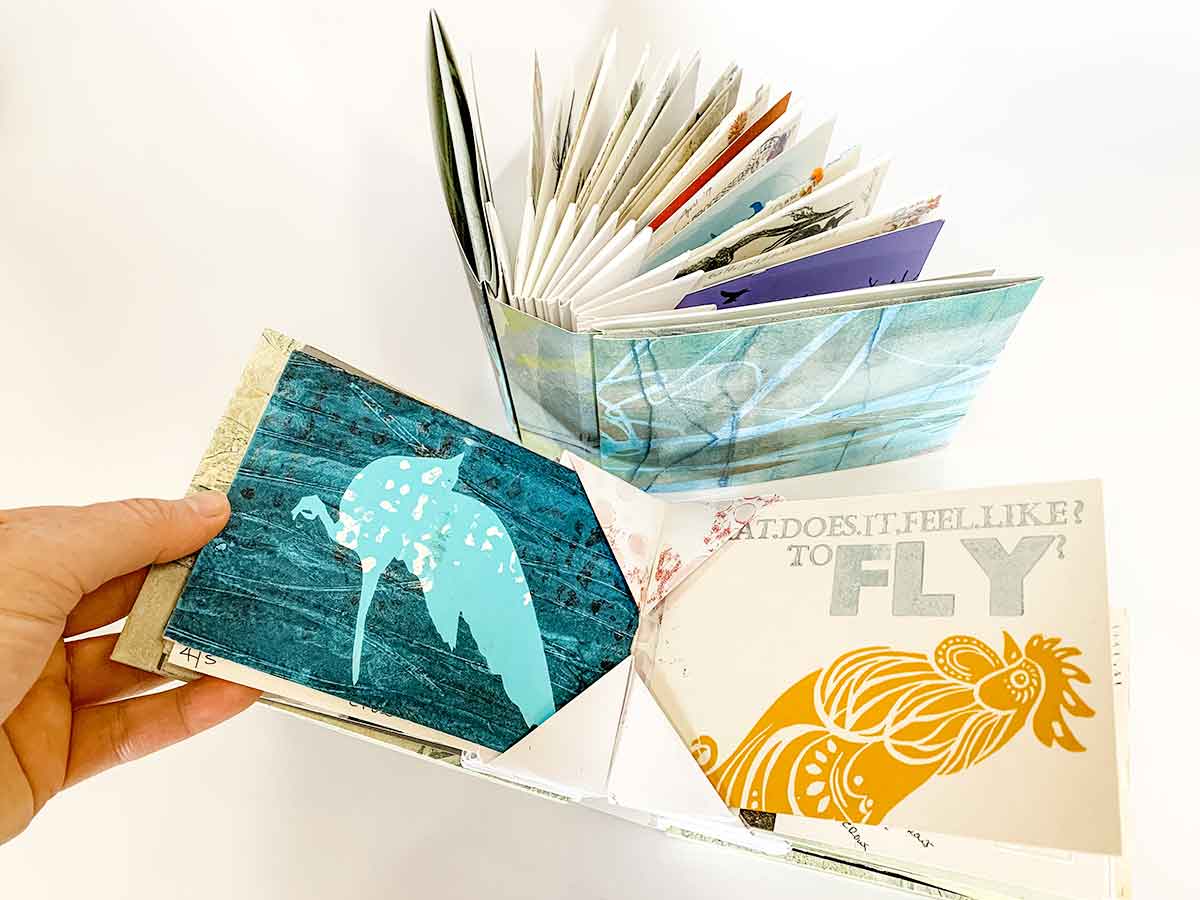 Who can remember the last time they received a handwritten note, letter, postcard, whatever, from someone for no other intention than to say hello and share some joy and connection?
A couple of years ago I was invited to participate in a hand printed postcard print exchange with 5 other beautifully talented printmakers. The task was set to print a small edition of postcards, then send one to each member of group each season. Postcards flew from Maleny to Tasmania to England.
It was such a delight to open the post box and find the next printed treasure … a handwritten note … and an interpretation of the season.
The printing processes employed were linocut, letterpress, blind embossing, chine colle, collagraph, screenprint, monoprint, etching, cyanotype, stitching, handwriting. A hugely diverse collection of processes, along with a beautifully diverse collection of imagery.
The 40+ postcards have sat in a plastic sleeve in one of my printers drawers for too long. I had been trying to figure out a way to collate and present them … for me, and anyone else, to enjoy.
Yesterday I solved my problem – so simple and so very effective…
'Season 1' and 'Season 2'
I made a very simple Crown Binding structure that I could insert the postcards into.
And I made simple folded slip covers with a folded spine insert to bring each book together.
The hard part was trying to arrange the postcards in the order they were received. Not all of them were dated, and the postmark stamps are either not legible or missing entirely. It was lovely to read back over them, feel the papers and the indented printed impressions on them, enjoy the handwritten notes on each card.
I have great respect for the people and the work of each artist involved in the exchange. And I am especially chuffed to have a collection of work from each of them – all with a very personal handwritten expression on each postcard.
Handwritten messages seem to be a gesture from a bygone era. Yet, to read someone's handwritten message makes the sentiment so personal. I used to write letters to family when I was younger. Up until my early 20s I guess. Then keyboards and email started to take over and I feel like I have lost a bit of that art.
The Technical Information
The Covers
I used some gel plate monoprints from my collection to make the covers. I love to print my gel plate monoprints for several different reasons, and I never discard a print. If I print something I think isn't quite good enough to stand on its own, its sits in a pile waiting for re-purposing.
Cropping into those 'reject' prints (I really dislike that word, but not sure what else to use there?) and using them for book covers and pages are a great way to use them. Each print takes on a new life when it is re-purposed like this.
There are two books to hold all the postcards. My two favourite seasons are Autumn and Spring – so I wanted gel print papers that reflected the seasons for me. I was looking at colour and printed elements on each sheet. I was happy with what I found in the pile 🙂
There is no glue or stitching or tape for the covers – just folding. My favourite way to create artist books – folding papers to hold the structure.
The Crown Binding
A crown binding is pretty easy to do – you can google it to find a host of online resources and how-to's. It creates a simple folded structure that lets you insert individual pages, or a folded page, into it. Again, no glue, tape or stitching – just folding.
I used some 'up-cycled' cartridge paper for the crown binding. I use large sheets on workdesks for my in-person printmaking workshops. Often the sheets have very few, or surprisingly gorgeous and abstract marks on them – too good to throw away. So I keep the sheets and recycle for a host of other purposes (including desk covers for varnishing work and cyanotype paper prep) – and these sheets were perfect for the long sheet of papers I needed to fold my crown binding structure.
The Postcards
A standard size was established for the exchange. And as long as the printed paper met the minimum requirements for postage – we used whatever we wanted. There are thick papers, thin-ish papers. Textured and smooth papers. Oh how I love paper.
I posted myself a postcard with each season. I sent me least-favourite print from each edition, and wrote a note from Me to Me on each one. It was lovely to read over those messages too. We can so quickly get caught up in that negative-speak inside our heads … when we find something we shared with ourselves – encouragement and motivation and congratulations – its a most lovely pick-me-up, and reminder that we need to be kind to ourselves, as much as to everyone else.
Here's to more handwritten love and joy for the world 🙂